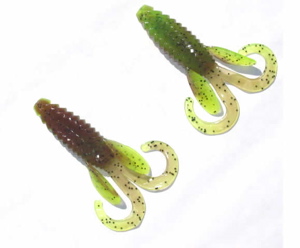 Owner Jerry Hansen has been involved in the fishing industry for over 18 years. He is a designer and manufacturer of some of the finest fishing lures in the West.
As a successful tournament angler he created, owned, and operated "Big Boy's Baits" from 1990 to 2003. Over the last few years he has had the pleasure of working for one of the major lure companies in the industry, and with his innovative knowledge of color and lure design, was able to contribute several cutting-edge products and some of the most popular colors out there today.
The Alpha Hawg has really started gaining popularity among those "in The Know" in the Western bass fishing scene. Versatile is the key word when it comes to the Alpha Hawg, The Lead Dog or as we say in the fishing world, The "ALPHA HAWG" this is the bait of choice for flippin, pitchin and carolina rig, and talk about a Jig Trailer? You can us the Alpha Hawg as a Jig Trailer, weighted or weightless. Punch the grass, finesse the rocks, or skip the docks. scented with our Special formula Fish just CAN NOT resist the Alpha Hawg.
Pictured below are a few of the favorite colors including the all new Randy's Candy
Look for them at www.openwatercustombaits.com And also available at www.BassTackledepot.com
Dealer inquiries contact Dan Mathisen 209-612-5028