Florence, Ala. – Last week, the PAA released images of the first two PAA Corporate Cup billboards presented by OPTIMA® Batteries that will be displayed throughout the greater Florence, Ala. area as the tournament draws near. Those first samples of the billboards allowed fishing fans abroad to enjoy seeing the superstars of fishing larger than life.
The second set of billboard artwork which includes 2008 Bassmaster Classic Champion Alton Jones, FLW Tour Pro Brandon Coulter, Bassmaster Classic and FLW Cup Qualifier Steve Kennedy, former Bassmaster Angler of the Year Gerald Swindle, FLW Tour pro Chad Morgenthaler and others, is complete.
The images of the billboards are provided here for all to see.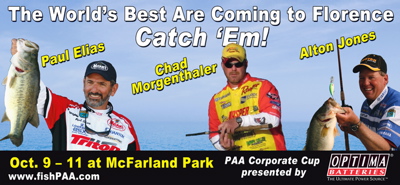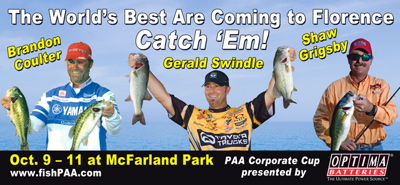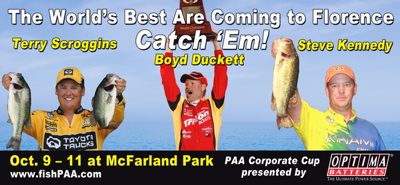 About the Corporate Cup presented by OPTIMA® Batteries
The PAA Corporate Cup presented by OPTIMA® Batteries will be held October 9 – 11, 2008 on Alabama's Pickwick Lake in conjunction with Florence – Lauderdale Tourism. The event will feature a unique format utilizing PAA Tour level members paired with corporate partners sharing the thrill of professional competition. Presented in conjunction with Florence-Lauderdale Tourism, The PAA Corporate Cup will be unlike other Pro-am styled events in that all contestants will be competing for a share of a sizeable purse.
PAA Corporate Cup Sponsor Information:
The PAA Corporate Cup presented by OPTIMA® Batteries is sponsored by OPTIMA® Batteries, T-H Marine ATLAS jack plate, Vicious Fishing, Alabama Mountain Lakes and Florence-Lauderdale Tourism Board.
OPTIMA® BlueTop™, YellowTop™ and RedTop™ batteries are now available through leading battery distributors throughout the globe. Consumers should look for the unique colored top and six-pack design that OPTIMA® is known for throughout the world. OPTIMA® has more than 10,000 dealers nationwide and global distribution; for the nearest retailer, consumers can also call 1-888-8-OPTIMA (1-888-867-8462) or visit www.optimabatteries.com.
T-H Marine Supplies, Inc. has been serving the marine industry since 1975. They are a family owned and operated marine supply manufacturer that takes pride in every product that leaves their factory. They are boaters and fishermen who design products for boaters and fishermen. Find them on the web at: www.thmarine.com
Vicious Fishing is a family owned company from Dora, Ala. who manufactures premium co-polymer, fluorocarbon and braided fishing lines for fresh and saltwater use, as well as a line of soft plastic lures. The company also licenses and markets many other products in conjunction with other manufacturers through the Vicious brand, believing that all parties can benefit from the strength of a united marketing, sales, and field staff/tournament team to quickly reach consumers. Visit www.vicious-fishing.com to find out more.
For more on visiting Florence – Lauderdale, Alabama, visit: www.visitflorenceal.com and for Alabama Mountain Lakes click: www.alabamamountainlakes.org.
For more information about the Professional anglers Association or The PAA Corporate Cup presented by OPTIMA® Batteries, visit: www.fishpaa.com.