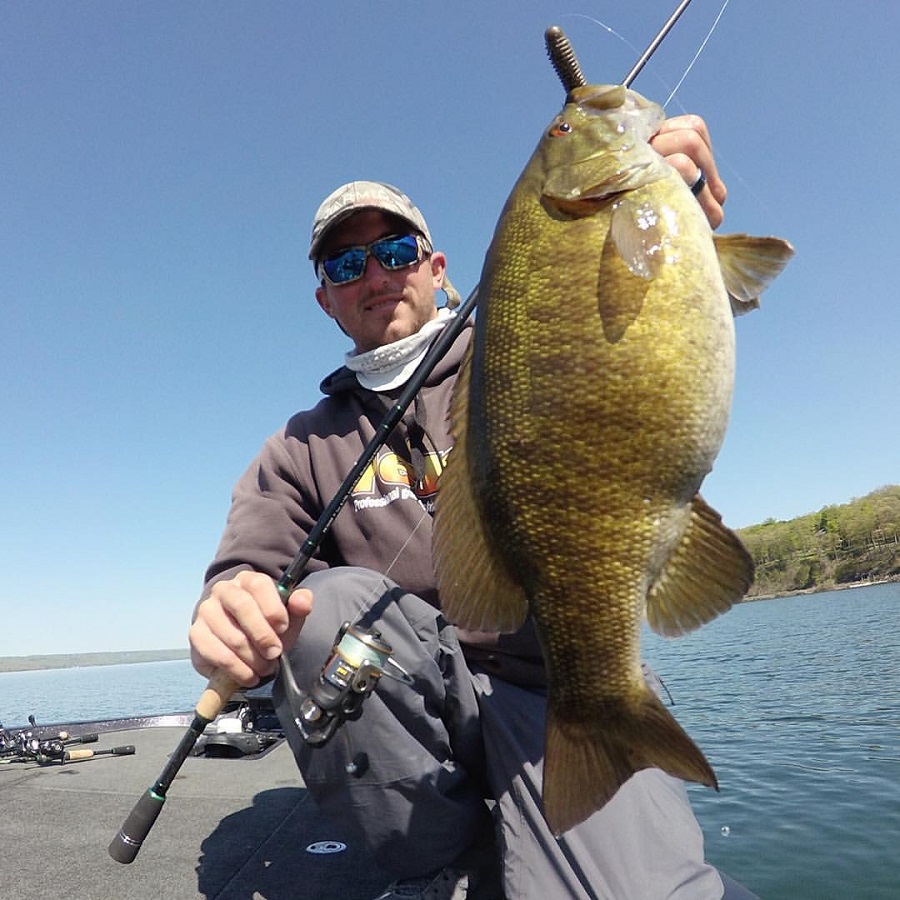 Finesse fishing and spinning rods just go together. The thin line, light lures and soft bites all set up perfectly for spinning gear. Knowing which rod to use for each technique comes down to how you are fishing, where you are fishing, your budget and a little bit of personal preference.
\Bassmaster Elite Series pro Paul Mueller hails from Connecticut and spends much of his free time during the offseason fishing cold water with light line. He tests out numerous rods for Dobyns Rods and is a wealth of knowledge when it comes to finesse rods.
Dropshot Spinning Rod
A dropshot rod is a dropshot rod, right? Not so for Mueller. He separates the popular technique into two categories and has a different rod preference for both Texas-rigged dropshots as well as those that are nose-hooked.
"If I am fishing a nose-hooked bait, the Champion Extreme 702SF Finesse is my choice. It has a great balance of both power and tip so you can get good hooksets and still feel the lightest bites," he says. While he prefers the high-end Champion Extreme, he says that each series from Dobyns has this model. "It is consistent for all of their rods from the Colt Series up to the Champion Extreme."
Since Mueller fishes a Texas-rigged dropshot more around cover, he steps up a power when selecting a rod.
"I want the 3 power (medium) to get a better hookset and get more leverage on fish once I hook them," he begins. The two rods he uses are the 703 and 743 in the Champion Extreme series. "I go to the 743 when I am fishing either deeper water or around heavier cover. The extra 4" gives you more power but you do not lose any of the tip action."
Shaky Head Spinning Rod
Mueller uses the same two rods that he uses for Texas-rigged dropshots when fishing a shaky head.
"The 703, with the 3 power, in my opinion, is the best for shaky heads. Some people prefer a lighter action, but I like to be able to set the hook hard," he says.
Ned Rig Spinning Rod
This little rig has worked its way into the finesse fishing conversation over the past few years and Mueller again chooses the Champion Extreme 703.
"That rod is great for the Ned rig, but another really good one is the Champion Extreme 742. It is good for Ned rigs, but can also be used for a shaky head, tubes or grubs," says Mueller.
Workhorse Fishing Rod for Multiple Techniques | Tubes, Underspins and Finesse Swimbaits
These three bait styles can all be fished on the same rod.
"I use a heavier rod for these techniques and will use a Champion 704," he says. "It has a great backbone, good feel and still has a decent tip," he says. "I am not a fan of lighter rods for these techniques, especially with big smallmouth because they have hard mouths. You need to be able to drive the hook home."
Finesse Jigs Spinning Gear
Mueller likes to fish small living rubber jigs on spinning tackle.
"Most of these jigs I use are around ¼-ounce or even lighter, so it is too hard to fish them with baitcasting gear. The Champion Extreme 743 is hard to beat, but the 703 will also do the job," he says.
Hair Jigs Fishing Rod
The lightweight hair jigs have become more popular over the past few years and because of how light they are, they are a challenge to cast.
"Longer casts are really important with this technique because it requires some stealth. I use either the Champion Extreme 742 or Champion 732 to be able to cast a 1/8 oz. jig long distances and still get a good hookset," he shares.
Ice Jigs and Spoons Fishing Rod
When using ice jigs or small jigging spoons, Mueller likes to use a shorter rod as he feels it is easier to work the bait.
"I like the Champion 683 because it is a lot easier to get good action out of the baits and you can also hook fish better. This same 683 blank but in the casting version is my favorite rod for jigging spoons over 3/8-ounce.," he says.
The One Rod That Can Nearly Do It All
If you've been paying attention you noticed Mueller mentioned the 703 often so far. It is no surprise that it was his recommendation for someone who was looking to get one rod for multiple techniques.
"It is so versatile and you can do so much with it. They make it in all of the different series and no matter what your budget is, you can find a great rod with that length, action, and power," he says.
Longer Spinning Rods
Most finesse spinning rods on the market are right around seven feet long, but Dobyns Rods offers many in longer lengths. "That is a big difference with Dobyns, they offer more spinning rods in longer lengths than anyone else. This allows you to have a good balance and have more of a backbone and not sacrifice the tip action," Mueller says.
Paul Mueller is a finesse fishing expert and his knowledge of Dobyns spinning rods is unmatched. While some rods can do multiple things, he prefers to have the perfect rod for each bait he is using to make sure that he is doing everything he can to maximize his success when finesse fishing.
Bass pro Tom Redington swings a 10 pound largemouth bass into the boat with a Dobyns Champion 736C rod, P-Line braided line.