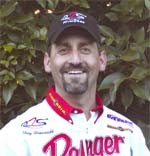 Shopping for a reel these days takes time and effort. There is no quick answer anymore to the question, "What reel should I put on my rods?" But I will tell you that Pflueger is making these decisions easier. They carved out their piece of the market when they introduced the affordable and reliable Trion casting reels and then followed up with the unbelievably smooth President and Supreme series of casting reels, which packed the features of more expensive reels into affordable and attractive packages.
Pflueger introduced two more offerings in 2007, the "Summit" high speed, low profile casting reel and the "Supreme" Spinning reel. I had the opportunity to test both of these reels on several outings and below are my impressions of each.
Summit Low Profile Baitcaster
The Summit Low Profile casting reel is a great looking reel that is smaller in stature than the President and Supreme line of casting reels, with a lightweight aluminum frame, ported and anodized aluminum spool, and dual soft touch knobs. The reel weighs in at a mere 7.8oz and inside the attractive housing is an ultra fast 7.1:1 gear ratio, titanium line guide and 10 bearings, (9 double-shielded stainless steel ball bearings and a one-way clutch instant anti-reverse bearing). It also combines a centrifugal and magnetic brake for fine-tuning and has a main gear applied drag system with audible star adjustment. The centrifugal brake system is easily accessable by pressing the Pflueger emblem on the palming plate and twisting the palming plate clockwise. The main gear is also made of aircraft grade aluminum for durability.
The Summit is available in a standard spool and a Wide spool model. Line capacity on the Summit is approximately 100 yards of 12lb test on the standard spool model and 130 yards of 14lb test on the wide spool model.
All great features but what I really wanted to know was how this reel would perform. I have to admit that I am not a big fan of super high-speed reels due to the fact that I have typically noticed what seems to be a loss of cranking power under certain circumstances. With this in mind I was prepared to put this reel to the test.
Supreme Spinning Reel
The Supreme Spinning Reel is a magnesium-bodied reel that comes in three sizes with line capacities from 160 yards of 6 lb test to 250 yards of 10 lb test. Weights on these reels range from 7.4oz on the smallest size to 9.6oz on the largest model, which on average is anywhere from 1 to 2 oz lighter than reels that I have used of similar line capacity from other manufacturers.
The Supreme Series boasts a 6.2:1 gear ratio with 9 stainless steel ball bearings and a one-way clutch instant anti-reverse bearing. They are also equipped with an anti-twist titanium line roller, anodized machined aluminum spool and a Sure-Click™ bail that provides an audible "click" when the bail is fully opened and ready to cast. This series also has a handle that has a soft touch knob and is convertible to right or left handed retrieve.
The Testing
I chose Clear Lake as my destination and put the following combinations together:
• Pflueger Summit Wide Body Low Profile reel on a Dobyns Rods Champion Extreme DX 705 C casting rod, spooled with 20lb. P-Line CXX co-polymar and a 1/2oz jig.
• Pflueger Supreme 8035MG spinning reel on a Dobyns Rods Champion Series 702S XF spinning rod, spooled with 8lb P-Line Flouroclear and a 3/16oz tube.
Clear Lake ended up being the perfect testing ground for both reels due to a great bite for both quantity mixed with quality fish. I began fishing with the jig and the Summit baitcaster, and the first thing that I noticed was how the reel sat nice and low on the rod allowing me to easily and comfortably palm the reel and maintain good contact with the rod at the same time. The reel was light in the hand, which I believe helps to increase sensitivity while fishing baits like jigs and worms.
The second thing that I noticed was how smooth the reel was and how far I could cast it with very little effort. It actually took me a couple of casts to get used to it as I immediately was overshooting my target with very little effort. "So far, so good", I thought, as the reel was both comfortable and smooth. But what I really wanted to know was if it would give me the cranking power that I desired. I was able to get on a stretch of docks that had metal boatlifts and significant grass beds around them. The fish were tucked up underneath the docks and this proved to be the perfect scenario to test the reel.
I proceeded to catch several 2 to 3 pound fish out from under the docks and to that point the reel performed quite well, but I was hoping, as we always do, for a bigger fish so I could really see if this reel could perform. I got my wish about two and a half hours into the day. On two consecutive docks I caught a 5 ½ pounder and a 7 pounder. The first and smaller of the two bit when I pitched far up underneath a boatlift. On the hookset I could tell the fish was a little better than what I had been catching and I bared down, cranking hard to get her out. To my surprise the Summit performed beautifully and I had that fish out from under the boatlift through the metal supports and at the side of the boat in seconds and with no problems.
The second bass was underneath a floating dock that had a large weedbed against it. I pitched the jig in a hole between the foam on the dock and got bit about halfway to the bottom. The fish buried itself in the weeds and once again the reel was able to do the job with what seemed to be no more effort than that of the lower speed 6.3:1 reels that I typically use. To say the least I was impressed.
The next day I decided to fish the Supreme spinning reel exclusively to see what it was all about. Fortunately it did not take long to find out if this reel would stand up to the test. I went back to the same shoreline I had fished the day before and on the third cast on the first dock a nice fish inhaled my tube bait. Obviously there was no horsing this fish on 8lb test and the fight was quite chaotic.
I had to shove the rod underwater several times to keep the line from rubbing on the dock as the fish ran back underneath it. The entire time the drag worked flawlessly, giving line smoothly each time the fish would run. After what seemed like 10 minutes, but I'm sure it was only 50 or 60 seconds, I landed an 8lb 2oz largemouth.
The Verdict
After the above-mentioned trip and a couple other outings as well I have the following opinion of these two new reels from Pflueger:
Summit Low Profile: While admittedly not being a big fan of super high speed retrieve reels I have to say that I was impressed by the Summit. It is the first 7.2:1 reel that I have used that seems to have the cranking power that I prefer. While I used this reel on a jig rod for pitching it is probably best suited for other applications such as buzzbaits and soft frogs, like the Horny Toad, where you are using a fast retrieve over weeds.
The shape, comfort and weight of the reel are impressive and if it came in a 6.3:1 Gear ratio I would probably have one on every casting rod I owned. But one of the most impressive things about the reel is the fact that it is a reel that has 10 bearings, which make it extremely smooth yet it is significantly lower in retail than reels with half the bearings.
The reel has a nice metallic finish to it with a nice anodized handle with soft touch knobs that just make it look good on any rod. This is one reel that I will have to add to my arsenal for the right conditions.
Supreme Series Spinning: I can't say enough about the Supreme Spinning reel. Out of all the spinning reels that I have ever used, this is by far my favorite. It is a smooth, responsive reel that, once again, retails for significantly less than similar reels that have half the bearings.
The Supreme series is lightweight, in some cases as much as 1 to 2 oz less than other spinning reels of the same line capacity. For those of you who fish spinning equipment often, this is a detail that would not go overlooked.
The rotation of the bail is smooth and balanced and there is no give on the hookset, other than the drag. The Magnesium silver finish contrasted with the gold accents makes this reel one of the nicer looking ones that I have seen.
Pflueger continues to bring more exciting products to the anglers and these two are no exceptions. These are two reels that every angler should look at when considering a new purchase. Lightweight, durable and a tremendous value… these reels over deliver!!
For more information on these and other reels that Pflueger offers visit
http://www.pfluegerfishing.com/products/reel-split.php