Pinnacle's newest Tournament Class reels and rods put the power of best-in-class technology and precision in the hands of performance-minded anglers, at surprisingly affordable prices. The company has added five new series, encompassing 25 all-new models, to its successful Tournament Class line for 2012.
Optimus Hand Tuned Reels
Tournament anglers seeking an edge will find the performance they demand in Pinnacle's new top-of-the-line Optimus™ Hand Tuned reels. Like all Tournament Class tackle, the reels were designed with extensive input from top B.A.S.S. Elite and FLW pro anglers to give avid fishermen a full range of cutting-edge features, without the sticker shock.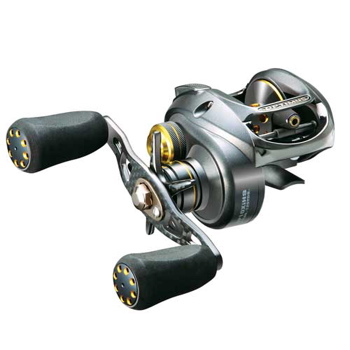 The two Optimus Hand Tuned models include an ultra-high-speed 7.3:1 baitcaster and an incredibly durable Reinforced Carbon Fiber spinning reel. Both are specifically crafted to meet the rigors of tournament fishing and, in order to deliver the ultimate performance edge, undergo a final step at Pinnacle's California facility before being released to the market — individual Hand Tuning.
Each Optimus Hand Tuned reel is subjected to a complete 8-step manual inspection and adjustment program covering every major system inside and out. As a result, it arrives in the angler's hands pre-calibrated for optimum casting, braking, retrieving and drag performance right out of the box.
The Optimus XiHS Hand Tuned Baitcast Reel is built on a flex-inhibiting X-Bone™ metal frame. The drive train is lightweight Duralumin alloy, supported by 10 double-shielded stainless steel bearings plus roller bearing for ultimate strength and smoothness, with convenient externally adjustable Tandem Cast Control. With its blistering 7.3:1 gear ratio, this reel offers everything a dedicated bass angler could want in a high-speed baitcaster, plus the advantage of certified Hand Tuned performance. The reel is endorsed by professional B.A.S.S. Elite Series angler John Crews and retails for $249.99.
The all-new Optimus Hand Tuned Spinning Reel brings over-the-top Hand Tuned precision to many popular bass-catching techniques. Built to withstand tough tournament conditions, it features high-strength RCF2 Reinforced Carbon Fiber construction in the body and rotor, topped by a carbon-wrapped ported spool. The superior rigidity of RCF2 assures flex-free operation. With 7 double-shielded stainless steel bearings plus roller bearing, waterproof multi-stack carbon drag and versatile 5.0:1 retrieve. Available in 30 and 40 class sizes, endorsed by professional B.A.S.S. Elite Series angler John Crews, it retails for $149.99.
Producer XT Spinning Reel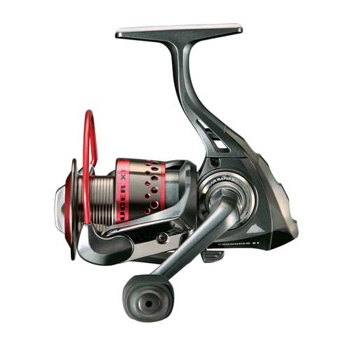 This new addition to the established Producer line of Tournament Class tackle offers the extra toughness of advanced RCF2 Reinforced Carbon Fiber construction in a modestly priced reel that over-delivers on performance. Its RCF2 body and rotor provide a solid base for the precision-machined ported spool while keeping internal parts in perfect alignment. The 7 double-shielded stainless steel bearings plus roller bearing, waterproof multi-stack drag, balanced rotor with FatWire Bail, titanium-coated ResistTwist line roller. Available in both 30 and 40 class sizes, the Producer XT Spinning Reel retails for $79.99.
Perfecta DHC5 Micro Guide Rods

Answering the call for ultimate precision in specialized bass tackle, the new Perfecta™ DHC5 Micro Guide Rods set new standards for castability, sensitivity and balance within a wide range of critical bass fishing applications.
These split-grip rods are built on Pinnacle's proprietary DHC5 blanks, which contain no glass scrim but are reinforced with a double carbon wrap for extreme power without added weight. The addition of premium Fuji Alconite Micro Concept guides makes these rods insanely lightweight and balanced. Anglers will notice a significant increase in casting distance as well as sensitivity, regardless of lure type.
Perfecta DHC5 Micro Guide Rods are available in both casting and spinning models, which include tangle-free Fuji Alconite K-Series guides. All have split-grip handles and top-of-the-line Fuji reel seats, and are available in 10 technique-specific actions. The rods retail for $169.99 to $199.99.
Perfecta DHC5 Walleye Rods
Two years in the making, the new Perfecta™ DHC5 walleye rods place a formidable arsenal into the hands of dedicated anglers targeting elusive marble-eyes. The rods feature Pinnacle's proven, feather-light Double Helical Construction blanks fitted with premium Fuji components and Super AAA grade contoured cork handles, ensuring ultimate comfort and responsiveness — with plenty of backbone to handle that final dive at the boat.
Fuji Alconite New Concept guides and superb handcrafted actions are the hallmarks of this advanced rod series. Constant fine-tuning by pros and field staff, working in real on-the-water situations, led to the development of 10 technique-specific walleye actions to cover virtually any approach from finesse live bait rigging, to slip bobber fishing, to open water trolling. The rods retail for $169.99 to $199.99
To learn more about Pinnacle Tournament Class tackle, or to review the complete line of Pinnacle fishing products including specifications, visit: www.pinnaclefishing.com.