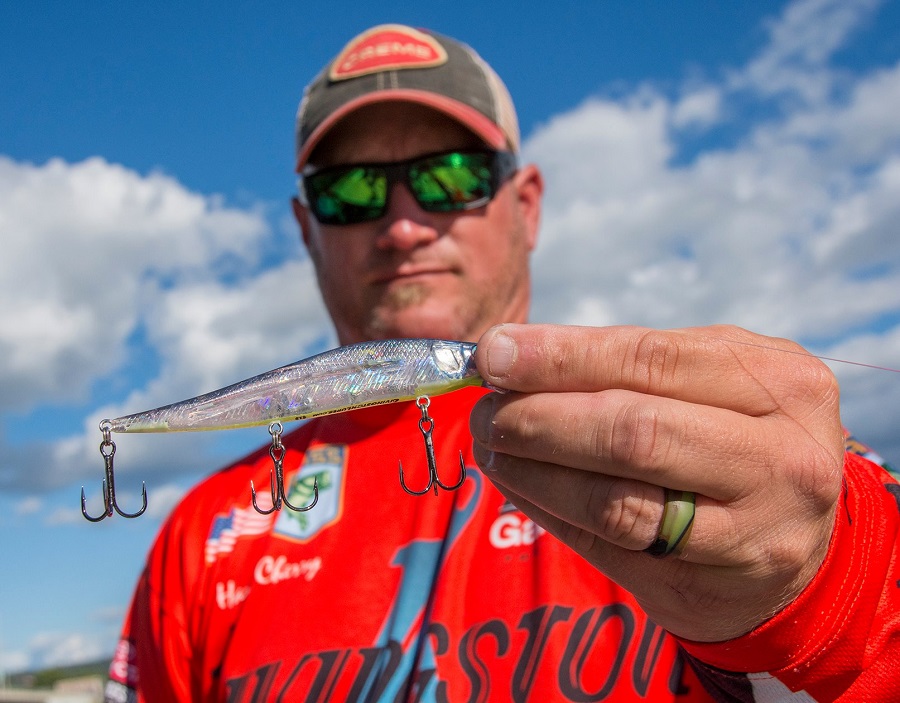 All of the talk leading up to the Bassmaster Classic is the possibility of huge weights being brought to the scales in Houston, Texas. It is a good possibility with the number of giant bass swimming in Lake Conroe, but North Carolina's Hank Cherry hopes the fishing is tougher than expected as he feels it will fit into his style. He predicts four patterns that can win this year's Classic.
Jigs
Fishing a jig around docks is a solid pattern no matter where you go in the spring and Cherry hopes the jig bite is on. "The lake has tons of docks and I plan to skip a jig under docks. That's my thing," he says and shares that he really only carries three colors with him regardless of where he is fishing in the country, "white, black/blue and green pumpkin covers everything you are going to need." Cherry prefers a homemade jig built with a stout 5/O hook to ensure he lands big bass under docks.
When skipping jigs Cherry plans to use 25-pound P-Line Ultimate Fluorocarbon at Conroe, which is a new addition to the sizes offered in the line. "It's because of the caliber of fish in that lake and all of the cross bars on the docks. Line clarity won't be an issue since the water is usually stained so you can get away with that larger size," he says.
Jerkbaits
Another technique that Cherry is known for and one that may play at Conroe is jerkbait fishing. This being Texas, bigger is better, and Cherry agrees. "I plan to use the Livingston Lures Jerkmaster 121, it is longer and thicker than most jerkbaits. It does a great job imitating big baitfish." This bigger and bulkier jerkbait option could be a way to stand out from the crowd. "I think this is something that will be a little different than what everyone else is doing. The upper end of the lake has some flats and tons of wood and a big jerkbait may do well there," he predicts.
When it comes to the line for these jumbo jerkbaits, Cherry will use 15-pound P-Line Tactical Fluorocarbon. "It has a little more stretch than other fluorocarbons and that makes a big difference when using something with treble hooks," he adds.
Big Swimbaits
Cherry is a fan of big baits and plans to have a large selection of everything from 5- to 12-inch baits, both hard and soft, jointed styles as well as glide baits. "The last time I was there for a TTBC, I lost two over ten pounds on swimbaits. That was before I really knew a lot about swimbaits and I'll be better prepared this time," he says and feels that it could produce a key fish for him during the event. "They eat big gizzard shad and bluegill and fishing a swimbait around seawalls, docks and marinas could get a big bite for me each day," he says.
When fishing swimbaits, Cherry switches up line based on the depth he is fishing and the size of the bait. Fluorocarbon is always his go-to and he typically sticks with 20-pound P-Line Ultimate fluorocarbon.
Topwater
Topwater lures are another bait style that could lead to a Bassmaster Classic win. Cherry feels that a walking topwater or the River2Sea Whopper Plopper may help someone contend for the title.
"Both of these baits are big fish baits. Sometimes the Plopper is better though because they do not blow it out of the water and miss it as a walking bait," he says. On the other hand, he will have to gauge the fish and how they are acting when deciding which bait to throw. "Sometimes the action of the Whopper Plopper is too much and they want that side-to-side action," he says. No matter which bait he chooses, he will rig them on 20-pound P-Line CXX monofilament line.
Bassmaster Classic Predictions
Many expect big weights and possibly, for records to fall at this year's Bassmaster Classic. Cherry agrees and feels like a 3-day total of around 75-pounds will be enough to win. "25-pounds a day has been what has stuck in my mind since I knew we were going there. Somebody will have a giant bag one day, but averaging 25-pounds should put you right there," he says.
No matter how the fishing shapes up at Conroe, the contenders should have plenty of options for targeting the shallow Texas bass. Hank Cherry feels like the event could play into his strengths and allow him to utilize some of his favorite techniques.