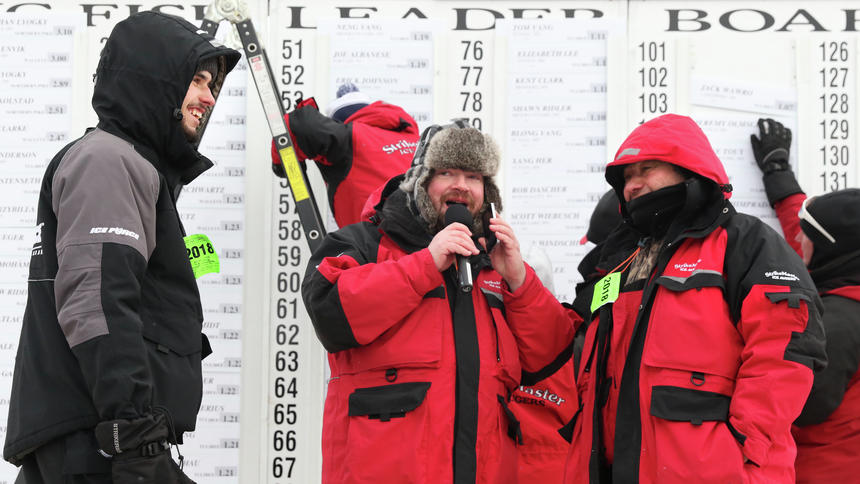 Stephen Lyogky (left) and his father Ivan Lyogky (right) from Hartville, Ohio, talk with radio host Brian Moon of B93.3. The Lyogkys took first and third place respectively with a 3.10-pound northern pike and 2.51-pound northern pike Saturday, Jan. 27, at the Jaycees Ice-fishing Extravaganza on Gull Lake in Brainerd. (Kelly Humphrey / Brainerd Dispatch)
Brainerd Jaycees Ice Fishing Extravaganza organizers are investigating possible cheating by the winners of this year's $150,000 Ice Fishing Extravaganza on Jan. 27 on Gull Lake's Hole-in-the-day Bay, north of Brainerd.
The investigation is to determine whether some of this year's competing anglers, including the winner of a new pickup truck, deceived contest organizers, it was reported in the Star Tribune.
Contest officials confirmed they are investigating whether three men from Ohio, a father, a son and another relative, legitimately caught the fish they say they did, earning first, third and 98th places among the 150 prize winners.
Event chairman Shane Meyer told the Star Tribune in an interview that organizers have no proof that anyone cheated. Calls were made to Meyer by Forum News Service, but were not returned.
The title to the new GMC pickup that Stephan Lyogky of Hartville, Ohio, won for catching a 3.10-pound northern pike during the three-hour contest is being withheld pending the investigation outcome, it was reported.
A hold also has been placed on the contest's third-place prize, a $1,000 check, won by Ivan Lyogky, 52, Stephan's father, and on the 98th-place prize, a certificate good for an ice auger, won by a relative, Rostik Lyogky, 23.