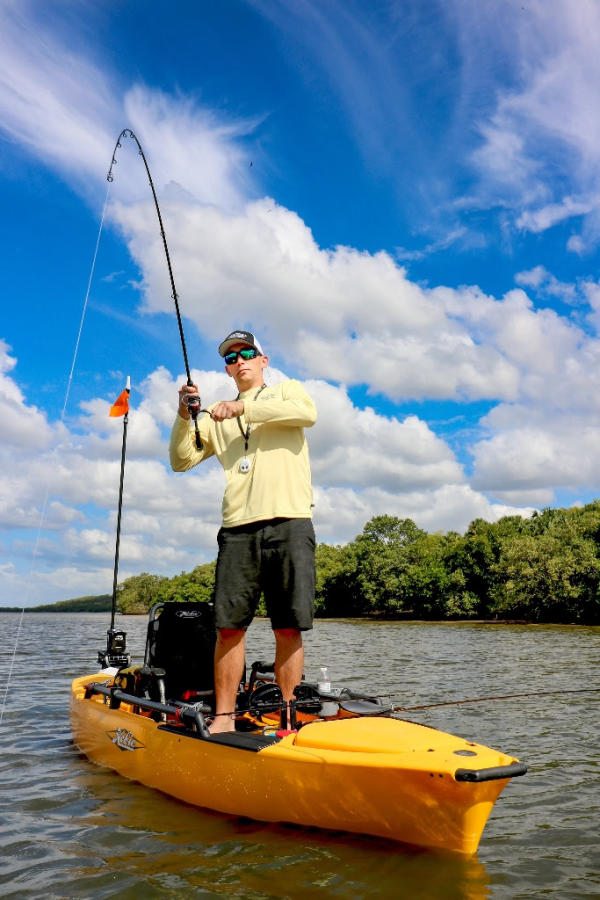 TAMPA, Fla. – Shallow water fishing in kayaks and paddle boards is awesome because it puts you right on top of your target even in the muddiest scenarios, making fishing in these small crafts increasingly popular for pros and everyday anglers.
Traditional anchors are nearly impractical and you have to be careful not to spook fish on these smaller vessels. Because they are so lightweight, you can quickly drift away from your spot in fast moving waters, come up too fast on the fish, or hit your kayak or board on the shallow water bottom.
But Power-Pole Ultra-lite and Heavy-duty Spikes and Micro-Driver unit are just the solution, allowing you to quietly and quickly stop your paddle board or kayak.

Whether you want to get up right along the marsh grass or out in the lake near a brush pile, these new Spikes and Micro-Driver anchor will hold you secure.
The Power-Pole Ultra-lite Spike is 3/4 inches in diameter and is made of a composite material featuring HollowCore™ technology – making it super strong yet lightweight. In 6 ft. and 8 ft. lengths, this spike won't weigh down your smaller vessels and can secure most canoes, kayaks, paddleboards and boats up to 1500 lbs. But if you are looking for a spike that packs a bigger punch new Power-Pole Heavy-duty Spike delivers a powerful hold for flats boats, bay boats, bass boats, aluminum boats and pontoon boats. This spike only comes in 8.5 ft. length and is made of super strong solid composite material.
Both spikes can be used with or without the Micro Driver Unit. This anchor unit's lightweight design makes it perfect to install on the back of your kayak or paddle board, and it's so small that it will never get in your way of your fishing. But small things come in big packages. This compact unit is resilient, and is able to hold crafts up to 1500 pounds (including persons and gear). In any shallow water bottom, this anchor will apply the right amount of pressure needed to ensure security, even in high winds or strong current. And the all-electric motor remains totally silent.
And it's so easy to control; even the least tech-savvy person in the family should have no problem handling this incredible tool with ease. With just the touch of a button on the key-fob remote, you can "power down" and the anchor will follow its command to best serve you on your expedition. In the case of a paddle board where balance is key, or a kayak where you're seated and moving around can be awkward, reaching the Power Pole Micro doesn't have to be an issue.
"It's really awesome to see the stopping power that these spikes and Micro anchor can handle," Robert Shamblin, vice presidentof JL Marine Systems, Inc. "Now we have an anchor portfolio that will literally serve any type of boat's shallow water fishing needs."
Check out the new Spikes and Power-Pole anchors in action during ICAST 2018 at the Power-Pole booth 2026.