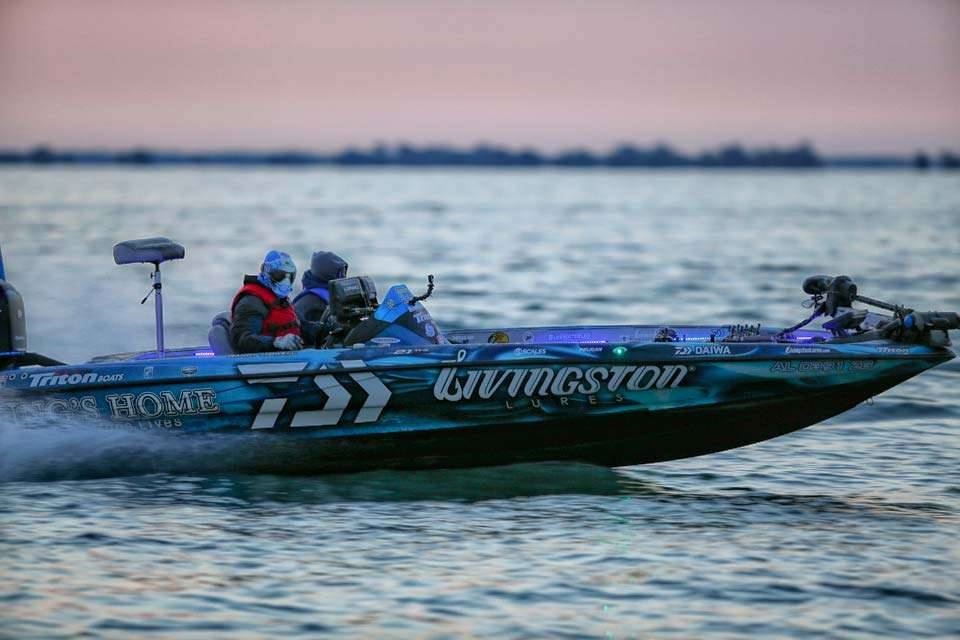 This year's Bassmaster Classic will again be held on Lake Hartwell in South Carolina. The venue has hosted previous events and should be a great tournament. How it will fish will depend on the weather, as it always does during springtime bass tournaments.
FLW Tour pro Cody Meyer previews the event and Classic qualifier and past winner Randy Howell shares his approach for the tournament.
Meyer, a Daiwa pro fishes the FLW Tour and is not fishing the Bassmaster Classic on Hartwell, but he does have a wealth of March experience at the site of this year's event.
In three spring tournaments, he had mixed results ranging from a top-5 finish, a 13th place and one where he wound up in the 60's in the standings.
"The biggest factor for this event will be the weather. During my trips there we have had different tournaments in terms of what was working and they were all in March. In the events I did well, the fish were out deep and then the other event was when it was a full-blown spawn tournament," he said. "Weather will decide whether it is a winter tournament or a spring event. Hartwell is a phenomenal lake with big largemouth and spotted bass, so I think they will bring in some big weights."
When asked where he predicts the winning bags to come from, he said most major tournaments are won in the same general areas. "
The mid-section of the lake around Andersonville Island always seems to be where the top finishers are. The unique thing about the lake is you can catch a big largemouth and then a big spot back-to-back on the same spot," he shared.
Howell's Thoughts
Howell, also a Daiwa pro knows what it takes to win a Classic and how to handle the hoopla and big crowds that come with this event. His win at the Classic came by fishing a shallow crankbait and he thinks that pattern will again play at this year's tournament.
"I am hoping the lake sets up to my strengths and that I will be able to use a one-two punch of a shallow and deep fishing," he says.
Crankbaits and Jerkbaits
Howell won the 2014 Bassmaster Classic by utilizing a Livingston Lures Howeller crankbait. He says that same bait he used at Guntersville led him to a good finish the following year during the Bassmaster Classic, which was coincidentally held on Hartwell. He ended up 16th during that event but was within a pound of the lead going into the final day.
"I was catching them on my Howeller in the Guntersville Craw color, but the Okie Craw could be another good one because there are so many clay banks and crawfish on Hartwell," he says.
"I fish this crankbait on my signature series Daiwa Tatula Elite 7', medium-light baitcasting rod with a Tatula SV TW 6.3:1 reel. The rod is the same one that I used when I won the Classic but was part of the regular Tatula lineup. We made some tweaks to it, changes the guides and made it a little lighter for the Tatula Elite series."
Howell says this rod and reel setup is perfect for any reaction bait with a size 4 or smaller treble hook.
"It is great for the Howeller, a jerkbait, or lipless crankbait. It has a soft tip and plenty of backbone," he shares.
A Livington Lures jerkbait is another bait he plans to utilize and will use the exact setup, but switches to a 7.3:1 retrieve and downsizes to eight or 10-pound Gamma fluorocarbon instead of the 12-pound he cranks with.
"I like a little faster reel for my jerkbaits just to pick up the slack quicker and have better control of my bait."
Besides a jerkbait and crankbait, Howell will be ready to target fish with a jig and underspin. The underspin is what won the 2015 Classic and a jig is something he always has tied at this time of year.
"Hartwell is a good lake for fishing docks and there could be a good dock pattern. If we get some sun I may be pitching my jig under docks with the Andy Montgomery Daiwa Tatula Elite Skipping Rod," he says.
When using an underspin for bass keying on baitfish, he will fish the same rod he uses for jerkbaits and crankbaits.
"It is a rod that can be used for a variety of techniques," says Howell. He will use the same Tatula SV TW reel in the 7.3:1 gear ratio and spool it with 12-pound Gamma fluorocarbon.
Since weather patterns play such a big role in how spring fishing plays out, competitors are preparing to have both shallow and deep patterns in order to cover all of their bases.