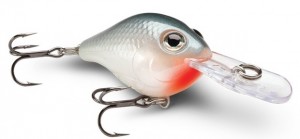 Rapala's Ultra Light Crank has been described as a small bait designed for big action.
The Finnish-based lure giant adds: "It is a power-packed marine snack that has all the right ingredients for finesse hardbait fishing.
"But don't let anyone confuse you. It throws out a strong kicking action even with the slowest retrieves and its floating design makes this lure a great choice for shallow water and structured areas.
"Its bulbous body, complete with internal rattle chamber, throws out copious amounts of flash and sound – drawing in fish from all angles."
Designed for Bream, Whiting, Yellowbelly, Bass, Red Fin Perch, Flathead, Snook, Trevally, Mangrove Jack and Herring, it comes armed with Black Nickel VMC hooks. Available in eight colours.
Stand-out features include:
Strong kicking action;

Ratting sound;

External scales;

3D holographic eyes;

Diving lip design

Long casting

Floating

Hand-tuned and tank-tested;

1.2m to 2.4m running depth.
Contact
Tel: + 61 (0) 2 9780 8200
Email: sales@rapala.com.au
Web: www.rapala.com.au