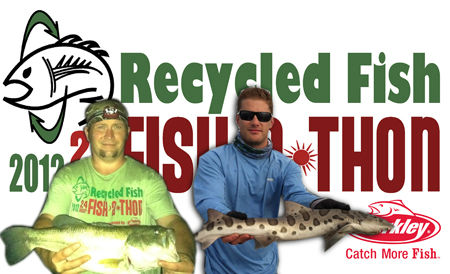 FOR IMMEDIATE RELEASE
Press Contact: Teeg Stouffer, Executive Director
teeg@recycledfish.org | 402-933-3443
This release is available online here: http://www.recycledfish.org/blog/event-news/record-setting-recycled-fish-24-hour-fish-a-thon/
-------------------------------------------------------------------

Record-Setting Recycled Fish 24 Hour Fish-A-Thon presented by Berkley Fishing
Crowning champions and celebrating victories for fisheries in this year's event

Buddy Johns and "Team Playland" from western Pennsylvania had decided that they were tired of second place. For the past two years, their Recycled Fish 24 Hour Fish-A-Thon team has raised an admirable total, but never enough to earn the top slot and the fishing trip of a lifetime. This year they edged Team Extreme Philly Fishing in the final hour of fundraising competition in a good-natured battle of Pennsylvania West-versus-East. Their team also became the all-time fundraising leader.

"We've never seen anything like it," said Teeg Stouffer, Executive Director. "These teams sandbagged donations until the final hours of the months-long fundraising effort. Both Team Playland and Team Philly Extreme had already raised thousands, but both began submitting hundreds of dollars in the final day and both made large donations in the final hour of fundraising, pushing us to our highest fundraising total in the history of the event."

Now, Buddy and his teammates will head to Chequamegon Bay near Bayfield, Wisconsin for an unforgettable, expenses-paid ice fishing expedition into the Apostle Islands. They will fish the deep, clear waters of Lake Superior for massive lake trout under a thick field of ice with Jim Hudson's On The Spot Guide Service this winter.

Across the country in San Diego Bay, Jeff Sutton & Jason Hyman were having some of the best fishing of their lives. "The bass fishing was actually slower than we expected, but we caught so many more sharks and rays than we ever have, it was amazing," said Sutton.

Sutton & Hyman of "Team J&J Kalico Kings" won the fishing competition, catching and releasing 126 assorted saltwater fish. It was the first year for saltwater fishing in the 24 Hour Fish-A-Thon. As the fishing champions, the team will head to Spring Bay Resort in northern Minnesota on an all-expense paid trip to fish for musky, pike and smallmouth bass next summer.

Team Extreme Philly Fishing poured on the pressure in the fishing competition as well, landing over 500 fish from the Schuylkill River and earning second place. Voracious white perch made up the bulk of Extreme Philly's catch, but a broad mix of sunfish, catfish, juvenile striped bass and others made for a lively 24 hours of fishing right in urban, downtown Philadelphia.

In Oklahoma, Team "Red Dirt Anglers" led by Andy McDaniels claimed the custom-built Dragon's Custom Rod for cleaning up more trash than any other team.

The best Saltwater Hero Shot went to Florida's Team Space Coast Kayak Anglers for a vibrant shot of a snook, and Team Provide Outdoors earned the most votes for the best Freshwater Hero Shot with a walleye double.

While other prizes were awarded, the real victory is for healthy fisheries. Already this year 24 Hour Fish-A-Thon funds have gone to help fund the installation of a fish barrier at Big Creek Lake in Iowa from Team Fishfeeder's efforts. In Minnesota, Team Flippin' & Pitchin' used some of their funds to assist in the White Bear Lake Cleanup last weekend. Dozens of other local projects to help solve specific issues across North America will receive funding from the efforts of 24 Hour Fish-A-Thon anglers and the people who generously donated to their teams.

Funds continue to roll in, but already the 24 Hour Fish-A-Thon presented by Berkley Fishing has raised over $20,300 – an all time high. 42 teams fished in 27 states and provinces, and anglers caught, photographed and released over 2000 fish. Furthermore, teams removed dozens of bags of trash from the areas they fished.

"The Berkley brand product team was eager to support the 24-Hour Fish-A-Thon and thrilled with the final results. The folks at Recycled Fish are making a difference. These guys work hard to encourage the rest of us to stop ignoring the environment. If you spend time in the outdoors you need to support this program," said Roxanne Coleman, Senior Field Marketing Manager at Pure Fishing.

Other prizes from Berkley, Shakespeare, Castalia Outdoors, the Recycled Fish Online Fly Shop, DICK'S Sporting Goods, Scheel's, wildlife artist Curt Redden, and Fish Tales Outfitting in Montana were awarded to teams for various achievements.

See complete fishing and fundraising results, photos, video and more details at www.RecycledFish.org/FishAThon.

About Recycled Fish:
Recycled Fish is the non-profit organization of "anglers living a lifestyle of stewardship both on and off the water, because our lifestyle runs downstream." We Are Stewards.

The Recycled Fish 24 Hour Fish-A-Thon presented by Berkley Fishing is anglers fishing around the clock and across North America to raise awareness for the problems facing our waters, and money to help solve those problems.