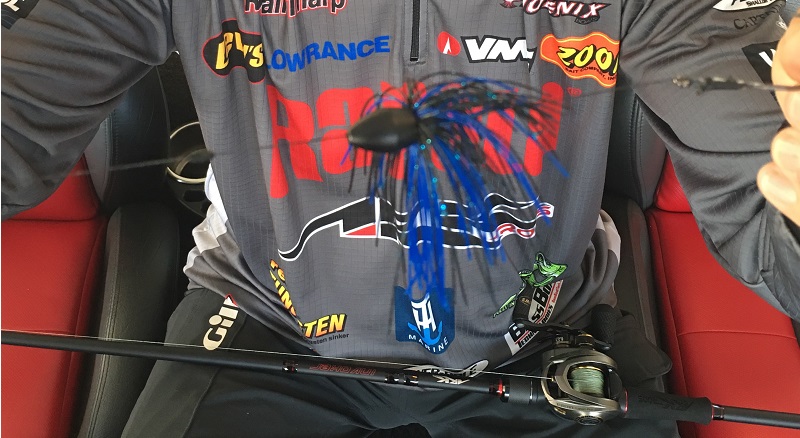 The 2017 Bassmaster Classic on Lake Conroe in Texas has the chance to break records in both weights of the winning bass as well as attendance according to Bassmaster Elite Series competitor Randal Tharp.
Tharp believes the event will also be unique in that it could be won a number of ways from shallow to deep. Tharp also agrees that this event will put the Texas in Texas-rig as everyone will be throwing some soft of the popular technique.
Fish Your Strengths
Tharp feels that competitors will have the chance to fish how they feel comfortable at Conroe because of how the lake sets up and the time of the year the event is held.
"One thing I know for sure is that every single person will have some sort of Texas-rig with a tungsten weight and their favorite soft plastic on their deck. This tournament is shaping up to be perfect for any type of soft plastic baits because of the time of year," he begins, "For me, that means fishing shallow and pitching and flipping around docks and brush."
The lake has docks just about everywhere, but Tharp also plans to fish the upper section of the lake, which is full of brush and timber. "The lake really doesn't have a place to punch into grass since there isn't much of it, but I checked out that area of the lake in the pre-practice period and it fits my style," he says.
Sight Fishing at the Bassmaster Classic
Given the time of year, sight fishing could play into the hands of anglers fishing the Classic. Tharp most often relies on a ¼-ounce to ½-ounce Reins tungsten weight and rotates through plastics. "One thing I like about the Reins tungsten is how small they are, even compared to other brands. The smaller you can have your weight the better your hookup will be no matter how you are fishing," he says.
He went on to explain that he has done several tests with measuring and weighing different brands of weights and has realized that Reins is different. "They are smaller and when you weigh them, they are always right on. That's not the case with all brands because some use a higher percentage of other materials mixed in and it makes them much bigger," he shared.
Reins Punch Shot for the Bassmaster Classic
One other rig that may play at the Classic is the Reins Punch Shot, a tungsten weight with the ability to slide a skirt onto the weight. Tharp uses this when fishing for spawning fish as well as pitching and flipping into heavy cover. "This gives you the profile of a jig and it falls much slower than a weight and plastic without the skirt. It could definitely be a player at this event."
Fishing the Bluegill Spawn at the Bassmaster Classic
Another pattern that may emerge if the bass have completed their spawning cycle and the bluegill are spawning is targeting bream beds. "This is always a good pattern after the bass have spawned and a Texas-rig with a Reins tungsten weight and soft plastic is the way to go," says Tharp. "I will be using a variety of different baits that imitate a bluegill."
When fishing for bass feeding on spawning bluegill, Tharp keeps it simple and his best advice is to move stealthily and make long casts.
Brush Piles Could be the Ticket for the Bassmaster Classic
The site of this year's Classic is known for having an abundance of brush piles. They may be a key at the event, as post-spawn bass tend to utilize them both before and after spawning. While admittedly Tharp says he plans to stick with his strengths and stay shallow with the big rod in his hand, he does feel that this will be a possible way to win the event.
"Some guys who really like to fish offshore or who know where all of the brush piles are may end up doing really well with a big worm and tungsten weight," Tharp predicts.
Randall Tharp's Predictions to Win the Bassmaster Classic
As mentioned earlier, Tharp feels this event has the chance to break some records. "I have been in the area a few times for different events this winter and people are excited about the event and it could be the biggest in terms of attendance," he says.
The same can be said for the fishing itself. "I have been there a few times for TTBC events and we had double-digit fish weighed in just about every day of the tournaments and that was always much later in the year. Having the best anglers in the world fishing it for a Classic in the spring almost guarantees the same will happen," he believes.
The Bassmaster Classic on Lake Conroe looks to be one to remember. The great thing about the event according to Tharp is that a variety of patterns will be available to the competitors and there is not just one thing that everyone will be doing.