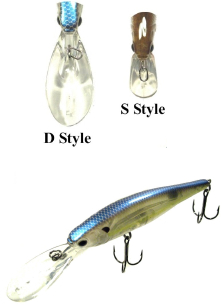 Richmond, CA (May 12, 2006) An athlete holds a trophy as a prized possession, a symbol of excellence and a task performed to the best of their ability. River2Sea's new Trophy Minnow series of jerkbaits will undoubtedly become one of the prized pieces of any tackle collection.
However, this trophy is not merely a showpiece; it is full of features designed to bring trophy gamefish into the boat. Trophy Minnow is a series of four baits in three different sizes and shallow running or deep dive configurations designed to give the angler the flexibility to fully cover the water columns that aggressive fish live in.
Trophy Minnow comes in three sizes and six of River2Sea's premium finishes. As with all of River2Sea's Elite Series lures, Trophy Minnow comes equipped with premium Daichi treble hooks to hold fish that strike.
Trophy Minnow is available for immediate shipment
Model Description Size Product Action Retail (Map) Price
JB-TyD78SU Trophy Minnow D78su 3" 3/8 oz Suspend (Dives 5-7 feet) $11.99
JB-TyS98SU Trophy Minnow S98su 3 7/8" 9/16 oz Suspend (Dives 3-5 feet) $11.99
JB-TyD98SU Trophy Minnow D98su 3 7/8" 5/8 oz Suspend (Dives 6-8 feet) $11.99
JB-TyD108SU Trophy Minnow D108su 4 1/4" 7/8 oz Suspend (Dives 7-9 feet) $11.99
Colors G11 (Ghost Minnow), G12 (Chartreuse Shad), G16 (Whitey),
HA15 (Clown), S27 (Green Peacock),
S28 (Table Rock Shad)