The bass fishing world is usually rich with speculation and conjecture. As bass anglers we usually find ourselves discussing how the latest tournament was won; what bait they were using and where the winners were fishing. I suppose it is my time to join in the rumor mill and tell you of the new baits that River2Sea is launching at ICAST this coming week in Las Vegas. You may not know that Gary Dobyns joined forces with River2Sea this year and has been quietly working on his new Signature Series lures, and having seen the prototypes, I must say that the fishing world is in for a treat.
When I think of Gary's exploits, three things come to mind, ripping, topwater and jigs. The River2Sea Gary Dobyns Signature Series has two of the three fully covered, and topwater baits are not far behind.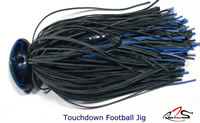 Knowing that the fishing community loves a good hand tied rubber skirted jig, Gary got River2Sea to produce a quality line of hand tied jigs that feature the now discontinued flat living rubber, and River2 Sea will be in the minority of companies using the material, as the world's rubber thread manufacturers have stopped making the material. The Touchdown Football Jig will come in sizes from 1/4 to 1-ounce, while the Arkie styled Flippin Jig will come in 1/4 to 1/2 – ounce, and the Tungsten Touchdown jig will have three sizes, 3/8, 1/2 and 3/4. Each of the jigs will feature Gamakatsu hooks and will come if the most popular colors featuring River2Sea exclusive Natural Matte Finishes.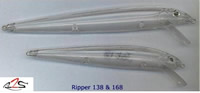 While jigs play a major part in the Dobyns arsenal, ripping is where his reputation was made, and the baits that Gary has been working on will be worth all of the time he has put into them. There are three families of ripbaits in Gary's line: Fetch Minnow, Ripper and Jerk Shad.

"Early on, my go to baits were Smithwick Rattlin' Rogues and if I needed a big bait, I would go to a Rapala Mag 18," said Dobyns. "We worked on modeling a family of baits that had the long slender profile of those two, but gave us the advantages of modern technology." The Ripper 138 (5-1/2 inches) and 168 (6-5/8 inches) minnow plugs feature three premium treble hooks, and will come in seven colors. The Ripper minnows have a redesigned bill that will allow the baits to run a little deeper than most minnow plugs.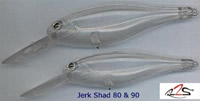 Few may know that Dobyns has held a secret bait from the rest of the angling world, one that has earned him a lot of money, and he is now releasing that secret in the form of the Jerk Shad 80 (2-1/2 inches) and 90 (3-1/2 inches). The Jerk Shad family is a shad profile ripbait that will be perfect when bass are tuned into a lake's shad population. "I love the deep diving action of a Shad profiled lure, and the Jerk Shad definitely has it," Dobyns reported. "This bait will be a killer on Clear Lake or any other lake where threadfin or gizzard shad are present."

While professional anglers hold secrets, there has been no shortage of knowledge that Dobyns has had an affinity for the Staysee 90. The long billed deep diving ripbait has become the first lure Gary ties on when looking for a rip bite; that is until now. "I wanted a bait that was more consistent than a Staysee, and I wanted one that ran a little deeper," Dobyns explained. "The Fetch Minnow is that bait." Fetch Minnow will come in two sizes, 88 (3-1/2 inches) and the larger 108mm (4 –1/2 inches), and will feature a re-designed tungsten weight transfer system as well as three trebles; a feature Dobyns said was a must for any ripbait. Fetch Minnow 88 should reach depths of up to 8 feet, while the 108 is capable of running to 10 feet, with the right diameter line. Dobyns also said that, "Fetch Minnow is the bait that I have wanted for a long time, and I can't wait to put it to test in competition, I know what it is capable of, now everyone else will too."
Look for the Gary Dobyns signature Series baits from River2Sea to show up at your tackle store sometime after ICAST is over. River2Sea is sure to make a splash at this year's show, as they are releasing more than a dozen new lures this year, and like the Gary Dobyns Signature Series, they have been well thought out, and anglers should expect to see them produce for them on the water.