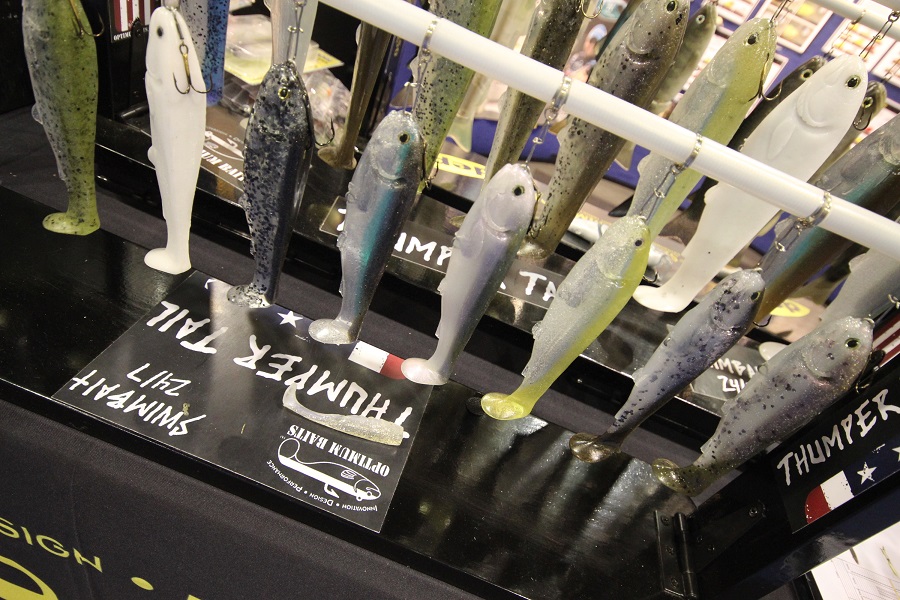 This year there were many new products released by the different companies that make up the Optimum Baits family. There were several new designs, sizes and colors unveiled at the ICAST 2017.
Last year, Optimum introduced the Boom Boom swimbait designed by Fred Roumbanis and the Butch Brown Thumper Tail. Both of these new baits are now available in a downsized version.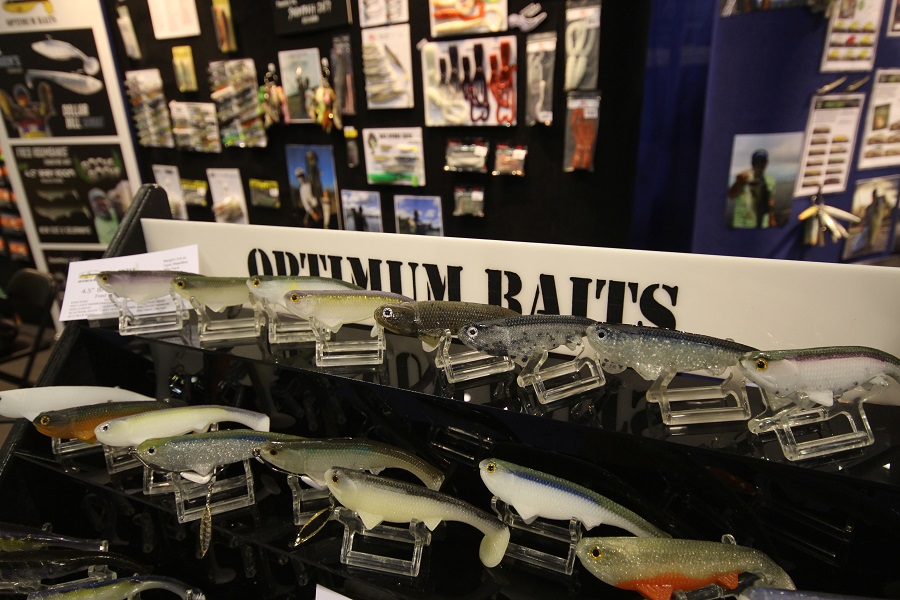 The Baby Boom Boom Swimbait is a 4.5-inch version with the same great action as the original. The 6-inch Butch Brown Thumper Tail has the same great action of the larger version and the design was made and approved by swimbait master Butch Brown.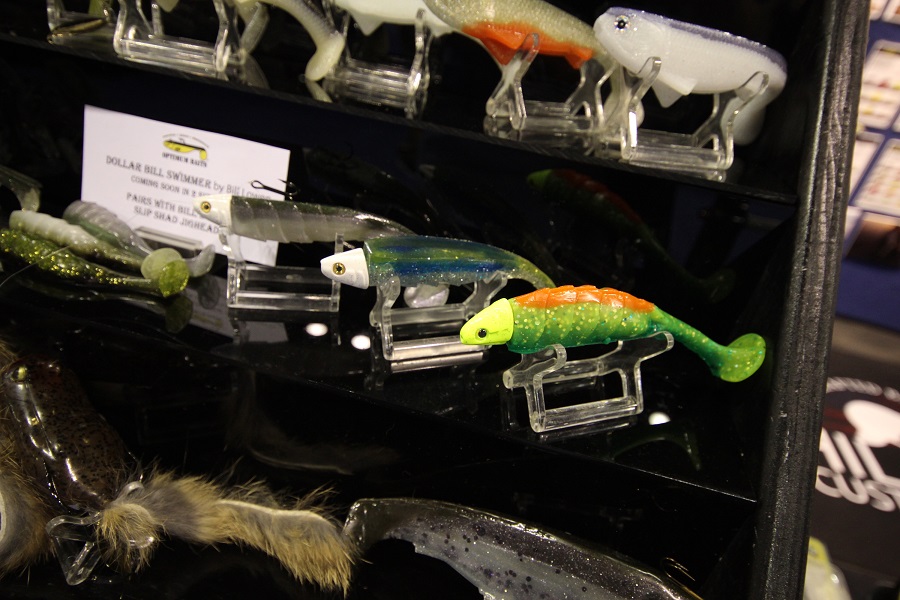 One final new swimbait is the Dollar Bill Swimbait, designed by Bill Lowen. It was built around a sliding head that screws into the bait and allows the treble hook to be rigged on the top of the head. The sliding design allows for free motion of hooked bass and will increase landing percentage. It comes in two sizes and also works well when rigged on a jighead.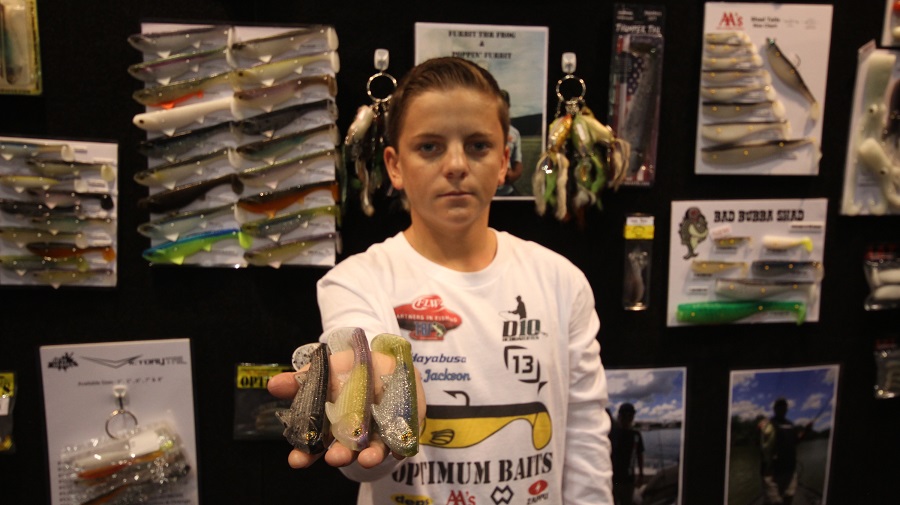 The popular Furbit and Popping Furbit has two new colors, a bright gold color called Goldilocks and Green Pumpkin. The Boom Boom swimbait series had three new colors added: Light Hitch, Crappie, Pro Blue Shad.
There are three new plastics from Reins, the Paddle Tail, C-Pod and Goby Goby.
The Paddle Tail is a new and improved version of an old standby in bass fishing. This bait has a tapered body, which gives the paddle tail more thumping action. It can be modified to create a buzz worm, cut to fish like a fluke or anglers can remove the tail to fish it like a soft stickbait.
The Goby-Goby is a lifelike goby imitator and the C-Pod, short for small copepods that small fish feed on. This larger size has a unique design and can be fished many different ways.
Reins soft plastics also have several new colors coming soon. Watermelon Silver Flake, Spring Gill, White and Black N Blue Flake will be added for the Punching Predator, Craw Tube, Ring Craw, 3-inch and 4-inch Ax Claw, Bubbling Shakers, and Fat Rock Vibe. The 3-inch Bubbling Shaker has three new colors: Natural Pro Blue, Glow Chart Silver and Mueller's Madness.
Also, new for this year are two new tungsten jig heads from Reins. There is a Cover Series and Wacky Head version. The Cover series is a collared jighead that can be used for Ned Rigs. The Wacky Head has no collar and is built for deep wacky-rigging. Both have a medium weedguard.
New from Ima Lures for 2017
Ima released two new baits, the Glide Fluke and a larger version of their square bill crankbait.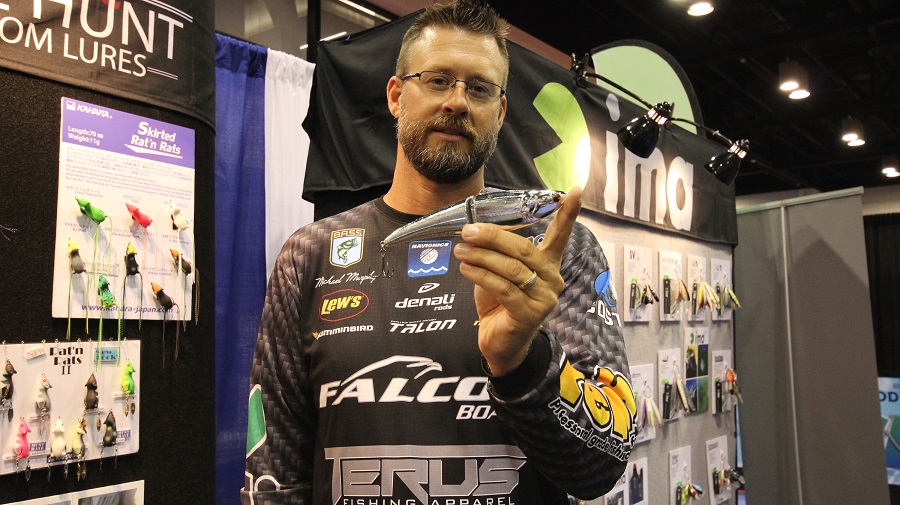 The Glide Fluke was developed with the help of pro angler Michael Murphy. It is a hard bait that can be fished like a glide bait, swimbait or soft jerkbait. It comes in two sizes, a 110 and 178 in sinking and floating models for both sizes.
For Ima Lures, there are several new colors available in their existing lineup of hardbaits. For the Little Stik and Finesse Popper, Toucan is a new color. The Little Stik will also be available in Sexy Minnow and the Finesse Popper will be available in Chrome. The Skimmer will be available in Clear later this month.
The Ima Suspending Vibration will now come in Golden Shad, Hot Craw and the Beast Hunter crankbait will now be available in Sun Granny and Delta Fire Craw.
The 300 size of this magnum Japanese swimbait will now be available in a floating version. It is a segmented 12-inch bait that weighs 5.8-ounce The floating version will be available in Bluegill and Ghost Shad. There is also a new downsized version of the swimbait, a 9.8-inch 245 size floating model that weighs 3.6-ounce.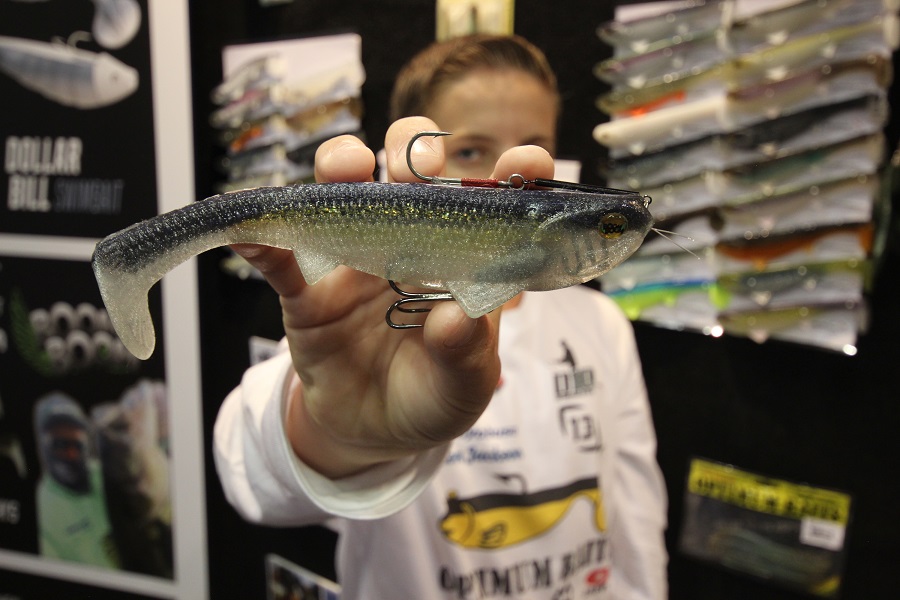 Zappu Hitch Hook
This hook was built as a swimbait stinger or trailer hook. It connects to the line tie and is held in place at the top of the swimbait for better hookups with swimbaits.
AA's Bad Bubba Shad | New Sizes
The Bad Bubba Shad is a beefed up version of the AA's Shad Tail swimbaits that have been around years. This year they have two new sizes, on both ends of the spectrum with a bite-sized 2.75-inch Jr. Bad Bubba Shad and monster 9-inch Bad Bubba Shad.
Deps and Kahara
There are several new items from Deps that will be now available in the United States. Included are the large magnum spoon called the Gurkha Knife and two smaller sizes of the Slide Swimmer. This popular bait will now come in 145 and 115 sizes. Also coming soon is a Buzzjet Magnum, NZ Crawler topwater, Evoke 4.0, Spin Tail blade bait and the Calling Hustler.
Kahara has a new frog-style rat imitator called the Skirted Rat N Rats. It has a long skirted tail and walks easily from side-to-side.
As you can see, there are several new products coming to market from Optimum Baits and the connected brands. The new designs, colors, and sizes should be of interest to bass anglers everywhere.