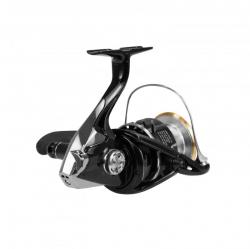 LADSON, S.C. – Now Available -- Shimano's complete update efforts bring both fresh and saltwater spinning reel anglers the new Sustain series, now with Shimano's Hagane gear technology and body design, and X-Protect. For uses from targeting big bass with finesse baits, to stripers and even small billfish, the new Sustain reels are available in four sizes – the Sustain 2500HG, C3000HG, 4000XG and C5000HG. The larger size 4000XG and C5000HG reels took 'Best New Saltwater Reel' honors at the 2017 ICAST New Product Showcase awards.

When using the new Sustain spinning reels, anglers will noticed a high level of rigidity – a solid feel to the reel from the Hagane aluminum body construction. The Shimano Magnumlite low inertia rotor provides a sensitive, light rotation, with its asymmetrical shape and light start up allows anglers to retrieve line in instantly.

From there, anglers will experience Shimano's Hagane Gear – a cold forged aluminum drive gear that is 165-percent stronger than casted zinc gears, brings exceptional durability, smoothness and long-life to the Sustain reels. The Hagane gear is cold-forged in an instant by applying nearly 200 tons of pressure to the raw material, technology involving no cutting work to create a high-precision gear with micron accuracy in a single process. "This exclusive Shimano process produces a gear that is incredibly strong, smooth, durable and unlike any other in fishing reel manufacturing," said Trey Epich with Shimano's product development team.

Especially when used in the saltwater – and to keep the light rotation feel on all sizes when used in any wet fishing conditions, Shimano's X-Protect feature – a 'labyrinth design' three-lipped rubber seal system offers exceptional water resistance.

Added features on the Sustain reels include Shimano's Cross Carbon Drag, eight shielded anti-rust ball bearings and a one-way roller bearing for no handle backplay.
The Sustain 2500HG and C3000HG – same body size as the 2500 - have 6.0:1 gear ratios, and take in 35-inches per crank. With faster 6.2:1 gear ratios, the 4000XG pulls in 39-inches and the C5000 - same body size as 4000 - takes in 41-inches per crank.

Ideal for use with PowerPro braid, the Sustain 2500HG can handle 145 yards of 15-pound test PowerPro or 140 years of eight-pound mono/fluoro; with its larger capacity spool, the C3000HG holds 140 yards of 20-pound PowerPro or 170 yards of eight-pound mono/fluoro. Up to 170 yards of 30-pound PowerPro or 200 yards of 10-pound test mono/fluoro fills the Sustain 4000XG, while the large spool/4000 body size Sustain C5000XG can take 200 yards of 30-pound PowerPro or 195 yards of 12-pound test mono/fluoro.
For more information on the new Sustain spinning reels, available in sizes for both freshwater and saltwater use, see your local tackle dealer - visit the Shimano web site at http://fish.shimano.com - or call Shimano's product support team at 877/577-0600 (6 am to 5 pm Pacific Standard Time).