Restore the Delta Repost | "Their water conservation efforts really had an impact on the aquifer. It was meaningful to them to see that water went back to pre-drought levels, and they did not damage the aquifer. They were able to keep the porosity as they had it before the drought. The Santa Clara Valley Water District did a very good job in this sense, compared to the Central Valley of California, where there has been a lot of pumping and there is permanent damage to the aquifer." - Professor Estelle Chaussard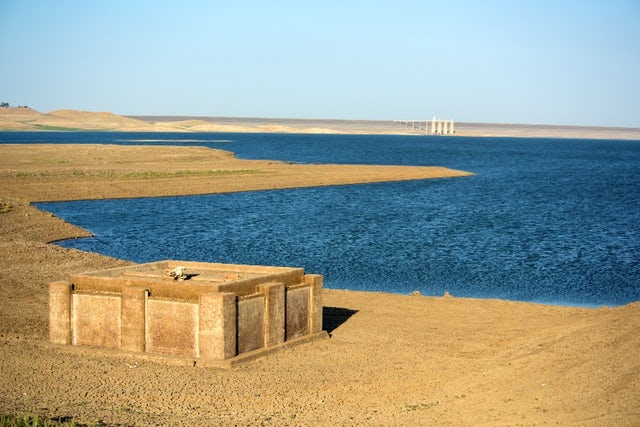 Satellite Data Shows Silicon Valley Aquifers Bounced Back From Drought
San Luis Reservoir, located in the eastern slopes of the Diablo Range of Merced County, was at 13 percent of capacity on August 24, 2016. The Santa Clara Water District intake structure is normally underwater and attests to the ongoing drought conditions.California Department of Water Resources
CALIFORNIA'S FIVE-YEAR DROUGHT taxed the state's water supplies like never before, especially its groundwater. Many areas of the state saw huge drops in aquifer water levels, with resulting surface subsidence and even damage to infrastructure such as roads and canals.
As a result, water agencies and scientists began looking for ways to monitor groundwater more closely. One that emerged uses sensors mounted on Earth-orbiting satellites.
It's difficult to imagine that satellites can detect changes in groundwater. The fact that they can indicates just how much groundwater consumption affects the planet: Losses in groundwater can be detected from changes in the Earth's gravitational force and by precisely measuring land surface elevation.