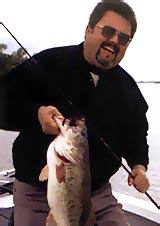 Skeeter Boats, a sponsor for National Bass West team tournaments, has announced two new dealers in the West. Galaxie Marine in Auburn, California has for many years been considered a premiere marine dealer, will now be carrying the Skeeter line of bass boats.
Mark Kile, Skeeter representative for the West said, "We are very excited about growing the Skeeter brand in the West and thrilled to have Galaxie Marine as a dealer. Galaxie Marine is a bass fishing store. They know and talk bass fishing and their staff understands the sport. There are a lot of places you can go to buy a ski boat, but when you want to buy a bass boat you want to talk to someone who understands your needs. That's what Galaxie Marine offers anglers. They are specialists."
Another new dealer for Skeeter is Colorado River Boats in Yuma, Arizona.
"Again, this is another place where the owner and staff understand bass anglers," said Kile. "Dave Curry, the owner of Colorado River Boats, works as a tournament director for WON Bass and has been involved in bass fishing for years. These are the kind of dealers that Skeeter Boats wants to work with, because they understand our market. These aren't people who are just interested in selling a boat, any boat; they work to ensure the anglers have exactly what they need."
Jim Carius, owner of Galaxie Marine in Newcastle said, "We are extremely happy to be part of the Skeeter family. Because of my background as an engineer, I don't believe in selling junk and I can't sell something I don't believe in. Here at Galaxie Marine we sell only what we believe to be the best boats around, we carry Triton, Bass Cat and now we are selling Skeeters – that's a tough lineup to beat. Skeeter provides us the opportunity to augment our line of boats with their wide range of products. We are also extremely pleased with their association with Yamaha, that association makes Skeeter Boats a world-class organization.
"Here at Galaxie Marine we have been specializing in fishing boats for 23 years, our staff understands the needs and desires of anglers and that's what sets us apart. Galaxie Marine provides support for 18 pro-staff members, so we have a lot of anglers who are out there performing and keep us informed on what anglers need and want."
The Skeeter Boat family continues to grow across the West and you are going to be seeing a lot more Skeeter boats cruising the Western waterways.