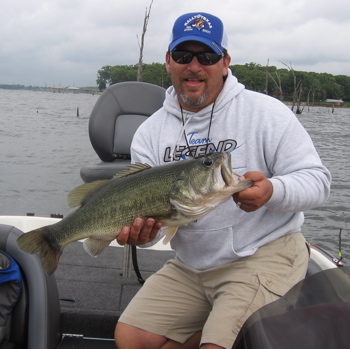 It all started when I received a phone call mid week asking if I could find another boater to head to Cachuma Lake to take the out the qualifiers for the Junior Bassmaster State Championship. I knew it was short notice and not likely to get a response but I made a couple posts in our Northern and Southern California fishing forums. It wasn't a surprise that I didn't get a positive response.
Previously I had made arrangements for myself to be up on Lake Shasta, pre-fishing for my own state B.A.S.S. Federation final and hopes to move on to qualify for the State Team. I had to make the decision of whether to go on to Lake Shasta as planned or go to Cachuma to give the kids a ride. One way or another I knew I wanted to get out of the house so I let the kids that called me and Tom Stater, the adult coordinator for the Delta Teen Team, know that I would be coming down to make sure enough boats were there at Cachuma.
It'd been a tough week personally and professionally so I was really looking forward to a change of scenary and a change pace. I packed up to go and left at roughly six o'clock Friday evening. Traffic was okay at best so I set my pace at about 55 miles per hour knowing that it'd be a while before I got to Santa Barbara.
I was driving down highway 101 just past Gilroy. The road had melted down to two lanes at this point and I was in the slow or right hand lane. I was listening to an old time radio show on my satellite radio. The show was Box 13 starring Alan Ladd as Dan Holiday, a show that I was enjoying a lot and was helping to pass the time more quickly.
Suddenly I noticed a car moving at about 70 miles per hour or faster coming down a 'third lane' on the road. He was on the other side of the yellow line, making his own passing lane. He zipped passed a big rig truck that was slowly coming around me. Immediately I slowed down, not feeling good about what I was watching.
Suddenly the speeding car made a hard right hand turn directly into traffic and came across both lanes of traffic narrowly missing the big rig. The car rocketed into the steep embankment, pirouetted three times in the air and came down with a crash on it's top. I pulled off the highway and stopped just before the smoldering, mangled wreckage that was this car.
As I eased my way into the vehicle I noticed there was only one person inside and he was still in his seatbelt hanging upside down. I tried to talk to him but he was very shook up and apparently didn't speak any English. I reached up and undid his seatbelt to give him a chance to right himself. The air bag had been deployed but the roof of the car was now touching the top of his steering wheel. I feared the worst. As I was backing out of the car to grab my cell phone I noticed something that made my blood run cold, a child's sneaker and a car seat for a baby.
Running back to my truck I called 911 and got in touch with the operator. She had already been informed of the accident but when she found out that I had witnessed the crash she asked me to hang on to the phone. She asked me to ask the driver several questions, wanted to know if he was bleeding or was in hurt in some other way and I told her he was indeed bleeding from his hand but that I couldn't tell if he was hurt in any other way as he spoke Spanish and I didn't, so there was a bit of a communication problem. I told her of the baby seat and she asked me to look around and see if there were any other passengers in the car or on the hillside. Thankfully I couldn't see anyone and by this time a Spanish-speaking driver had pulled over and was trying to relay the operator questions to the driver. At first he said that there was someone with him but once we got him away from the vehicle and sitting down he told the lady that he was alone.
CHP, firefighters and an ambulance all arrived on the scene and started doing their jobs immediately. I was asked to stay and give my account of the accident and also my personal contact information. An officer came over to me and said that a test was administered and that the driver was indeed under the influence of alcohol.
After about an hour all tolled I was back on my way to the lake. I pulled into the parking lot at about two thirty in the morning and was dead on my feet tired. Kicked back the drivers seat and slept until my alarm went off at quarter to six. The boaters were told in advance to meet up and get paired up with their teen anglers at six o'clock by the market on the lake.
I looked around and saw my buddy Rod Martin by his boat and then I noticed Federation President Gary Bradford by his boat. Gary introduced me to the youth coordinator for the federation Sal Gervaisi, it was the first time we had meet. Once they knew all participants were there, Sal explained the format for the day and the pairings were made. Each boater was going to be taking out two of the youth qualifiers. The adult boaters were there to drive the kids around the lake but could not offer any assistance what so ever. We could help them a bit in the parking lot but once our boats were launched we were only to bring them to their fishing spots and not offer tips, comments or anything that could be considered help. We could run the trolling motor if a youth didn't feel comfortable doing so but that was all the assistance we could offer to them.
I drew out two kids, Jake and Kenneth, who were from the southern California club. Both were ramped up and ready to go fishing. Their fathers were there, helping them load everything into the boat and we were soon ready to launch and start the fishing day.
Each got to take a turn on the front of the boat and Jake started off. He had done some pre-fish and knew exactly where he wanted to go. It wasn't long before he set up on a nice largemouth that looked to be about two and half pounds. A nice fish to start off with.
On his next spot Jake set up on another two pound fish and into the livewell it went. Kenneth was throwing what had to be the loudest buzzbait I had ever heard. I think anyone fishing that lake could hear that bait as he raced it across the water. Unfortunately the fish were not annoyed enough to come up and hit the bait.
We moved around a couple of times before we settled into another area where Jake setup on a nice fish. He called for the net and as I was not able to assist in any way Kenneth made his way to the net. After a bit of a struggle to get the fish into the net they finally did so and it was a largemouth that looked to be about three and half pounds.
It was now Kenneth's turn up on the front of the boat and he was fishing hard to get this first bite of the day. All of a sudden he took his buzz bait rod and casted it right out of his hand and into the lake. A second or two later the bait hit the water. We were over 12 feet of water at the time and I could see he was a bit shook up. Kenneth told me he had just spooled up the reel on that rod for the first time, it was brand new and now on the bottom of the lake. We made several attempts to retrieve the combo, but I was aware that we had another competitor in the boat and we couldn't just end both of their fishing days trying to get the rod and reel and beloved buzz bait back.
I assured Kenneth that we would find a way to get him another setup and reminded him that he was still in a competition and needed to keep his dauber up and keep fishing. Bites were few and Kenneth didn't end up getting bit but I think he was more worried about what his father's reaction might be when we got back to the launch ramp.
As it worked out Dad was in good spirits and handled the situation really well so Kenneth was worried about nothing. I told both Kenneth and his Dad to give me their mailing address and that I would find a way to get the combo rod and reel replaced.
Well it was time to weigh in the fish that Jake caught and he got enough to capture third place in the tournament. Turned out that indeed it was a very tough bite and I think there was only one limit weighed in. Aaron Hart from the Delta Teen Team had the big fish of the event and just narrowly got beat out for the win.
After the weigh in we were fed a great tri tip bbq and chili and everyone was having a good time. We also got to hear a bit about Sean Alarid's experience at the 2004 Classic. Sean was the first ever Junior Bassmaster Champion but had found a tougher then tough bite and never got bit during this year's competition on Cachuma.
Two new champions were crowned and we all said our goodbyes and headed home. I can't tell you how uplifting an experience it is to fish with the next generation of bass anglers. These kids were fierce competitors yet the two I had in my boat assisted each other like a fine tuned team. It was not only my pleasure to be there with them but I would gladly do it again each and every year they have this event.
Congratulations to Tim Nunes and Angelo Ambrosino on their wins at this state championship. They'll be fishing in the National Jr. Bassmaster championship at the 2005 Bassmaster Classic in Pittsburg, PA.
Thanks to Jake and Kenneth for allowing me to share their day. I'd fish with you guys any time I got the chance and hope to again someday soon!