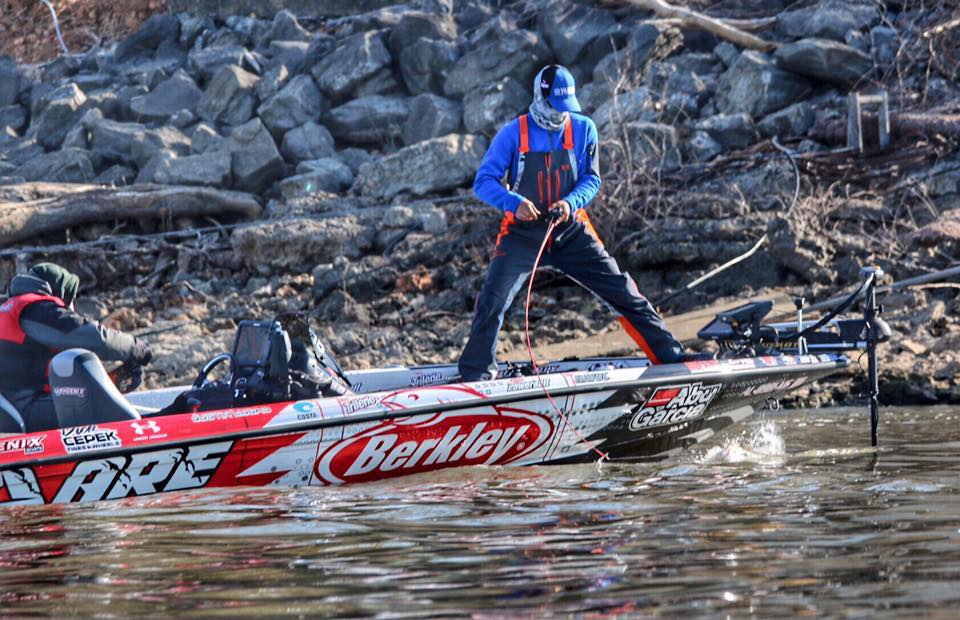 The soft plastic worm is a standard for bass anglers from weekend anglers to top professionals. Over time there have been many variations, styles, and enhancements and they continue to evolve.
Bassmaster Elite Series pro Justin Lucas shares some insight on how he selects which one to use for each situation.
Straight vs. Ribbon or Curly Tail
With so many shapes and styles, anglers have many choices when it comes to soft plastics. The biggest deciding factor for choosing what type of bait for Lucas is water temperature. Baits with moving tails are best for warmer water when bass are more active he says.
"A straight tail is good for any water temperature really, but the ribbontails, curly tails and baits with a lot of appendages do best when the water is 55-degrees and up," he shares.

Powerbait vs Maxscent
Berkley Powerbait is an iconic name in the fishing world and anglers everywhere know how effective it can be. Maxscent is new and anglers are just starting to learn about what it is and how it works. Lucas says the two are different.
"Powerbait is a flavor and helps fish hold on longer where Maxscent is an attractant. The new soft plastics have both Maxscent and Powerbait, which allows the fish to be drawn to the bait and then once they bite they hold on longer because of the Powerbait," he summarizes.
Soft Stickbait
A soft stickbait can catch fish during all seasons and can also be rigged several ways. The standard Texas-rig and wacky-rig are common approaches; but, Lucas also likes to fish one on a shaky head.
"The Maxscent The General is a great one and gives your shakyhead a little more bulk and gets bigger bites than using a little finesse worm," he believes.
When fishing for smallmouth, Lucas likes to use to use a shaky head with a soft plastic stickbait in places where he would normally use a tube as he has experienced a better hook to land ratio.
"Smallmouth are always jumping and will throw a tube. I seem to hook them much better and keep them on with a shaky head," he says.
He also shared how The General eliminates the need for to cut down the 5" version like he is currently doing to give the bait a more compact package for smallmouth.
Drop-Shot
There are many baits that will do for drop-shot fishing. Lucas keeps it simple and alternates between a straight tail worm and soft plastic minnow.
"The more compact minnow allows it to get down quicker and this is important when I see fish on my graph in deep water," shares Lucas. He likes the 4" Powerbait Maxscent Flatnose Minnow (shown right) and the 4.5" Hit Worm.
"Those two caught tons of smallmouth for me last year. I have never had to use my pliers so much to unhook fish since switching to these baits. They eat it," he shares.
Flipping, Pitching, and Punching
The beaver-style bait has become a favorite for bass anglers everywhere and now Berkley has their own version in the lineup. Looking at the bait it appears like many others in the same category but it does offer a unique texture and color selection, but the biggest draw is MaxsScent.
"That's the major thing with the Creature Hawg, the Powerbait Maxscent. The fish grab it and hold it longer, even with a big tungsten weight, they hold on and give you a little more time to set the hook," he says.
Offshore Structure
When the water warms and bass head a little deeper, one of the best ways to catch big bass is with a Texas-rig and big soft plastic.
"After they spawn and move out to the deeper weedlines or offshore structure like rock piles, shell beds, and brushpiles, a big worm is one of the best ways to catch them," he begins. The Powerbait Maxscent Kingtail Worm (shown right) has been his preferred soft plastic for this situation since it was released last year.
"One thing about that worm is how wide the tail action is, it is much different than a ribbontail. It swims like a snake swimming through the water and gives the fish a different look."
Finesse Texas-Rigs
With many anglers opting for shaky head and drop-shot in tough fishing situations, a lightweight Texas-rig can also get the job done.
As an alternative to the other finesse approaches, Lucas often reaches for a lightweight tungsten weight and finesse straight tail like the Berkley Powerbait Maxscent D-Worm.
"It is a 5.5" worm and is really thin and a true finesse worm. It works great on a light Texas-rig in pressured situations," he shares.
Soft plastics are one of the most versatile groups of lures available and each has their own time and place. Having a wide selection and knowing when to pick each one will allow an angler to fish soft plastics all year long.