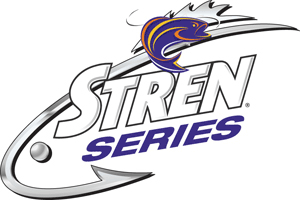 HENDERSON, N.C. (Sept. 3, 2008) – The $6.5 million Stren Series™is headed to Kerr Lake Sept. 17-20 for a $275,225 bass tournament. As many as 400 pros and co-anglers will be competing in the third Northern Division tournament of the season for top awards of $65,000 and $35,000, respectively.
"This is usually a tough time of year to fish Kerr," said Team Kellogg's pro Dave Lefebre of Union City, Penn., who has won more than $934,000 in FLW Outdoors events. "It's going to be hot and the water will be hot.
"Judging from the past, there's going to be a lot of schooling activity," Lefebre added. "The morning topwater bite will be pretty important."
Lefebre said recent fluctuating water levels could play a role in the tournament. According to the North Carolina State Parks Web site, recent rains brought Kerr's water level back up to 295.5 msl (mean sea level), but it is still four feet below normal.
"It could help a few of the guys who don't like to chase schoolers," Lefebre said. "If the water does come up, the fish could move up shallow and explore. That could definitely change things." Lefebre predicts anglers will bring similar weights to the scales as they did in the Stren Series' 2006 stop at Kerr Lake.
It took a two-day final-round total of 29-06 to win that event.
"I expect guys who catch 13 to 14 pounds a day will be doing really well," Lefebre said.
Anglers will take off from Satterwhite Point Recreation Area located at 6470 Satterwhite Point Road in Henderson, N.C., at 7 a.m. each morning. Wednesday, Thursday and Friday's weigh-ins also will be held at Satterwhite Point Recreation Area beginning at 3 p.m. Saturday's weigh-in will be held at the Walmart store located at 200 North Cooper Road in Henderson beginning at 4 p.m. Takeoffs and weigh-ins are free and open to the public.
The Kerr Lake Stren Series tournament is hosted by the Vance County Tourism Department.
Pros will fish for a top award of $25,000 plus a $40,000 198VX Ranger powered by an Evinrude or Yamaha outboard and equipped with a Minn Kota trolling motor and Lowrance electronics if contingency guidelines are met. Ranger will award another $3,000 to the winner if he or she is a participant in the Ranger Cup program. If the winner is not a Ranger Cup participant, Ranger will award $1,500 to the highest-finishing participant in the contingency program.
Yamaha or Evinrude will match 50 percent of Ranger Cup earnings if "Powered by Yamaha" or "Powered by E-Tec" guidelines are met.
Co-anglers will cast for a top award of $5,000 plus a $30,000 Ranger boat and trailer if contingency guidelines are met.
Competitors will also be vying for valuable points that could earn them a trip to the $1 million Stren Series Championship on Table Rock Lake in Branson, Mo., Nov. 5-8 for a shot at $140,000 in the Pro Division and $70,000 in the Co-angler Division. After four qualifying events are complete in each Stren Series division – Central, Northern, Southeast, Texas and Western – the top 40 pros and 40 co-anglers based on Angler of the Year points standings from each division will advance to the championship. The top 10 pros and 10 co-anglers from each division will also qualify for the 2009 Walmart FLW Tour® and Walmart FLW Series®, bass fishing's top professional circuits, where they can compete for a share of $19.5 million. The highest-finishing pro and co-angler from each division at the Stren Series Championship will also qualify for the $2 million 2009 Forrest Wood Cup, where pros will fish for as much as $1 million – the most lucrative award in bass fishing.
Tournament anglers aren't the only ones winning big this season. With the introduction of FLW Fantasy Fishing™, FLW Outdoors® offered anyone the opportunity to enter for their chance to land the catch of a lifetime with the opportunity to win $7.3 million in cash and prizes. Players could become a virtual pro angler by signing up for Player's Advantage, which provided them with exclusive insider information that could have guided them to a $100,000 victory at every Walmart FLW Tour® stop and the Forrest Wood Cup. Player's Advantage gave them an edge over the competition and increased their shot for the $1 million cash grand prize awarded to the FLW Fantasy Fishing cumulative points winner. Visit FantasyFishing.com today to find out more information and to register for next season.
In Stren Series competition, pros supply the boats, fish from the front deck against other pros and control boat movement. Co-anglers fish from the back deck and compete against other co-anglers. Every angler who receives weight credit in a tournament earns points that determine angler standings. Two hundred points are awarded to the winner, 199 points for second, 198 points for third, and so on. The full field competes on days one, two and three, with the top 10 pros and 10 co-anglers advancing to day four based on their three-day accumulated weight. Winners are determined by the heaviest accumulated weight from all four days.
FLW Outdoors, named after Forrest L. Wood, the legendary founder of Ranger Boats, is the largest fishing tournament organization in the world. In 2008 alone the organization is offering more than 90,000 anglers the chance to win over $40 million through 230 tournaments in 10 circuits targeting bass, walleye, redfish, kingfish and striped bass. FLW Outdoors is also taking fishing mainstream with the largest cash awards in the history of fantasy sports, $7.3 million.
For more information about FLW Outdoors and its tournaments, visit FLWOutdoors.com or call (270) 252-1000. For more information about FLW Fantasy Fishing and Player's Advantage, visit FantasyFishing.com.
Total awards are based on a full field of 200 boats in every tournament.