Introduction
Situated on the western rim of the San Joaquin Valley near the I-5 farming town of Los Banos, CA is a water storage facility of vast proportions. Actually three bodies of water total the San Luis State Recreation Area but we will focus on O'Neill Forebay in this two part article. O'Neill sits on the valley floor adjacent to the San Luis Reservoir Dam. Water is pumped in the Fore Bay via canals from California Delta, in what is known as the Central Valley Water Project. Water is then pumped from the Forebay up into and out of the main reservoir (San Luis Reservoir) via power generation turbines for storage purposes, water needs and power generation. Construction on the San Luis project started in 1962.
O'Neill has roughly 14 miles of shoreline with a maximum depth of around 50ft depending on water fluctuations and demands. The banks of the forebay are slow tapering to the center with mostly a sand/mud bottom substrate. San Luis creek channel and other depressions are spread through out the topography of the lake. The dam consists of most of the eastern side and lined with fish holding rip rap. At fist glance O'Neill is an unassuming body of water, but underneath its surface is home to some world class land locked Striped Bass fishing. What's more amazing is that ALL of the IGFA tippet line class records for landlocked, fly caught Striped Bass come from San Luis or O'Neill Forebay. It's no wonder it's a popular destination for Fly and Conventional anglers alike.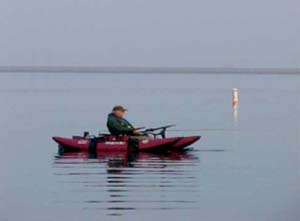 A popular destination for Kick Boats & Float Tubes
Fishing O'Neill
My favorite time to chase Stripers here is September-December. January and February can also be good as long as we don't have any major storms that cause muddy water conditions. I have also had good fishing in the spring and summer months especially for larger fish but the winds can be treacherous and unpredictable. Summer pleasure boat traffic can also make for tough fishing conditions. Fall through early winter provides calmer winds with some great topwater fishing!! Zara Spooks, Poppers and array of other offerings aren't safe here in the fall. 20 – 30 fish days happens frequently. The average fish here is around 2-4lbs with bonus fish in the 10-15lb class. Fish in the 20+ range or larger is a possibility at any time so be ready. As with any striped bass fishery the forebay can be tough. More then one trip I have come home scratching my head skunked. Time on the water will be rewarded here and when it does happen it can be nothing short of spectacular.
Tips & Techniques
As mentioned, this is top water heaven with expansive flats and weed lined edges for the angler to cover. Most calm mornings I will start with a topwater offering of some kind and let the fish and or birds tell me if I should step up to a bigger bait, downsize or try a subsurface presentation. Wind permitting the magnum PopR is good all around surface plug here and so is the Super Spook Jr. These two baits will cover most of your topwater needs 80% of the time. Larger plugs will indeed catch larger fish at times so experimenting is necessary. Upgrading the hooks and split rings is a must.
Other productive baits at O'Neill are 1/2 & 3/4 oz hair jigs of different styles and colors. Roadrunners in shad patterns work well with a fast stop and go retrieve. White/Blue & White/Chart are favorites of mine. It's important to touch up the hooks on Road Runners with a hook file before fishing with them. I especially like this bait along the rip rap dam face. Other traditional Striper jigs work as well. I like sparse, hand tied jigs that breathe naturally when clarity is good and a more full body traditional striper jig for stained conditions such as the Rod Strainer Shim Jig.
The one bait that you just can't come to O'Neill Forebay without is the old stand by Rattle Trap. It's a great search lure and just flat out catches them. Some days there is no need to put it down. I like a 1/2 oz Trap in the chrome/blue back or chrome/black back. I've played around with the 3/4 oz bait with mixed results but if you have confidence in it by all means throw it. Chartreuse & red/orange combinations are good choices in stained or dirty water. Again, hooks need to be upgraded before launching these baits. I can't stress enough about having quality hooks. Stripers are a tough, hard fighting fish and inferior hooks just don't cut it.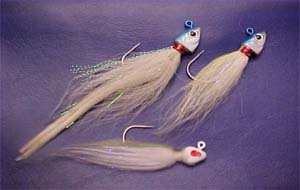 An example of a custom buck tail hair jigs tied by Paul Wolter
Live bait fishing here can be great with the proper presentation and good quality bait. Large minnows are most popular with the regulars but also mudsuckers annually play a roll in landing some monster Stripers both here and on San Luis Reservoir. Quality live bait can be purchased at most good Bait & Tackle stores and the key is to keep your bait lively from the time you purchase it.
So whether you're a plug caster or enjoy drifting a jumbo minnow, there is a technique to suit all types of anglers at this impoundment. Mark it down on your calendar for 2005 and come out and enjoy what some consider the best land locked Striped Bass fishery in the country. You might just be rewarded with a fish of a life time.
Conservation
Please keep in mind that the Stripers don't reproduce here so this is not a self sustaining fishery. There is nothing wrong with taking a fish home to eat. But please only take what you WILL eat and release the larger fish to fight another day. The limit is two fish per day 18" or larger.
Thoughts on Safety
With the valleys close proximity to the Monterey Coast, this region can get extreme winds very quickly. Safety is of utmost importance here and venturing out with an unsound vessel or not having proper PFDs is foolish to say the least. Cell phone coverage is good so have one handy. Both the Big Lake and O'Neill have wind warning beacons. On the forebay it is located near the Medeiros Ramp in the south east corner of the lake as well as the south swim beach.. Water levels on the Forebay fluctuate daily so READ all safety precautions when arriving at the lake. A call ahead to find out wind conditions before making a trip is always a good idea so you don't arrive only to have your hat blow for 100 yards when you step out of the vehicle. It gets very windy here folks, use common sense and you won't have any problems.
Read ALL safety precautions before launching
For current wind conditions call 1-800-805-4805
Operating hours
All year. Day use hours are from sunrise to 10pm.
Boating hours are from sunrise to sunset.
Camping, check-in 2pm check out noon.
Guides
Bay Area Backwaters Guide Service
650-743-8929
www.bayareabackwaters.com
Prime Time on the Fly Guide Service
with Dan Blanton
408-778-0602
www.danblanton.com