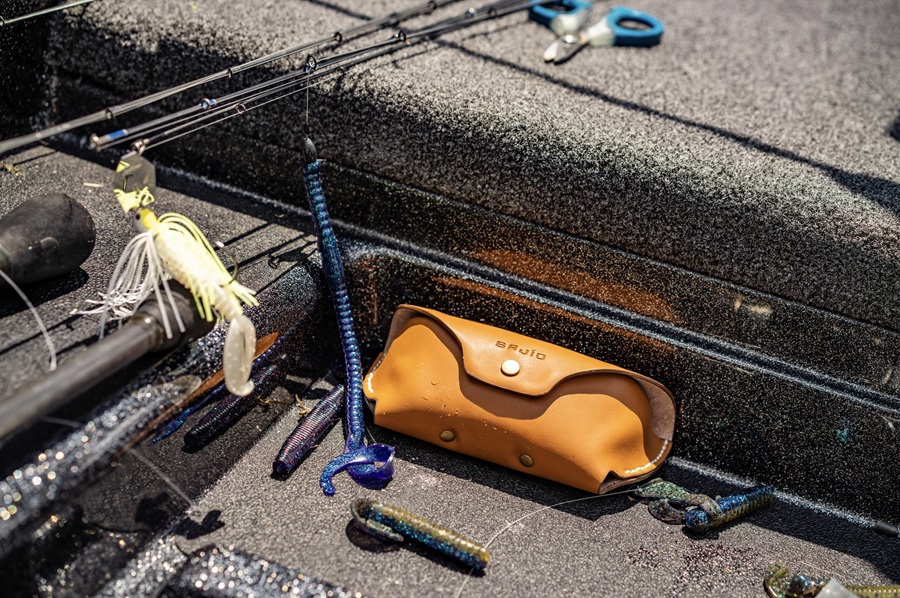 Everyone knows that sunglasses are essential when fishing. They help you see fish and structure and generally make things easier on you, but they also serve as crucial protection. They can shield your eyes from flying objects and help to reduce eye fatigue at the same time. A good pair of sunglasses should be one of the first things anglers should purchase as they can significantly help your fishing and ensure your eyes are healthy for many years.
The reasons for Quality Polarized Sunglasses
Polarized sunglasses are standard equipment for bass anglers, but the quality varies wildly by brand. Renato Cappuccitti, VP of Optical/ RX at Bajío, says that not all sunglasses are created equal and that a quality pair can help to reduce eye fatigue.
"Reflective glare from the water's surface enters the eye at oblique angles and is difficult to process," he said. "This glare can make your eye continually work to focus, diminishing clarity and resulting in eye fatigue, which can intensify when the water is choppy."
In addition to reducing glare, good sunglasses also make for cleaner and crisper views of the water and can help reduce fatigue and help you stay on the water longer.
"Our vision is one of our most important senses," he said. "Poor-quality lenses may not have sufficient filters to absorb the sun's harmful rays known to cause irreversible damage to the eye and surrounding structure."
Polarized sunglasses are widely available and can be purchased for the price of a fast food meal at the closest gas station. While they may work in a pinch, they can harm your eyes if worn for long periods.
"Distortion-free optics are essential for long days on the water," he said. "Many poor-quality lenses, especially with wrap sunglasses, are produced by bending the lens components versus having properly formed curves for crisp optics throughout the entire lens surface. This can result in distortion and prismatic effects that lead to eye fatigue and headaches with long-term wear."
Sunglass Lenses: Glass vs. polycarbonate
Once you've found a pair of sunglasses you like, one big decision to make is the lens material. Most come in both glass and polycarbonate options. Both are good choices, with glass generally a step up in cost but also heavier when wearing. Both are solid choices, according to Cappuccitti. Another big question is how well they would withstand a flying object like a lure or tungsten punching weight.
"Polycarbonate lenses are shatterproof and 60 times more impact resistant than the FDA's minimum impact requirement," he said. "Glass lenses are virtually scratch-proof, and while there is always a risk of lens cracks with a high-velocity impact, Bajio's polarized glass layers are hardened to exceed the FDA minimum impact requirement by 10x."
One extra layer of protection is the actual polarization used. "The embedded polarized film acts as a cushion layer to help absorb impact and avoid shattering," said Cappuccitti. "It's a lot like the windshield of a vehicle."
The Bajio Difference
There are some excellent choices regarding fishing sunglasses with many good brands and Bajío has emerged as one of the leaders in recent years. They have several technologies that help to create better sunglasses, according to Cappuccitti.
"Bajio specializes in creating the clearest color-enhancing polarized sunglasses that block more of the bad blue light than other high-performance sunglasses," he said, pointing to their LAPIS technology. "It helps improve lens clarity and reduce blur, glare, and haze by blocking 95% of potentially harmful high energy while allowing all the good blue light to reach your eye. LAPIS technology also provides exceptional color-enhancing views for you."
Bajío also puts their sunglasses together in America and stands behind their product. "Our Florida-based manufacturing allows customers to custom order our wide variety of advanced lens options in any frame style or color," he said. "This includes prescription sunglasses and our new reader sunglasses as well."
If something should ever go wrong with your pair, they are there to help and it doesn't cost any extra.
"We cover defects with a limited lifetime warranty at no cost to the customer, but in case of accidental damage, we quickly repair or replace damaged lenses on-site for a nominal fee," he added.
Purchasing a good pair of sunglasses should be at the top of your list if you still need to. They offer many benefits, will also help you see things better, and will give your eyes years of good fishing without damaging them.