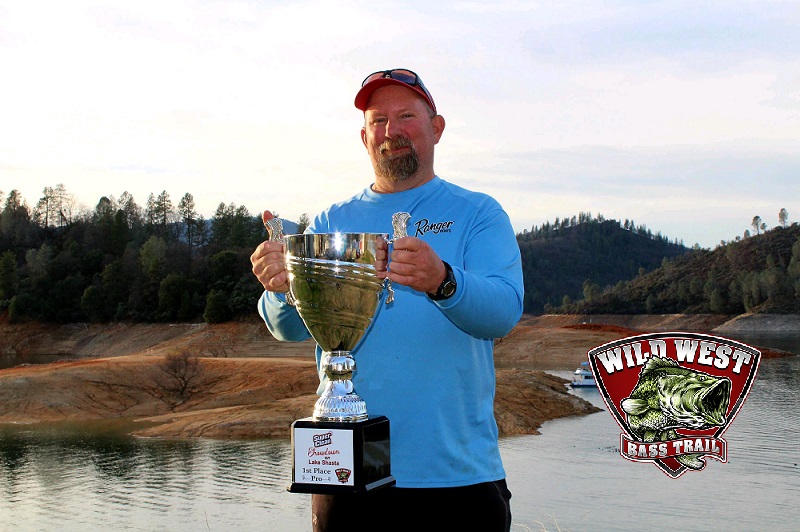 JEFF MICHELS WITH A SENKO SCORES WIN AT WWBT LAKE SHASTA SHOWDOWN PRESENTED BY SUPERCLEAN
2018 Showdown at Shasta | Full Digital Program
REDDING, Calif. – A shallow focus was the differentiator that pro angler Jeff Michels of Lakehead, Calif. credited for his victory at the 2018 Wild West Bass Trail (WWBT) Pro/Am season-opener –the SuperClean Showdown on Lake Shasta.
Michels kicked off the event with a Day 1 limit of 15.11 that put him three-pounds over the nearest competitor in the 133 boat field.
His 2nd day of competition was plagued with break offs and lost fish, allowing Michels to add only 7.88 to his total. Although his Day 2 weight was more than enough for the top-10 field cut, he slid to 3rd place with 22.99.
The final day, Michels faced mechanical challenges that ate up 2 ½ to 3 hours of fishing time; however, he was still able to sack up a last limit for 11.28, giving him a tournament total of 34.27 and the win.
"I am really pleased that I was able to put it back together on the 3rd day, especially after having the boat issues," said Michels.
Over the course of the event, Michels found fish from morning to afternoon without much lull in the bite, with the bigger ones moving shallow as the day progressed.
"I was running main lake points, trying to maximize my stops at about 20 per day; but I only hit about 10 on the last day," he revealed. "I was targeting 3- to 7-feet. I don't think a lot of guys were fishing that shallow. Most people don't fish Shasta that shallow."
His primary lure was a five-inch, Cinnamon/Black Flake Yamamoto Senko, tied on with 6-pound Seaguar fluorocarbon. A weightless, wacky rig was his most productive presentation.
"I fished it weightless when I could get away with it – when there was no wind," he said.
He did not alter his pattern or presentation on the middle day of competition and had no speculation on why he was losing fish.
"It was the same rod and reel, the same line, the same everything," he recalled. "I either couldn't get them to the boat, because I would lose 'em or I broke 'em off.
"I should've had a comparable weight on Day 2 as the 15-pounds that I had on Day 1. I had plenty of opportunities; but I just didn't convert."
I didn't' change anything from the first day and I didn't change anything the last day, after that happened. All I can figure is that it was some kind of execution thing that I was doing and I wasn't realizing it; but, I got rid of whatever it was on Day 3."
Michels reported having approximately 80 bites the first two days. The final day, decreased to 35 or 40.
"That last day it got really windy; so, I added a nail weight to the nose of the Senko to keep it down," he explained. "This wasn't nearly as effective and that's why I think I got less bites on the final day."
The Shasta win gave Michels $26,000 in winnings that included contingency dollars from Evinrude, Yamamoto, Lowrance and Ranger Cup.
REST OF THE BEST | PRO
2nd 33.83 Jeremy Mckay earned $8,500, including contingency dollars from P-Line and Trapper Tackle.
3rd 32.59 Wayne Breazeale earned $6,200, including Ranger Cup.
4th Greg Gutierrez 32.46 earned $6,330, including a Big Fish payout.
5th Cody Murray 32.15 earned $5,550, including a Big Fish payout.
The following contingency payouts for pros were also awarded:
JR Wright Big Fish, Ranger cup (6th)
Tim Wells Big Fish, Dobyns Rods (7th)
Mike Nichelini Ranger cup (8th)
Jim Novotny Ranger Cup (9th)
Tuan Nguyen Big Fish (25th)
Bryant Smith SuperClean (57th)
Jay Bradshaw Run and Win with Lucas Oil (63rd)
Dustin Noffsinger SuperClean (89th)

CO CHAMPION
The co-angler victor was Shawn Mock of Redding, Calif. Mock led wire-to-wire, throwing a variety of plastics – worms, grubs and small beavers.
"But, most of my fish came on a Senko," he reported.
Mock's tournament total was 32.52. For his win, he collected $7,075, including contingency dollars from P-Line, Yamamoto and a Big Fish payout.
REST OF THE BEST | CO-ANGLER
2nd 32.01 Teddy Snyder earned $4,000, including contingency dollars from Dobyns Rods
3rd 29.03 Robert Tibbetts earned $3,575 including a Big Fish payout
4th 28.65 Sean Hill earned $2,750, including contingency dollars from Trapper Tackle.
The following contingency payouts for co-anglers were also awarded:
Jeff Boom Big Fish Award (13th)
Tony Botelho Big Fish Award (18th)
Ron Rodgers Run and Win with Lucas Oil (20th)
Jason Lazzerini Big Fish, Run and Win with Lucas Oil (26th)
Joe Burrows SuperClean (62nd)
The WWBT debuted in 2016. The trail includes a Pro/Am circuit and two Teams circuits – one based in California and the other in Arizona. For 2018, the WWBT will also host the Surprise Ford Lake Pleasant Team Open.
A special thanks to all of the WWBT sponsors – Evinrude, Dobyns Rods, Gary Yamamoto Custom Baits, General Tire, Lowrance Electronics, Lucas Oil, Protect the Harvest, P-Line, Power-Pole, Ranger Boats, SuperClean, and Trapper Tackle.