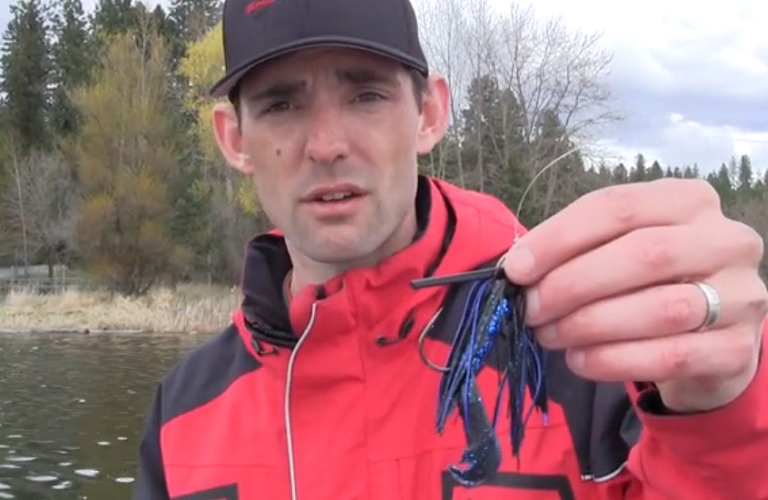 VIDEO BELOW
Swim jigs are an excellent choice for a wide variety of fishing conditions, but this technique truly excels in spring. When fish are active and they seem hesitant to strike jerkbaits, or fail to commit to a flashy spinnerbait, the swim jig is a good option to cover shallow to mid water depths on the fly.
A BIG BITE
Jigs are big fish baits from west to east. So, why are jigs constantly accounting for some of the largest fish catches? Their profile and available options accurately represent a wide array of forage and can be fished in, around and through a variety of cover and structure.

With a swim jig you can take all of the available colors and skirt materials known from football and pitching jigs and add the ability to experiment with trailers and retrieval speed for the ultimate largemouth technique.
Location and retrieval speed play an important role when targeting largemouth bass near spawning flats. Instead of running and gunning to multiple areas, an angler can figure out the bite relatively quickly if he or she identifies the spawning flats and uses electronics to locate one to two foot drops nearby.
In lakes such as this small body of water in the video, instead of a massive drop of three to four feet, this largemouth was caught off of a green weed line just yards from the top of a spawning flat with a relatively shallow drop on the edge. The reward came from a slow, steady retrieve with one of my favorite all time swim jigs – The Dirty Jigs Swim Jig.

LURE SELECTION
Depending on the skirt colors and weights, I extensively look to Dirty Jigs and Warrior Baits for their attention to detail and quality. This particular Dirty Jigs Swim Jig is the 3/8 ounce model in black and blue, paired with a Strike King Rage Craw trailer. It's hard to beat the bluegill and perch patterns so I highly recommend these two colors. When stepping up to ½ ounce models, I tie on the Warrior Baits Tomahawk Swimming Jig in Shad or Hats Shad. I rely on both brands depending on the situation which is ultimately driven by the weather and light conditions. No funny business here; I am a pro-staff member of one company and a retail customer of the other.

I avoid using medium to medium-heavy gear for the technique and focus on a stick that can button and hold the fish with a tremendous amount of pressure from the help of a stiff backbone. In combination, if properly choosing the location and having suitable equipment for the job, I am confident that the swim jig technique will help you avoid a sore ego with the benefits of a sore thumb no matter your experience level.