Re-printed with permission from the UNION-TRIBUNE and SignOnSanDiego.com.
December 24, 2005
Say this much about bass fishing for dollars. It's not a matter of if there's going to be another cheating incident. It's only a matter of when the next controversy tumbles into a glittery bass boat.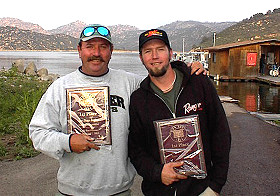 Courtesy photo
Tom (left) and Kyle Heigel, who were disqualified from an event and the pro bass tournament circuit when they refused to take a polygraph test, after winning a previous event at San Vicente.
It happened recently on the national level at the Red River Bassmaster Central Open in Louisiana. And it happened here when allegations were made Dec. 10 during the National Bass West Team Tournament at San Vicente.
In both cases, the fishermen were disqualified from the tournament and have been banned for life for fishing those particular circuits and others, likely.
In Louisiana, Missouri angler Paul Tormanen was charged with felony contest fraud after admitting to tying six bass to stumps before the start of the Nov. 10-12 Red River Bassmaster Central Open. He weighed the fish over the first two days of competition, not knowing that one of his fellow anglers discovered one of his tethered bass during a practice round and marked it for identification.
Tormanen was busted and disqualified from the tournament, where the winner took home a fully-rigged Triton boat and Mercury motor along with $10,000. He was banned from BASS competition for life. If convicted, he faces maximum penalties of a $3,000 fine, imprisonment for a year, or both.
Locally, the father-son team of Tom and Kyle Heigel of Vista was accused of snagging fish to win the National Bass West Team Tournament at San Vicente on Dec. 10. They were disqualified and banned for life from the circuit when they refused to take a polygraph test when asked by Mike Peterson, vice president and owner of National Bass West. The Department of Fish and Game now has their confiscated fish.
Peterson was given a video that he says depicts Kyle Heigel snagging fish as his father steered their bass boat. The videographer told Peterson he hid in the brush near the Grassy Bay area of San Vicente. Uncharacteristically, largemouth bass gather in the shallows of Grassy Bay every winter to eat crawdads and other shoreline critters. The lack of forage fish in San Vicente drives them to gather there. Fishermen say most of the bass won't bite lures, even though there might be 50 or more big bass cruising at one time.
Tom Heigel denies that he snagged fish. He did, however, say to the San Diego Union-Tribune that he had "a very poor lapse in judgment." He has taken responsibility for the incident and has apologized, though he insists he and his son did no wrong. He declined to detail what happened on the lake that day.
It's illegal to snag fish in California, according to the DFG Game code, but in typical DFG manner, the regulation is as clear as mud. Plain English isn't the DFG's strength. Tournament directors simply say that all fish must be hooked in the mouth.
The Heigels didn't contest the disqualification. They refused to take the polygraph test and forfeited their winnings. Art Bailey and Chris Stinnett were declared winners of the $3,254 first prize.
Clearly, local circuits such as National Bass West and WON BASS don't pay the money BASS or FLW pay anglers on the national level, but to local men and women who compete in them, fishing these weekend tournaments is their passion and pastime.
Tom Heigel said it's been his whole life for more than 20 years. Both he and his son have been successful at both the club level and in money tournaments. As bricklayers they're part of the mostly blue-collar crowd that loves to fish for bass.
But it's expensive. It costs each tournament team around $245 to cover entry fees, option money for big fish and lake permits.
Throw in the cost for gas, extra fishing tackle, food and other supplies, and these weekend tournament anglers have a lot of discretionary income wrapped up in bass fishing.
But the reward can be great for these weekend fisherman, as much as $4,000 for winning, a fully-rigged bass boat for taking a championship.
"For some of these guys, it's like another bill every month," said Lynne Peterson, who runs the National Bass West Tournaments with her husband, Mike. "And they work hard for their money. They work hard so they can fish these tournaments."
Not only do fishermen compete for money on the day of the tournament, but the tournament is part of a series where each angler accrues points to qualify for a championship, where prizes are increased. The National Bass West championship is held at the end of the season, and the winner gets a boat valued at more than $34,000, Lynne Peterson said.
"Our son, Mike Peterson, has two kids, a house payment, regular bills, and fishes these tournaments," Lynne Peterson said. "He struggles, but his passion for fishing is what drives him. He works hard so he has the money to fish."
Fishermen who once thought of the Heigels as their friends and respected them as fierce competitors now see them differently.
"It's a tragedy," said Jim Sleight, the former WON BASS Team Tournament director. "It's emotionally upsetting to all of us. We're a tight-knit group, the local bass fishing community, and to have someone cheat in a tournament ... It's like finding out a brother stole money from us."
Said John Sneed, director of the San Diego Region of WON BASS: "Tom Heigel has been my best friend for 20 years, but what he did is wrong. He has to pay the price now. But for the life of me I can't understand why. Neither of them needs the money."
In WON BASS and National Bass West tournaments over the past few years, the Heigels have won an estimated $40,000 – more than $11,000 in National Bass West tournaments and $29,000 in WON BASS tournaments, according to tournament officials.
Bill Hutcheson, WON BASS director, joined American Bass Association tournament director Stu Hinkle in saying it's likely the Heigels will be banned from future tournaments in their circuits.
A second, unidentified team in that National Bass West Team Tournament on Dec. 10 was asked to take a polygraph test to refute cheating allegations. Mike Peterson said he's going to meet with his board of directors to discuss the results of their polygraph test and the written report from the polygrapher before making a decision on whether the anglers will be allowed to fish National Bass West Tournaments.
Lynne Peterson has gotten close to the Heigels over the years, and says she loved seeing a father and son team competing.
"I feel bad for the Heigels, actually," she said. "I feel bad that they made a choice like this. I still care for them and wonder why they went down the wrong road. They're so talented. It must have been for the money. ...
"But I've told people we should be praying for them and send some love to them. I agree what they did was horrible. They're suffering for that, and they'll suffer for it their entire lives."