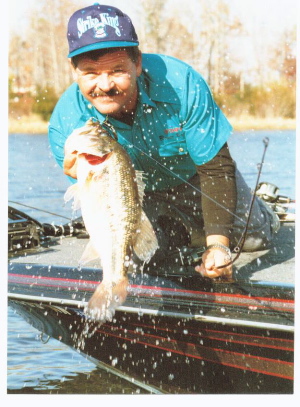 A million dollar bass bait? "Right"... Especially just for catching bass? "Sure Thing"... Don't remark yet because I know what you must be thinking about this article already. You are probably saying to yourself "is this guy for real" right? The truth is that "It's True!" my dear fellow bass anglers (and future potential bass anglers.) Yes, there is a artificial bait used for bass angling on the market today that is actually worth a lot more than a million dollars. Not only that, this certain bait has proven itself over and over again for many years when used by some of the top bass pros but, most of you just weren't aware of it. In fact, I would be willing to bet that most (I said most) of today's serious bass anglers already have some of these baits in their tackle boxes or in their boats but they rarely use them.
I use this bait most of the time, in fact, I caught a 7lb. 2oz. Smallmouth bass (the biggest Smallie I've ever caught in my life) just last season with this bait as well as catching the lunker (winning the big bass pot) when I qualified for the B.A.S.S. Federation State Team 2 years ago. This bait has also enabled me to make many bass tournament checks over the course of my pro career. Better yet! I'm not alone. I must be in good company because there are many famous pro bass anglers that use this bait probably more than any other bait they own, why?, because it gets results. That's why many pro anglers refer to this as a "Big Bass Bait."
I feel so strongly and confident about this bait that I spend a good part of a day teaching my students while attending my 3-day bass fishing school how to rig, what type of areas to fish these baits in and around, and how to present (showing the different techniques that can be applied) these baits with the results being fantastic! In fact, many of my former students have stated that while learning from the techniques and "how-to's" I teach them while attending my school many claimed that they have caught the biggest bass of their entire lives while using this bait. Oh yes, this million dollar bait has made many believers out of my students and charter clients after showing them how to use this bait. Have you guessed what it is yet?
Now that we got that out of the way I guess it's time to reveal this "Million Dollar Bass Bait" to all you fellow anglers and potential bass anglers. This bait is more commonly known as the JIG & PIG combo. This bait has earned more money for anglers than any other artificial bass bait that has ever been produced especially when fishing it in bass tournaments. Denny Brauer just for example (one of the top super pros of bass angling) became the 1st millionaire from fishing bass tournaments and guess what bait he used most of the time to make his money? You got it, the Jig & Pig Combo. Another fact about this bait is that it has earned tournament anglers more money for the "Lunker" or "Big Bass" pots in most bass tournaments ever fished. I guess one could comfortably say that the winnings earned by bass anglers when using this bait over the past 30 years would not just fall in the million dollar bracket, but closer to the MILLIONS of dollars bracket as well as earning them fame and fortune for many of the well known top bass pros.
It's kinda odd when you think about a bait such as this getting very little attention to the average angler, especially after knowing what this bait can produce. When a student enrolls in my 3-day bass fishing school I always ask him or her what type of baits they normally use, what kind of experience they have as far as bass angling, what type of equipment they use, what their goals are, and what knowledge they hope to gain while attending my school, but what really surprises me is that the Jig & Pig is rarely even mentioned by them. Let me tell you a little secret, if you learn how to fish a Jig & Pig combo correctly and give the bait a fair chance (not just thirty minutes and put it away like most anglers) at least a good full day to get a good feel of the bait, I can just about promise you that you'll become addicted to it especially after catching your first lunker bass while using it.
There are several patterns you can use with the Jig & Pig combo such as Flippin', Pitchin', and Castin', and many different techniques you can apply in the presentation when fishing this bait. There are also many different ways to rig a Jig & Pig combo before actually fishing with it. One of the best ways I found when rigging a Jig & Pig combo is to use a 3/8 or 1/2oz. "Flippin'" jig (which is the football type head) that is manufactured with a skirt and weedguard, then I will usually attach a trailer and a rattle (if the rattle don't already come attached to the jig) to it. This is now my Largemouth bass secret weapon. Now, if you are fishing for Smallmouth or Spotted Bass I just downsize to a 1/4 oz. jig and a smaller version of the same trailer.
The best trailers I found to use with my "Flippin' Jig" would either be a Gary Yamamoto 4" "Twin Tail" Hula Grub (a fantastic bait just used by itself Texas rigged) or a big plastic "Salt Chunk" (which is just a plastic chunk implanted with salt and two little tails on one end of it.) Now, before fishing this bait there is another matter of importance you really need to understand, and that is to have the proper equipment and knowing how to use it when fishing this bait. Not only will this bait catch more "quality" bass than smaller ones, but mostly because of the areas that you would fish the bait around and through. In fact, one of my students last season while being taught how use this bait caught nothing smaller than 3 and 4 pound bass the whole time he fished with it! Once in a while you may catch a smaller bass with this bait, but on the average it will catch the bigger ones if you know where to look for them. Getting back to proper equipment, I use a seven and a half foot telescopic flippin' stick (rod) with a heavy action, never anything less than 25lb. test (clear or transparent) mono line, and a baitcaster reel with a medium to a fast retrieve speed for fishing a Jig & Pig combo.
Some areas I fish the Jig & Pig combo would be:
1. In and around "Fall-Downs"
2. Grassy Areas
3. Point drops
4. Channel contours
5. Around and under docks
6. Along rocks (or rip-rap)
7. Floating objects
8. Thick vegetation areas
9. Ledges
10. To many types of structure to mention
and many, many, more areas..... You can fish a Jig & Pig combo in the shallows as well as deeper water, and it is also by far one of the best "Year-round" artificial bass baits an angler could own.
The name "Jig & Pig" goes back several years ago when the trailers used with a Jig were actually made from real pork products, commonly referred to as "Pork Chunks", and even though most trailers used with a Jig today are made of plastic, the name has carried on through the years kinda like a tradition. There is however still a company that makes the real pork products (or pork chunk trailers) for these Jigs but I found from my own experience that the plastic trailers I use actually get better results that the original pork products. One problem I used to have with the pork products is that they constantly dried out from the wind or sun while running the boat down the lakes or rivers and having to change them all the time (this got very costly.) The plastic trailers mentioned above don't have this problem, in fact I've caught up 5 or 6 bass using the same trailer, and they wont dry out!
If you want to become a more successful bass angler, catch bigger fish, and start learning different baits that actually work, you owe it to yourself to give the Jig & Pig combo a fair try. Now, you may not catch as many bass during the course of a day as other artificial baits would, but more times that not you'll catch the bigger quality ones. The largest bass I ever caught in my life was a 17lb. 3oz. Largemouth bass caught on a Jig & Pig combo pitchin' along some stick-ups (or as some would call Bull-Rush areas) in the Southern part of the Nation, but don't be to surprised to catch 5, 6, 7, and 8 pounders in the Northern part of the Nation as well using this bait.
If I can help you with any questions concerning this article, my bass fishing school or charter service, or you simply just want to drop a line you can contact me at www.capital.net/~rlbrown - www.fishing-boating.com/basscoach (my personal websites), or Email me at: rlbrown@capital.net or call me at (518) 597-4240
Good Fishin'....... Until next time, take care & God Bless!
"The Bass Coach"...Roger Lee Brown