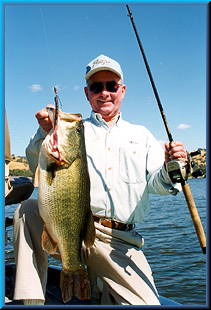 Have you ever read a report or seen photos of a huge limit of bass being caught or a monster bass being landed and wished you were there – just to witness such an event? Don't you wish you could see the exact spot where that huge bass was landed, or what type of structure that big limit was hanging around when they were caught? What lures were they REALLY using? I don't know about you, but I ALWAYS have those thoughts when I see the big, dark print in a newspaper telling about a rare fishing feat. Oh, just to be a fly sitting on the edge of the boat watching all the action! Recently, I was able to be that fly, and even got in on the action!
In the near thirty years I have been involved in the sport of professional bass fishing, I have been involved in some amazing bassin' adventures, including catching three bass between 13 lbs 2 oz and 14 lbs 2 oz and two limits (5 ea) in my boat over 40 pounds. It took me that long, however, to have the TRIP OF A LIFETIME. It happened the night of November 6-7, 2001, at Clear Lake, California.
A great fishing trip is always partially due to good timing and there is no question that we were there the RIGHT night! Timing also played another roll. One of the interesting dynamics of this event was that I had called my clients in the early afternoon to suggest that maybe we postpone our trip a night or two since this was to be the coldest night of the fall, so far. Well, they had already left for the lake. Darn, I thought – bad timing. Little did I know that my timing was excellent!!
I met my father-son clients, Ron and Jeremy Bauser, at 4:30 P.M. at the Beacon gas station in Clearlake Oaks, just as I had with hundreds of clients before. We were going to fish the last hour of light before night fishing. Some of the largest bass my clients and I have put in the boat have been taken during the last hour of daylight in the month of November. My largest client bass for many years was 11 lbs 9 oz, caught 45 minutes before dark (the 7th cast of the trip!) on the day after Thanksgiving. Two clients have since caught bass over 12 lbs – one of those a 12-9, just before dark on a September evening. As we left the dock, we found the weather to be fairly nice, with a slight breeze. We fished two or three of my favorite big bass areas but had nothing to show for it, not even a bite. I had Ron fishing a _ oz black/chartreuse Rattlin' Weapon Jig with a #159 Yamamoto 5 inch single tail grub trailer. Clients had caught two bass over 8 lbs on that jig in the two previous trips. I was fishing the same bait. I had 20-year-old Jeremy fishing a Zoom Dead Ringer 8 inch plastic worm in the junebug color, a hot bait lately. No matter, the bass weren't interested in anything.
As dark fell, I suggested to Ron and Jeremy that they eat those nice sandwiches they brought, since fishing was ALWAYS slow an hour or two after dark. As I tell all of my clients, I told them they didn't want to be hungry when the action started. But they wanted to fish a little more, so I took them to a corner of a bay where the water was a degree or two warmer, hoping the bass might be a little more active. I set up the two black lights on my new Ranger 520 and we went to work. After ten minutes I felt a little tap and gave a half-hearted hookset, not thinking it was much of a bass. When I felt this fish jerk back, I set the hook seriously this time. Soon this big mouth appeared in the black light and I couldn't believe what I saw. I thought it was a "10", but it turned out to be "only" 8 lbs 8 oz. Other than springtime, this was the largest bass I have ever caught right after dark. The eyes of a bass go through an adjustment period after dark, and fishing is usually slow. Dad soon hooked his first bass on the jig, about 2 lb 8 oz. I was beginning to feel that this might be a special night!
As it turned out, we did experience a lull – for about two hours in fact. I was secretly kind of pleased. We did experience that slow period – it was just late! Now the guide didn't look too stupid!! They did eat during that time, so they were ready for the action to come. We hit another rocky area about 9:30 P.M. and I landed another 8, this time an 8-3. Soon after, father Ron loses the only big bass we were to lose that night. A 5 or 6 pounder jumped, and that was it. My wife had just called on my cellphone, which I laid down to grab the net. When I picked up the phone again I told her she was BAD LUCK. Of course I apologized! Now I tied on the same jig setup for Jeremy, and that is what we all fished for the rest of the night. Jeremy finally had one up to the boat, but it was smaller and got off. No problem - we were about to see some real giants!
One of the biggest thrills in night fishing is seeing my line (30# test flame green Berkley Fireline) jump in the black light. This happens often in fall fishing when the bass are very aggressive. Sometimes I don't feel the bite, especially if it is windy. When I set the hook, I don't know if the bass is 10 inches or 10 pounds! I will often fish my jigs or worms in deep water, looking for that monster bass bite. This enables me to fish, but to stay out of my client's way, while they are casting to prime areas. We were now fishing a rocky area in the middle of Clear Lake that has a steep dropoff. I was dragging my jig in about 30 feet of water when I saw the line jump – and I mean JUMP! I absolutely live for that moment - when I give this tremendous hookset, and the fish doesn't move. Finally I did move her up to the surface and Jeremy nets a 9-4. I had previously told them how exciting it was to feel a bass just crunch a jig in the fall – a bite that you won't feel at any other time of year. My dream is that every client would be able to experience this bone-jarring strike. Five minutes after I got the line jump, Ron felt the CRUNCH! He really got excited and after a terrific battle, I netted a 9-3. Well, Ron almost kept up with the guide! He said it was just as I described it – the bass just smashed it. Luckily, Ron knew how to set the hook – wimpy hooksets don't cut it with these monsters! Two 9+'s in one spot within a few minutes - not bad!
Since the water temperature had dropped to 60 degrees, I decided early on to keep some bass in the livewell for a photo. This was quite a photo – four bass for 35 lbs 2 oz. We were nearing the end of the trip and thought our chances of catching a larger one were slim. Besides, I wanted to release the bass in the area where most of them were caught. We then started working our way back to the dock, already having caught about 8 or 9 bass. We only had three small ones – Ron's 2-8 and my 2-12 and believe it or not, I had a 1-8. Hey, someone had to catch the dink!! This is probably the time to mention that Jeremy did not catch a bass on this trip, and that is one of the great mysteries of bass fishing. How can one or two anglers be hot and one not? It could have been the way that Jeremy was working his jig – I think it was. Or it was simply payback time – Jeremy usually beats his dad at Lake Berryessa where they fish a lot. However, Jeremy's attitude was fabulous – he was seeing bass fishing like he had never seen before and maybe never will again. He was very happy for his dad and that really pleased me. I tried everything to get him into the program, but it just didn't work. After dad caught 2 more, including a 7-9, I told Jeremy that I was going to keep them overtime and take him to one more rockpile, and he had better produce!!!! I had quit fishing for about the last half-hour, and when we arrived at the "point of last hope", I did need to really work the trolling motor as the wind had picked up. So they started casting and I was just amazed at what happened. Dad's first cast – a 7-2. Second cast – a 5-8. After releasing that last fish I looked at Jeremy and said, "I give up!" We did fish for about 10 more minutes, with no more bites. But the final dab of frosting was about to be put on this "cake" of a lifetime.
I mentioned that I had quit fishing some time before to make sure Jeremy had every opportunity to land a bass. He had lost 2 or 3 but none real big. Actually, I had snagged my jig three times in the nasty Clear Lake rocks and had tried to break it off. I was not successful with my 30# Fireline – I got the jig back each time (that line moves rocks!) but it was in bad shape. While they were fishing the last area, I bent the hook back and even had to straighten the tip of the hook out. I was just keeping myself busy. I certainly would have retied if I was planning to fish again. I put the rod down and forgot about it. When the guys said this would be their last cast, for some reason, maybe out of instinct, I picked up my G. Loomis MBR 844 GLX and threw the jig out to the rockpile – sort of "one for the road." I felt the jig hit the rock and gave it a slight twitch so it wouldn't hang up. You talk about "crunch" – I was instantly holding on for dear life! I had hooked a huge fish, which I soon knew must be a catfish. When it got near the boat, it seemed to go from side to side like a typical catfish. When she finally wallowed in the black light with her head up – we saw NO whiskers!! Jeremy netted it skillfully and started yelling "it's a ten, it's a ten!!" He had done that once before, but this time he was right – except – it was an 11-2 to be exact. What a bass, especially since bass over 10 pounds have been hard to come by this year at Clear Lake. What a thrill to release her after photos! I have since wondered how the line and jig held up and got that fish in the boat, considering the circumstances I mentioned. When things go well – they really do sometimes!!
I thought the whole trip was summed up by a comment Jeremy had made before the 11 pounder was landed. He was laughing as he was telling his dad and me that we would have to cull a 7-9 to upgrade our limit! Well, guess what – we did!! We wound up with 14 total bass with our top five at 46 lbs 4 oz. They weighed 8-3, 8-8, 9-3, 9-4, and 11-2, verified on two scales. Our ten biggest were even more amazing to me, weighing in at 76 lbs. This is probably some kind of unofficial record for Clear Lake. I caught five of them and Ron caught five. My limit was 42-10 and his was a mere 33-6! Truly, the trip of a lifetime!!
Readers might think we were whooping it up as the lunkers started coming over the side of the boat. But our emotions were different than one would expect. While we laughed and had a great time, we were actually rather quiet – simply in awe of what was happening. I, for one, could hardly believe what I was seeing! And of course, Ron and Jeremy shared the same feeling. We really sensed that this was history in the making. I always wonder what goes through the minds of clients when their guide puts them on fish like this, though there has never been this many huge bass before. I guess it is the opposite of what they think when we get skunked. I don't want to know those thoughts!
We also had more drama when I was forced to needle the 9-4 that I had caught at 30 feet. She was belly-up in the livewell most of the time and would not go down when we released her. I really wasn't worried about it, but after an attempt with a needle to get all the gas out of her air bladder, she still didn't look real good. We left her in the livewell and thankfully she started looking better and better. I am happy to report that she took off on our final release attempt! The thought of losing a fish like that had put a real damper on the evening for a time.
I should mention that we were dragging our jigs very slowly – deadsticking them when possible. Once in awhile I would shake the jig to get the rattle going, but that didn't seem to be what the bass wanted. That really works well in colder water. Hopping the jig did not work, and I noticed that Jeremy had a tendency to do that. After I suggested that he not do that, he backed off some, but still wanted to lift his rod upward too quick. A subtle nuance like that can be the difference when trying to fool a bass that has lived in the underwater world for a good many years. I'm not sure if that was the reason Jeremy did not hook a big bass, but it could have been. No matter – as the fog settled in while I tied down the boat, we felt a special bond that few anglers will ever know.
I have tried to help you become the fly on the edge of my boat, hopefully allowing you to feel a part of this trip of a lifetime. If this is NOT the trip of MY lifetime – I'm pumped! Do I hear a 50 lb limit?