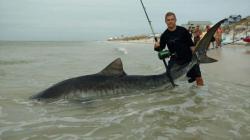 By
David Strege
On Oct. 25, a date of significance, Zach Wolk was surf fishing at Cape San Blas, Florida, when he landed a huge tiger shark that would later astound scientists at NOAA Fisheries in Panama City, Florida.
Wolk of Montgomery, Texas, measured the female tiger shark, took photos with it, and jotted down the information he found on a tag he discovered in the shark before releasing it back into the water.
"Can't wait to see the information from her previous tag!" Montgomery
wrote on Instagram
with the photo of he and the shark.
Dana Bethea, a research ecologist with NOAA Fisheries, was on the receiving end of the tag information sent in by Wolk to the Southeast Fisheries Science Center, Panama City Laboratory.
When Bethea studied the number of the tag, she thought it was a mistake because it was one digit short of tag numbers that had been placed on fish in the last several years.
But there was no mistake.
The tiger shark was caught as a pup when it was a mere 32-inches long, and, remarkably, it was caught 10 years ago to the day from when Wolk landed the fish. The tiger shark was tagged on Oct. 25, 2006, and now it is 11 feet, 5 inches long.
Read more at
http://www.grindtv.com/fishing/scientists-astounded-tag-information-recaptured-tiger-shark/#0EEcCjLgzhy8ix6Y.99