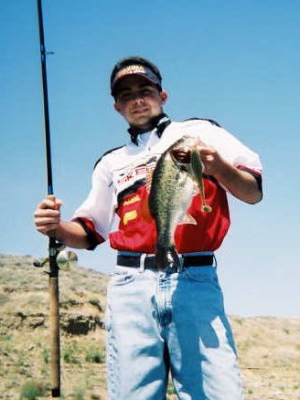 Reproduced with the exclusive permission of NBW News Magazine.
Wintertime can often result in tough fishing, and when San Diego received record setting rains over the last few months, no one knew how this would affect the fishing. However, the rains didn't affect the fishing as much as many had anticipated.
With my first WON Pro/Am tournament not scheduled until late February, it gave me the time to focus on local fishing the last few months which has resulted in not only a lot of fun, but also some successful tournaments as well.
Team fishing is one of the best ways to spend time on the water, and especially enjoy it. Having a partner that you can fish compatibly and competitively with is essential, and I am truly lucky that my team partner and I fish so well together while having fun and still being sucessful. Over the last four years of fishing, Kellen Ellis and I have grown as fishermen, each teaching each other some new techniques, as well as learning totally new techniques together.
As winter approached this year, with muddy, cold water, due to all the Southern California rains, we knew we were in for some tough fishing conditions in our upcoming National Bass West Tournaments at San Vicente. Spending lots of time on the water seemed to pay off and the fishing didn't seem to turn out as bad as we all presumed. Struggling at our first tournament of the year, we realized that we were ill prepared, and didn't practice enough at all. Only catching two fish, we were determined that it was necessary to spend more time on the water preparing for the following months tournaments.
Practicing more seemed to pay off as we ended up placing 8th in the second National Bass West tournament of the year. During winter, fish tend to go to deeper water, and its not surprising to catch fish out of 50-60 feet of water. However, this year due to all the rains, and muddy water, most of our fish have been caught in 30 feet of water or less, with some occasional fish being caught off of the bank. Going into the third tournament of the season, San Vicente had become unbelievably muddy.
During practice, the only clearer water we seemed to find was in Aqueduct, and Toll Road. In fact, it was the only place within the lake that we seemed to be able to get fish to bite in. In the tournament, we stuck to our game plan of fishing the two coves, and the fish still seemed to be there from our prior practice days. We ended up drop shotting our way to a 13.31-pound limit, which was good enough for 2nd Place.
A number of factors can go into being successful on the water including luck.
If you want the opportunity to do well on the water on a monthly basis, and get that little bit of luck, it comes directly from time spent on the water. During the last few years, I have learned that there is no substitute for practice in fishing, and with practice will eventually come success. If you have the motivation to be successful and do well, practicing to reach your goal shouldn't be a problem. There seems to be no substitute for time on the water.