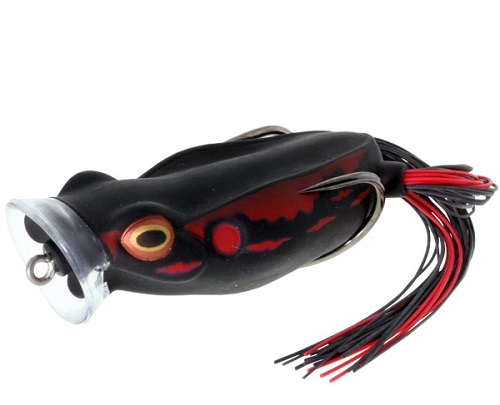 For all those anglers that have ever had an idea to "build a better mousetrap", television host Larry Dahlberg hooked up with Northern California-based lure company River2Sea to offer a platform for homegrown innovations. Sparked by previous lure builds on Dahlberg's show Hunt for Big Fish, the Great American Lure Build-Off accepted fish-attracting temptations from March through September of 2012 and unveiled the winning lure as a River2Sea new release at the 2013 ICAST.
The contest received hundreds of all-species entries that were whittled down to the best of the best -top-20 by Dahlberg, himself. A collaborative decision by River2Sea General Manager Simon Chan and Dahlberg chose 30-year-old, Jason Misner's soft plastic, topwater lure as the Build Off champion. "Choosing the winner was a tough decision," said Chan. "There were three of four that were really close. The main reason we chose this one was because of how simple and unique it was. It floats, its weedless and it is a topwater bait - there is nothing like it on the market."
A bait tinkerer over the years, Misner developed several sample prototypes that he dubbed the "Fish R". His original inspiration came from using a Wobble Glo lure. "I fish for steelhead and salmon and use those quite a bit," said Misner. "They were kind of pricey and I started out trying to make something similar. It evolved into the flat-bodied, topwater plastic that I submitted. I made it with an Alumilite product. It took a lot of work to get it to cast and wobble the way I wanted. I couldn't have made the prototype without all the help that I got from Alumilite customer service. They were top-notch."
Misner's creation transformed into the GPop and debuted at this year's ICAST as River2Sea's soft plastic baby bluegill with a popping mouth. It's release info stated it allows the angler to use an extra wide gap style worm hook and mimics the action of a baby bluegill struggling on the surface in the weeds, reeds and around wood.  
"A thin wire hook is beneficial to the action of the bait," suggested Misner. "It is important to place the hook in the lower third of the mouth and out right near the eye. This ensures that the pull of the rod makes the poppin action (pulling the mouth up). The point of the hook should go through right near the tail and sits on the top side of the lure - to make weedless, simply bury the hook into the plastic."
A fisherman for his entire life, Misner of Kalamazoo, Mich. was excited and amazed that his bait was chosen as the Great American Lure Build Off winner. "It is just surreal; it's hard to believe that a regular guy - like me - will have a lure in the tackle store," he stated."It hasn't really hit me, yet. We've fished the prototypes and caught a ton of fish on them. All of my friends keep asking me, when can we go buy it."
Although this stint as a bait designer was ultra-successful, Misner doesn't plan to take it on professionally. "I will always be a tinkerer, but right now my time is pretty full with my work and my family," he said. "I am a teacher, an assistant principal, a coach for three sports and I have my wife and two kids, so I had to make time for this after everyone went to bed. This has been a great opportunity for me and this contest by Larry Dahlberg and River2Sea is a fantastic concept to get fishermen's good ideas to the companies."
This was the ultimate goal of River2Sea's interest in the Great American Lure Build Off - to let the angler become more involved, by inviting anyone and everyone to have a chance to create a bait that comes from the consumer side of the industry. "We want to work hand-in-hand with the fishermen to make functional baits that stay ahead of the curve," said Chan. "We want our baits to come from the ideas of the fishermen. The fishermen come first; there is no River2Sea without them."
Chan revealed there will be similar contests in the River2Sea future.
The Great American Lure Build Off information stated Misner will receive a royalty on sales, while River2Sea covers engineering and costs associated with production and intellectual property matters are in the hands of attorney Richard Ogawa.