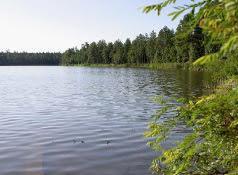 PHOENIX — Family fishing and camping during summers in Arizona can produce some of the best memories life can spawn.

What makes for good camping and fishing during triple-digit months of desert sweat? Escaping to the high country for a ton of stocked or self-sustaining fish, quality camping amenities, and scenery that's as cool as the air temperatures.
Many fire restrictions have been lifted, allowing campfires and gooey s'mores for kids.

Be safe with summer monsoon storms -- get off the water when you hear lightning, watch out for flash flooding, and don't forget to bring a few extra layers and a rain jacket to stay comfortable in the mountain cold.

OK, here is the Arizona Game and Fish Department's top-5 list of family camping and fishing spots. Do you agree?

5. Kaibab Lake

Kaibab Lake is usually the jump off to the Grand Canyon, and had been stocked with some of the quarter-million more trout.

This family-friendly camping area is a few miles from Williams and an hour's drive from the Grand Canyon to the north.

Anglers are still catching a few trout on a variety of colors of PowerBait with the best fishing being early in the morning. Try taking kids to catch crappie around the fishing dock on yellow or orange mini-jigs.

Directions: From Flagstaff, take I-40 west to Exit 165; turn north onto AZ 64 and go about 2 miles to the campground entrance on your left. Paved and all-weather gravel roads are suitable for passenger cars (but in winter may be closed at times because of snow). See a Google map.

4. Show Low Lake (and Show Low Creek)

Possibly the state's premier walleye fishery. Has a year-round concession with 75 campsites (seven have electric hook-ups). New facility improvements, including a new fish-cleaning station, restrooms, stairs from the upper parking lot down to the boat launch, and ADA boat trailer parking are open.

Like Fool Hollow Lake, Show Low Lake and Show Low Creek are great for putting the family on trout, sunfish and crawdads. In addition to the premiere walleye, the lake also has smallmouth and largemouth bass, channel catfish, and bluegill, and is stocked regularly through the summer with 12-inch rainbow trout. Kids can catch sunfish from the fishing piers or among the rocks along the dam with a small hook and piece of worm.

Directions: From Show Low, take Show Low Road southeast one mile from Highway 260. See a Google map.

3. Fool Hollow Lake

An excellent fishery for getting the family into the outdoors and onto sunfish and "freshwater lobster" (crawdads). Has excellent family-fishing amenities such as clean and spacious campgrounds, picnic areas and fishing piers.

Kids can catch sunfish off piers and over rocky shoreline areas using No. 12 hooks and small pieces of worms. Crawdads can be trapped here as well. Read more about how to catch both.

The lake has self-sustaining populations of largemouth and smallmouth bass, as well as sunfish, walleye, carp, catfish, black crappie and black bullhead that are easy for kids to catch (try a simple worm on the bottom). Fishing also is good for 12-inch stocked rainbow trout -- try fishing at least 10 feet deep.

Directions: Fool Hollow Lake Recreation Area is located in east-central Arizona, two miles north of US 60 off Highway 260 in Show Low. See a Google map.

2. Woods Canyon Lake

A family fishing mecca. Woods has been stocked with tiger trout (above), and along with nearby Willow Springs Lake, is scheduled to be loaded with rainbow trout weekly.

For families who aren't in to camping in a tent or camper during the summer monsoon storms, the closest lodging is at Forest Lakes Lodge, just 11 1/2 miles away on Highway 260.

A little tip: refuel your automobile at the Rim Resort Filling Station, just a mile east of the Forest Lakes Lodge on Hwy 260. Call 928-535-9682 to ensure it's open.

For a novice angler – or for a kid's first fish – try putting a small piece of a worm on a small hook (No. 12 or smaller) and dangle it in shallow water between rocks for sunfish. Don't forget about catching crawdads, too.

The best bet for anglers with boats or kayaks (the Woods Canyon Lake Store has boat and canoe/kayak rentals and necessary camping amenities) is to hit the water just before sunrise and troll, or slowly work, small in-line spinners 15 feet deep. Any deeper, and you're typically fishing below the thermocline where during the summer there is no oxygen.

Anglers could have no problems getting a six-trout daily bag limit or hooking into a rod-rattling tiger trout.

Directions: From Phoenix, take Highway 87 (Beeline Highway) northeast to Payson and then Highway 260 east to Forest Road 300 (Rim Road) and turn left. Then turn north onto paved Forest Road 105 and proceed about a mile to the lake. The lake is about 30 miles east of Payson. See a Google map.

1. Big Lake

An Arizona summertime family staple.

Cutthroats have been biting on and off, and there are plenty of rainbow trout along with lots of crawdads for kids if the trout are not biting. The best part may be the excellent and plentiful campground amenities.

Shore-angling is still an option, but as the summer goes along, you might want a boat (rentals are available at the store) because most trout will be deep.

Trolling from a boat is the most productive method during the summer. If shore fishing, get out early or late in the day, and take cover in your vehicle or camp during monsoon/lightning storms.

Directions: Big Lake Big Lake is located in the White Mountains, 23 miles southwest of Springerville and is accessed via state routes 260 and 273 (Forest Road 113). See a Google map.

Remember to check fire restrictions, as well as any special regulations, that are in place.

So grab a license online (that helps conserve all species of wildlife, not to mention provides funding that goes back into fishing opportunities) and go.

You won't regret the memories.