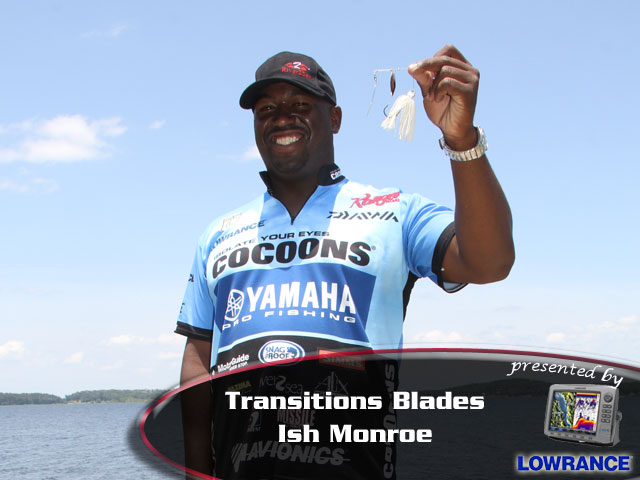 Story by Dan O'Sullivan, photos by Dan O'Sullivan and Jody Only

It's that funny time of the year when bass are in an all out schizophrenic mood. The hot summer sun is being mixed with the cooler fall nights and bass can go from being bluegill eaters, crawdad chompers to shad chasers; all in the span of a day.

Many know the name Ish Monroe, and most know that he is at his best when he is getting into the thick of things with his Phat Frog or his Droppin' Bombs rig. Letting Monroe loose on a weedy bay is like turning a hungry lion loose in an enclosed cattle pen, things could get very ugly.

But, while he would rather be seining weedbeds for thick shouldered bass, Monroe knows that this time of the year requires a little bit more flexibility in his program. "I have to be ready for just about anything this time of the year," said Monroe. "I can be Droppin' Bombs one minute and have to chase down some fish boiling on the next, or running some vertical cover in the backs of creeks after that."

One of his favorite tools this time of the year is a spinnerbait.

Blade Control
Like a ninja, Monroe favors the blade because it gives him ultimate control of depth and speed for the precise presentation. "I may be fishing in inches of water, and I may be slow rolling it in15 feet of water," he said. "A spinnerbait gives me the ability to do all of that from cast to cast without changing baits."

Monroe said that he often finds bass running bait on the outside edges of weedbeds this time of year, and that he can also find them pushing bait on top of those same clumps or even into the backs of pockets. He uses a spinnerbait to be ready for any situation.

"I'll usually have two rods set up with two different baits in the same color," he said. "If I'm on an outside weed edge, I'll be throwing a 1/2-ounce bait with double willows, but if I need to go shallow, I'll pick up a 3/8-ounce bait with tandem or Colorado / Indiana blade combinations."

He worked with River2Sea to build the Bling spinnerbait series designed precisely for his style of blade fishing. "Bling comes in two sizes three blade combinations and six colors that cover every need I have," he said. "I can have my different size baits ready in the same color with blades for each situation; it's a great systematic approach to blade fishing."

Equipment
Monroe said that he uses the same rod for most of his spinnerbait fishing. His first choice is a Daiwa Ballistic composite rod blank because it allows for good feel of the blades but still allows the fish to completely inhale the lure with a softer tip action. He prefers to use a 7' medium heavy action Ballistic for close quarters work, and a 7'4" heavy action version for deeper slow rolling or long casting presentations.

He lets the type of retrieve dictate his reel choice and his line size. If he is making standard cast and medium retrieve presentations around cover, then a 6.3:1 Daiwa Steez is the trick, if he is burning a double willow blade over grass or across a flat for smallmouth, he turns to the 7.1:1 model. For slow rolling, he chooses to try and use the reel to slow him down, so he opts for the slower 6.3:1 speed, and grinds the handle to keep a slow speed retrieve.

He prefers the low stretch and increased feel of fluorocarbon line for all of his spinnerbait fishing. Again, he uses the line to maximize his presentations. For deep water slow rolling, he opts for 10 to 12-pound-test Maxima Fluorocarbon, if he is fishing an intermediate depth or visibly casting around targets, then 15-pound-test is the choice, and if he is fishing extremely shallow, or is targeting large bass around cover, then he upsizes to 20-pound-test.

"I really try and maximize each presentation with reel speed, rod length and line diameter to reach the fish at the depth they are holding at," said Monroe. "The rule is deeper water, lighter line, longer rod, slower reel. Shallow water and cover, shorter rod, heavier line and faster reel, that usually gets the job done for me."

Colors and Blades
Because spinnerbaits are usually made to mimic schools of bait fish, Monroe opts for shad color patterns most of the time, varying for the clarity of the water. "If the water is really clear, then I chose Abalone Shad, then as it progresses from light to heavily stained, I go with Powder, I Know it, Lemonade Twist and finally Flo, an all chartreuse bait in dirty water," he said. "we do make a black and red bait too, but I find that to be more of a springtime color or for specific bodies of water in California, Texas and Louisiana."

If he is fishing the lures deep, he opts for the double willow blade combination, for target fishing and for a slightly slower presentation, the tandem (Colorado / Willowleaf) blades are best, and for dirty water and shallow fishing, he opts for the Colorado / Indiana blades. The one variation is that he utilizes the double willowleaf blades for when he needs a burning retrieve over flats or cover. The slimmer blades allow the bait to be retrieved at a faster rate with less problem of the bait rolling onto its side during the retrieve."

Blade Tips
Monroe advises anglers to not simply cast a bait out and retrieve it with one steady retrieve speed. "Even when burning a spinnerbait it's best to make the blades flutter by stopping the retrieve or twitching the rod tip occasionally," he said. "Around cover, it's best to try and hit the grass, rocks, docks or wood with the bait to try and trigger bass into striking.

"A spinnerbait gives you the most control over depth, speed and variety of retrieve of any lure," he said. "They are great tools for shallow cover and deep structure; for largemouth or smallmouth, you just need to experiment and make them work for you. I've caught big largemouth on them at home on the Delta, and smallmouth on flats up north, and both species in desert lakes in this transitional period; throw them, they work."
Read more like this at AdvancedAngler.com