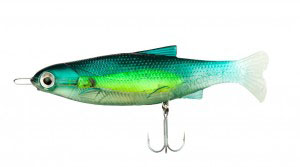 Wake commits to US expansion
Finnish lure manufacturer, Wake Fishing, has posted notice of its serious intent on breaking into the North American market by opening a warehouse in Tennessee.
And the company, which is famous for its celebrated Jigwobbler range, says that this year's ICAST will be pivotal to its plans in the US as it seeks to build up a distribution network.
Managing Director, Jose Jaakkola, told Angling International: "We have a few sales outlets in the US which we supply from Finland, but if you want to do more in the US you have to have to carry stock. It is expensive to ship from Europe and we do not have to bother our customers with customs broker issues and the like.
"Now we have the facility up and running, our main goal is to find motivated sales reps and talk to major distributors. Obviously we have high hopes because the US is such a big market, but we will have to see how our plans develop. It is untouched territory for us."
"Wake currently exports to 40 countries worldwide and expansion into the American market would be a major step forward for the company."
It will be showing off its full lure range alongside some rods and reels. Jaakkola added: "Our main focus on the new items this year is on the Flee and the Soft Spoon alongside new colours and sizes in our Jigwobbler range."
While expanding its business empire globally, Wake has also more than doubled its turnover every year in the last four years despite a challenging economic marketplace. Jaakkola added: "The continued growth has brought challenges with it and we have recently moved to a bigger warehouse in Finland and introduced new software to keep up with the ongoing development of the company.
"This has been a project that has consumed some resources but now that it has been completed we can focus on growing sales for the rest of the year and beyond – with a better base to cater for it.
I am looking forward to an unusually bright 2013."