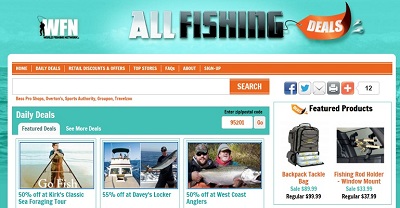 TORONTO, Ont. and DENVER, CO- WFN: World Fishing Network, North America's only television network, online and mobile platform dedicated exclusively to fishing and outdoor enthusiasts, delivers All Fishing Deals, another innovation that gives anglers more time to get out on the water and catch more fish.

All Fishing Deals (www.AllFishingDeals.com) is a new, cutting-edge site designed to scan hundreds of daily deal and retailer sites to present discounted vacation, gear, tours, products and service offers to anglers - all in one place.

"There is no longer any need for anglers to surf around to find the best fishing deals for services, merchandise or travel because now they have it all in one place," said Mark Rubinstein, President & CEO of World Fishing Network. "Anglers should be on the water fishing when they're not watching WFN, and All Fishing Deals is designed to get them there faster and with better gear so they can catch bigger fish in more beautiful locations. All Fishing Deals is another WFN exclusive that allows us to fulfill our core mission, which is to be the leading entertainment destination and digital resource for anglers throughout North America."

AllFishingDeals.com aggregates popular deep discount offers that are of interest to anglers from well-known sites like Groupon, TravelZoo and LivingSocial as well as hundreds of sites that provide daily deals. In addition, site visitors can search or browse discount offers and coupons for fishing gear, apparel, electronic goods and more from popular retailers such as Bass Pro Shops, Sports Authority, Sierra Trading Post and a variety of other trusted stores that cater to outdoor enthusiasts.

AllFishingDeals.com is now the only service anglers need to find outstanding values on the web.

-WFN-

About WFN

WFN: World Fishing Network is North America's only television network, online and mobile platform dedicated exclusively to fishing and outdoor enthusiasts with programming that covers instruction, tips, tournaments, travel, food, boating, outdoor lifestyle and more. WFN's programming lineup includes primetime theme nights, a selection of the best international series and the most diverse species coverage of any TV channel. Featuring popular programs hosted by some of the top anglers from North America and across the globe, WFN offers a variety of exclusive lifestyle shows that appeal to a broad and diverse audience. Anchored by one of the top fishing websites, www.WorldFishingNetwork.com, WFN's multimedia platforms also include a mobile portal and the WFN Fishing Log app for the iPhone, iPad and Android. WFN and WFN HD are available to more than 50 million cable, satellite and telecommunications households throughout the United States, Canada and the Caribbean.