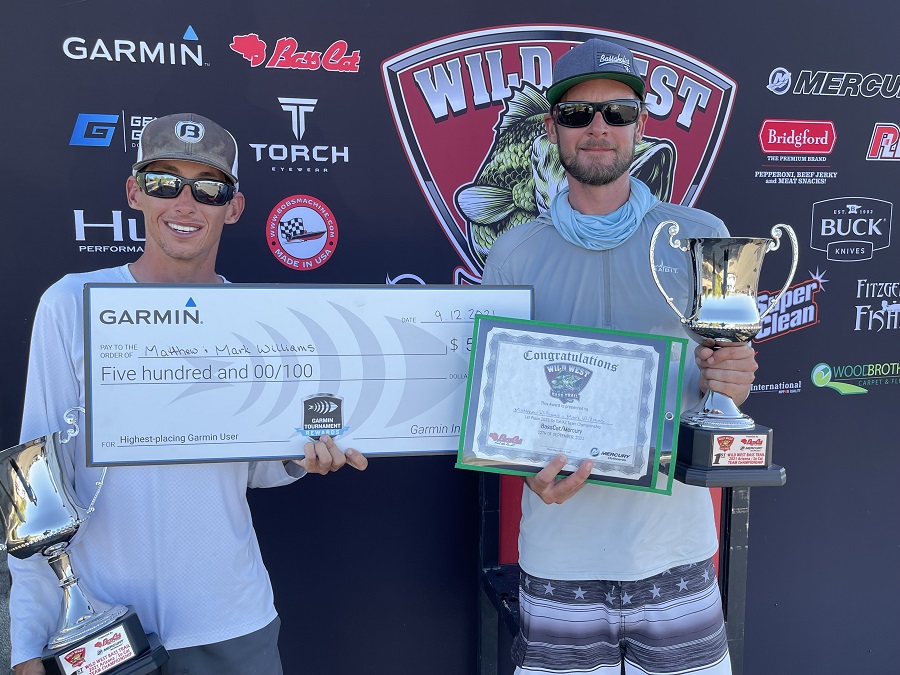 WILLIAMS BROTHERS HOIST HAVASU TROPHY AT WILD WEST BASS TRAIL SO-CAL / ARIZONA CHAMPIONSHIP PRESENTED BY BASS CAT BOATS AND MERCURY MARINE
By Jody Only
LAKE HAVASU CITY, Ariz. – Brothers, Mark and Matt Williams won the 2021 Wild West Bass Trail (WWBT) Lake Havasu Arizona / So-Cal Team Championship presented by Bass Cat Boats and Mercury Marine with a tournament total of 36.72.
The Williams team ended Day One with 13.08 for 20th place, adding big stringer of the event on Day Two with another 23.64 and a big bass at 7.66 to claim the grand prize Bass Cat Bobcat / Mercury 150 HP Motor package, as well as $390 for Big Bass Cash and contingency dollars that included $250 from Gary Yamamoto Custom Baits and $500 in Garmin Tournament Rewards.
Mark, from Lake Havasu City, Ariz. credited lake knowledge for the team's success.
Matt, from Yuma, Ariz. also cited their time on the water as a difference maker. "I felt like we took a shot in the dark from a place we fished before and it paid off," he explained. "On the first day, we ran everything we had, and I felt a little defeated. The next day we were passing a spot that I fished before and I asked Mark if he'd fished there lately."
They stopped and the spot immediately spit out the team's 7½ and followed it up with a three-pounder on the next cast.
"We started fishing that area a little more and I got another one a worm," added Matt.
Overall, Mark reported running three main lake areas. "They were just rocky points in about 12- to 20-feet," he explained.
Their two-prong approach included a crankbait and dropshot.