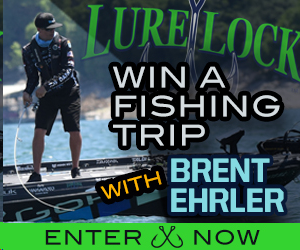 ETTRICK, WI – Have you wanted to spend a day on the water learning fishing tips and tricks from a professional bass angler? Lure Lock is going to give you that opportunity by providing one lucky winner an all-expense paid fishing trip with Bass Pro Tour/Major League Fishing angler and Lure Lock Pro Brent Ehrler.
Interested anglers can register for this once in a lifetime trip simply by uploading or posting a photo or video that shows or explains why you want to spend a day on the water with Brent Ehrler. Videos and photos can be uploaded to one or all of the following locations; Lurelock.com, the Lure Lock Facebook page, or the Lure Lock Instagram account. Each posting location represents one entry into the sweepstakes.
Website: https://www.lurelock.com/pages/win-a-fishing-trip-with-professional-bass-angler-brent-ehrler
Facebook: https://www.facebook.com/lurelock/
Instagram: https://www.instagram.com/lurelock/
The promotion will run through July 15th. No purchase is necessary to participate in the promotion. The location and date of trip to be determined by the winning entrant and Pro Angler Brent Ehrler. For official rules and full details, please visit lurelock.com.
"I have seen a lot of tackle boxes in my years on the tour, and nothing compares to the technology of Lure Lock," stated Ehrler. "Since I need to pack for the entire tournament season before leaving California, my tackle can take a real beating when I'm traveling. With the Lure Lock tackle boxes, I know my tackle will stay organized and in its place as I travel on the road and on the water."
Lure Lock boxes are offered in three sizes LL1, LL2 and LL3, and are available with and without the Tak Logic Technology liners. The innovative tackle boxes, along with the award-winning Lure Locker are available at Walmart, Bass Pro Shops, Cabela's, Academy, Sportsman's Warehouse, Scheel's, Mill's Fleet Farm, Field & Stream, Tackle Warehouse, Tackle Direct, and at many other fine retailers. Lure Lock is also sold at www.lurelock.com.
For more information about Lure Lock products please visit http://www.lurelock.com, or contact Glenn Walker at glenn@providencemarketinggroup.net with media or marketing requests.