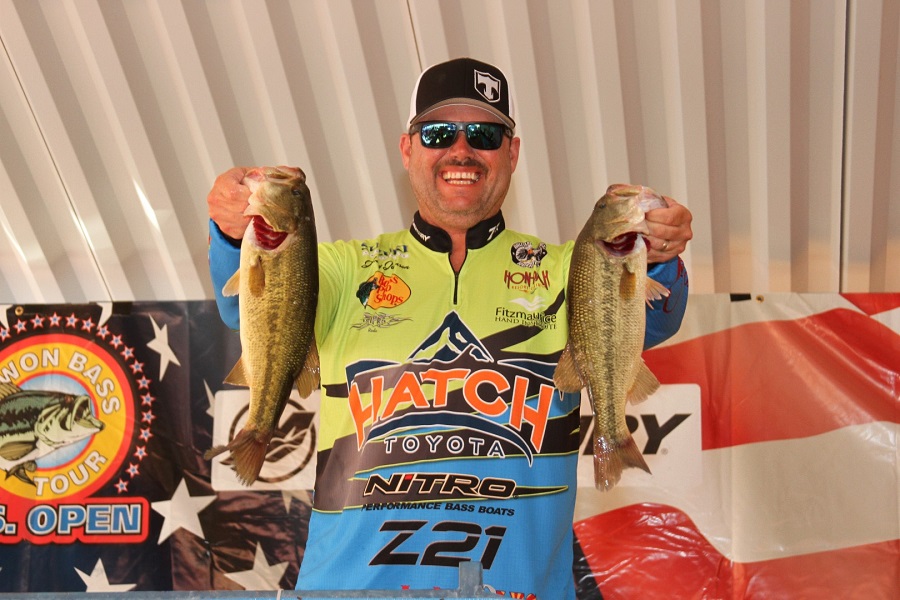 Photo: Dan O'Sullivan/WON Bass
The U.S. Open is the premier tournament in the west and has long been known as one of the most challenging bass tournaments anywhere. Lake Mead hosts the event every year and proves to be a unique venue as tough fishing, big waves, and extreme heat often plays into the strategy of anglers. With the move to October this year, last year's winner Johnny Johnson believes the fishing will be better and shares his predictions for the event and gives a strategy to win this year's Open.
2017 Lake Mead Conditions
Lake Mead is a body of water that changes every year due to fluctuating water levels and other factors. Last year the water was lower and grass was matted on the surface in some areas Johnson recalls. "There will still be grass in areas but instead of being on the surface, it will be four feet under water. The lake changes so much that when the water drops or rises that you have new points and new ledges," he says. "All of the areas I fished last year are no good, I have checked this year. The thing about Mead is it is not a 'spot lake' where you can fish the same spots every year, you need to find what the fish are doing that day," he shares.
The Wind
With wind being inevitable at some point on Mead, Johnson says competitors must have a game plan. "I always try to find close fish that are a short run and some that are a long run away. You have to pay attention to the wind because you could make a run to a good area and not be able to even make it back," he says.
The wind helps a reaction bite but there is a fine line between helpful and harmful. "When the lake is slick calm it gets really tough so you need some wind to have a good reaction bite. Heavy winds really take a toll on your equipment and change how you can fish," says Johnson.
Shad or Crawfish?
Another thing to consider is whether the bass are feeding on shad or crawfish. "That changes my strategy because they could be keyed on the boulders eating crawdads or out with the stripers chasing shad. Smallmouth have really changed the game and if you find the stripers you will find the bass, you just have to use lures that the stripers won't bite as much," adds the 2016 U.S. Open champion. "The only problem with bass focused on shad is that they may be in one area and a half mile away the next day. The shad aren't going to stick around in one area if they are being eaten."
Knowing what the bass are feeding on will change his approach once he arrives for practice at this year's event. "Last year it was boulders that had some grass nearby and not just grass but it could be different this time. The lake really sets up well for pattern fishing and if you find what they are doing and where they are you can duplicate that."
Productive Locations
Even with the threat of wind Johnson likes to find areas that are far away from many competitors. Generally, he says the Las Vegas Wash area and Overton arm is known for bigger fish and the Temple Bar area is known for numbers.
Get a Limit
While it may seem easy to catch a limit each day, that is definitely not the case on Lake Mead. "The fish that I call 'home fish' that live on points and around boulders are usually caught in practice. That leaves the fish that are constantly on the move chasing shad and you have to be able to adapt with the fish that are changing each day and even hour by hour," says the Arizona pro.
To make sure competitors get a limit each day, Johnson says a drop-shot, splitshot rig or jig is needed at some point. He also ensures that he has patterns that are both shallow and deep to last him throughout the event. "Last year my plan was just to get a limit each day to get a check but the drop-shot pattern I found helped me win. With 150 boats out there practicing and then fishing the tournament, all of the aggressive fish get caught and you need some type of finesse approach, especially on the third day."
U.S. Open Predictions and Lure Selection
Johnson has cashed a check in several of the recent U.S. Open tournaments and each year was different. "I have done well with topwater, crankbaits, spinnerbaits, jigs, drop-shot and soft jerkbaits. If I had to pick one to use it would be a jig or drop-shot because you should always have some deeper fish to contend," he shares.
With the tournament being held in October this year Johnson predicts higher weights than the three-day total of 27.65 that gave him a win last year. "Fall fishing is much better on Mead and the fish should be more active chasing shad with the cooler water temperatures. The smallmouth are also getting much bigger and I think it will take 32-34 pounds to win this year," he predicts.