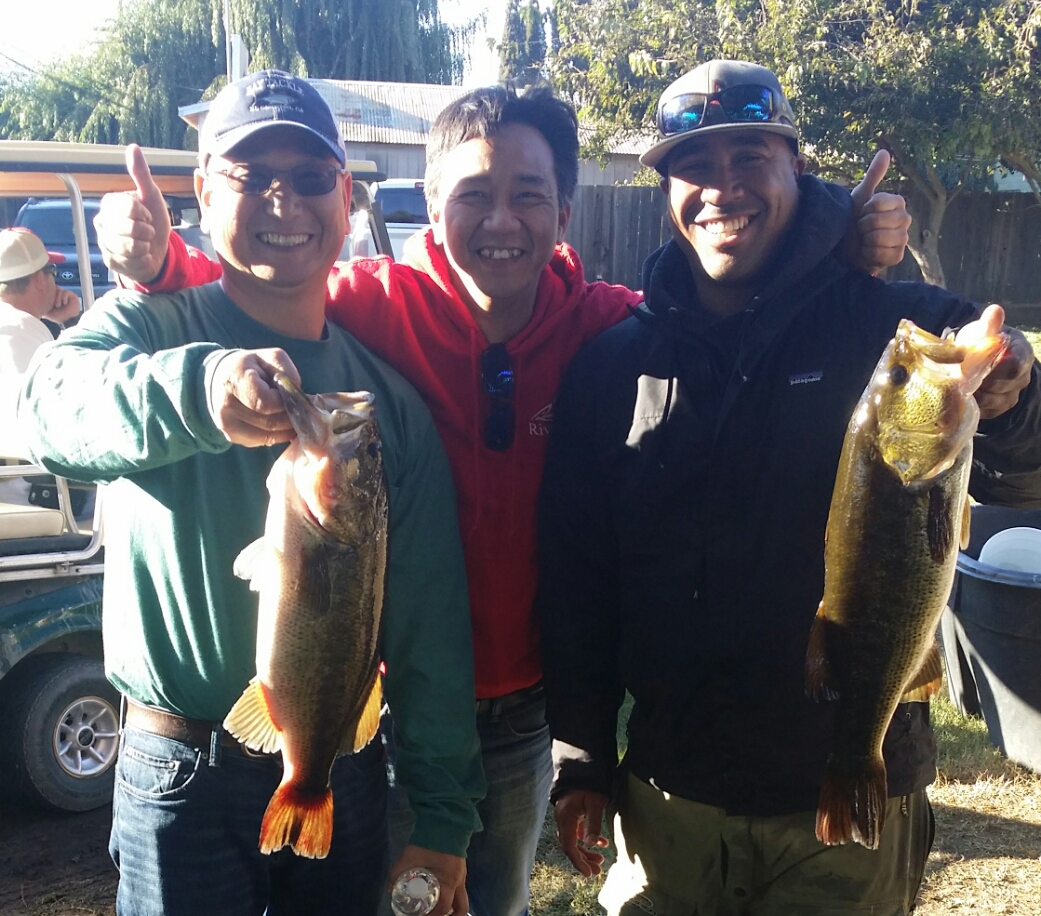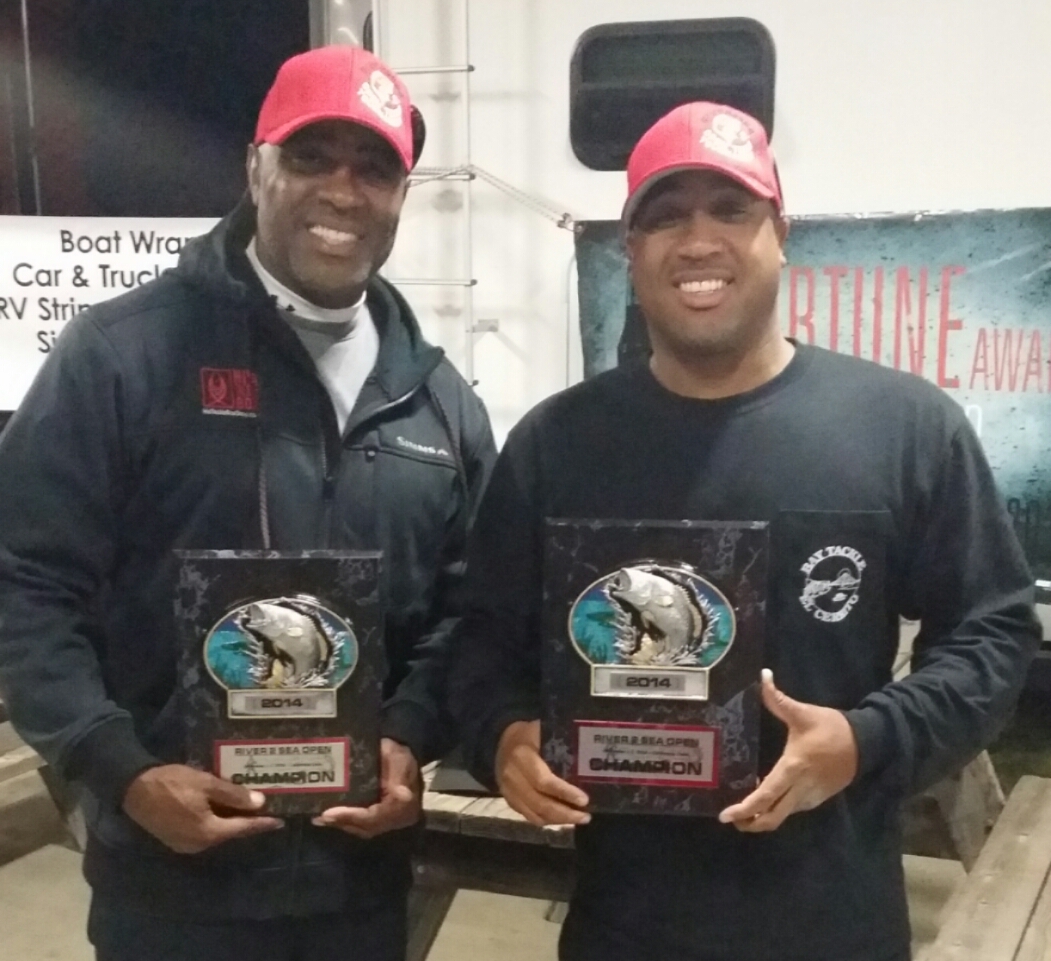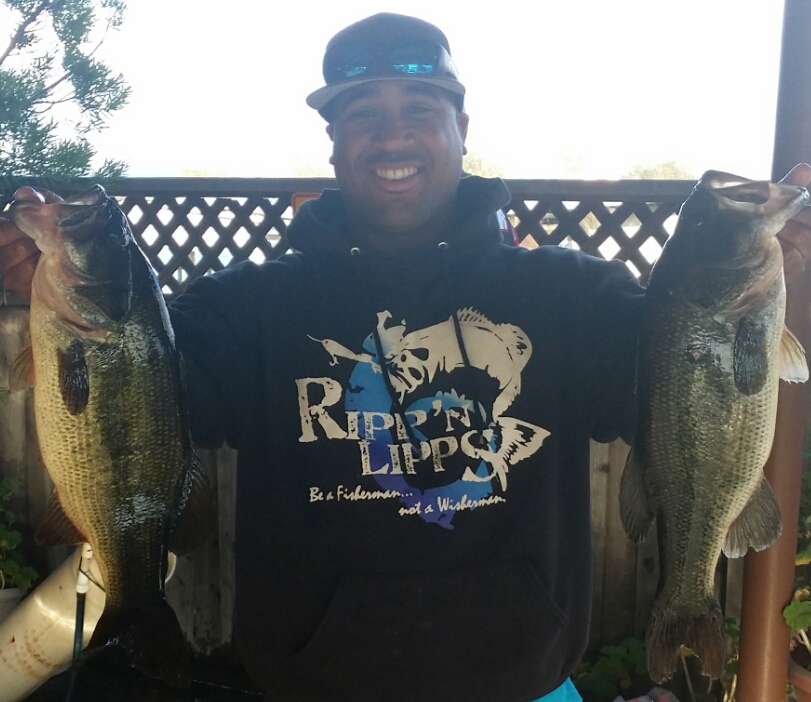 A tough bite on the California Delta was the consensus for the 120 boats that rivaled at the 2014 River2Sea Open. The numbers of the bass battle, emphasized that "tough" wasn't just a tidal water tale, as only 43 of the teams brought in a full limit on both days of the event.
With a two-day total of 38.44, Jamond Andrews and Harvey Pulliam found the perfect combination of R2S baits to put the winning bass in the boat. "When you get this many big fish at the scales, in these type of conditions, it really goes a long way in showing what the River2Sea lures are capable of," said Andrews, referencing several 7 and 8 lbr's that were weighed during the event.
After winning a tournament the weekend prior, Andrews and Pulliam expected the challenging conditions. "We didn't get a lot of bites then either," he said. "A lot of times on the Delta, you can tell when things are going to tighten up and we knew it was getting worse. The water temperatures dropped from the low 70's and high 60's last weekend to only 63 this weekend. Low 60's is still a good temperature, but not when it drops that fast. It takes the fish a little while to adjust to that."
ON THE TOP
Andrews explained their strategy to combat the finicky fish was to settle in to an area, fishing it thoroughly before moving on.
Sticking to topwater in the morning, they fished a Bubble Walker 128 in Powder and a Crystal Buzz, focusing on inside points and grass flats adjacent to deep water, with soft current. "Because the fish weren't too active, we didn't want to get into current that was too strong," added Andrews. "This time of year, the fish really start to switch over to the bluegill and big shiners; so basic ambush points were a good place."
They found the low incoming was important for the early bite and would push back into the hyacinth as the water moved in. "In the morning, the tide was low and it brought the topwater lures closer to 'em," he said. "After that, we flipped mats. The first day, we had two big five pound bites on topwater and then we went to flippin', later in the day. With the wind and the front on the 2nd day, we didn't get as many bites on top in the monring; so we went to flippin' earlier."
UNDERNEATH
They hit the hyacinth using a 1 1/2 oz River2Sea Trash Bomb with a Missile Baits D Bomb in Desert Storm and Kinky Beavers in green pumpkin and California 420. Mats in 4 to 8 ft with nearby deep water access were most productive.
Andrews reported wading through an untold number of shorts, while only getting seven or eight keepers a day. "We got a lot of bites from small fish - bites that we never even saw, maybe they were even bluegill, because there was a lot of bait," he said. "You would know the bite from the bigger fish, because it would just load up and when you would lift your rod, it would just be super-heavy."
Sitting in second with 20.14 on day one, the pair felt confident that they only needed 18 or 20 lbs to do well.  "Only a half hour into the second day, we got a five and then Harvey got a three right after that," recalled Andrews. "Those two helped us relax. Knowing the results of day one, it was eminent it wouldn't take a lot of weight to maintain the spot or to win; so we decided to hunker down and grind it out. We fished hard the rest of the day to get those last three. Harvey is a great partner. I don't know anyone that fishes harder than him."
AS A TEAM
The River2Sea win makes the 6th victory for the team this year on the Delta. They also earned the USAC West Delta AOY title for 2014. It is their first year as team partners.
Their list of firsts in 2014 include:
Feb USAC B&W  - 28.22
Feb Tracy Oasis - 23.56
Feb  USAC West - 26.71
Mar USAC West  - 35.99
Oct USAC B&W  - 25.59
Andrews expressed appreciation to George Lu (pictured on the left of image 1) owner of Bay Tackle in El Cerrito baytackleonline.com, Ripp'n Lipps and River2Sea.
Images provided by Jamond Andrews