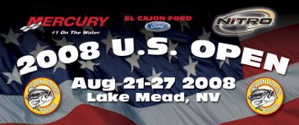 The WON BASS U.S. Open will once again be returning to Lake Mead this August 21-27th for what is the longest running, richest bass fishing tournament in the west.
Now in its 26th year, the U.S. Open has tested the mettle of many local and national level anglers. Drawing anglers from as far away as Japan, Australia, and Mexico, the U.S. Open has been the proving grounds for many of today's top fishermen. National competitors includuing Aaron Martens, Skeet Reese, Gary Klein, Rick Clunn, Ish Monroe, Jay Yelas, Brent Erhler, Byron Velvick, and Gabe Bolivar, have all competed against top notch western talent the likes of Gary Dobyns, Mike Folkestad, Mike Rooke, John Murray, Art Berry, and a host of other players to determine who is the best in the west.
These fishermen have all tried their hand at what Rick Clunn once called, "The toughest tournament to win in all of bass fishing". Not only are anglers competing against each other, but they are battling the scorching desert heat and tempest waters of Lake Mead as well.
The Pro champion at this year's U.S. Open will receive a prize package consisting of $70,000 cash, a new Nitro Z9 Bassboat and trailer equipped with a Mercury ProXS 250 hp motor, Lowrance electronics, Trojan batteries, and MotorGuide trolling motor valued at over $50,000. Add to this a one of a kind championship ring and a new Ford F150 truck from El Cajon Ford and you have winnings totaling over $150,000.
In addition to the huge payback on both the Pro and AAA side, daily cash awards of $1,000 will be given to the top 5 largest bass caught each day. Additionally, daily big stringer awards of $1,500 will be awarded to the top Pro and AAA weights each day. The overall big fish of the U.S. Open will be awarded a 7 day Forever Resorts Lake Mead houseboat trip aboard one of their 59 foot Deluxe XT model houseboats valued around $5,000.
Additionally, anglers are treated to a Sunday Sponsor's showcase in which they get to meet and mingle with event sponsors and receive product samples. They are also treated to a sponsor's dinner prior to the rules meeting and partner pairings on Sunday evening. Entry free for the Pro anglers is $2,000 while the buy in for the AAA fishermen runs $750.
The 2008 WON BASS U.S. Open will be hosted out of the Silverton Lodge Resort – Bass Pro Shops complex in Las Vegas Nevada. Event surrounding the Open will include seminars open to the public within Bass Pro Shops, Sponsor and Angler Poker tournament, Ladies breakfast and Slot tournament, and awards ceremonies at the conclusion of the event. The public is invited to attend the daily weigh-ins beginning at 2pm each afternoon out at the Callville Bay Marina. Shuttle bus service to the weigh-in will be provided from the Silverton Lodge Resort – Bass Pro Shops complex.
The WON BASS U.S. Open is sponsored by Nitro Boats, Mercury Marine, Battery Systems, Lowrance Electronics, MotorGuide Trolling Motors, Silverton Lodge Resort, Bass Pro Shops, Costa Del Mar Sunglasses, American Eagle Rods, Quantum Reels, Plano Tackle Boxes, Trolling Motor Doctor, Anglers Marine, Daiwa Rods & Reels, Seaguar Fluorocarbon line, Quality Performance Marine, Tru Tungsten, Cabela's, Owner Hooks, Monaco Motorhomes, Optimum Baits, Terminator Lures, Liquid Wraps, Jackall Lures, Forever Resorts, Phillips Pink Stuff, and Callville Bay Marina.
For more information on the 2008 WON BASS U.S. Open or to get information on becoming a participant, you may contact us directly at (949) 366-0030 ext 29 and speak with U.S. Open tournament Director Bill Hutcheson personally. You may also log on to our official website at www.wonbass.com for information and daily U.S. Open tournament results.