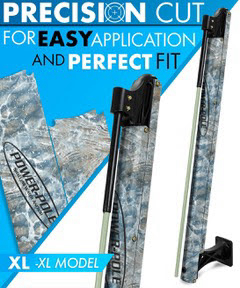 ZDecals Realtree Fishing XL Power-Pole Wraps
COLUMBUS, GA -- Add a touch of color and style to your bass boat with ZDecals Realtree Fishing XL Power-Pole Wraps. Made of high-quality 3M five-year outdoor durable vinyl, the wraps offer easy-to-apply, bubble-free technology. They are also easy to remove within five years, leaving little to no residue.
The wraps are precision cut to fit perfectly around your bolts, openings and any hardware so you do not have to disassemble your Power-Pole to install. No tools are needed. First, clean the surface, then use the provided squeegee and 2-inch wide painters or masking tape to hold the first edge in place.
ZDecals uses a thick film over the top of the graphic that protects the graphic and holds it straight making installation a breeze. In 15 minutes it's ready for the water.
Make sure to select the right model for the perfect fit. Model numbers are on a sticker located on the bottom of your poles or on your user manual. Kits come with a squeegee.
Realtree is the world's leading camouflage designer, marketer, and licensor with over 1,000 licensees utilizing the Realtree camouflage brand. Thousands of outdoor and lifestyle products are available in Realtree camouflage patterns. In addition, Realtree is committed to supporting individuals and groups that work to ensure our outdoor heritage, the conservation of natural places, and the wildlife that resides there. Find Realtree on Realtree365, Facebook, Instagram, Twitter and at Realtree.com.