Next up from the 2005 ICAST/Las Vegas show is a quick preview of the latest from Gary Yamamoto Custom Baits, the Fat Baby Craw.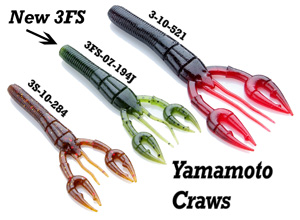 Many lures are available to anglers today, yet one technique, flipping, remains dominant on grass-covered lakes. That's why Gary Yamamoto Custom Baits came out with the new Fast Baby Craw - for flipping.
GYCB retained their supple texture and productive colors, yet they've hardened the bait to make it firmer to withstand to rigors of flipping. This bait can break through dense grass and other thick cover to reach bass underneath the nastiest cover of all.
Once through a mat, bulk takes priority. The added bulk of the Fat Baby Craw is a more visible target in weeds. The more bulk , the more visible, the faster a fish will see it and grab it.
GYCB customers expect the best lures that are possible to make. The new Fat Baby Craw will do precisely what anglers need it to do. Flip and pitch Gary's new Fat Baby Craw in thick cover for bigger fish. Bass in the grass won't stand a chance. With its fatter body, it also makes a great compact jig trailer.
Get through to bass... with the new Fat Baby Craw.