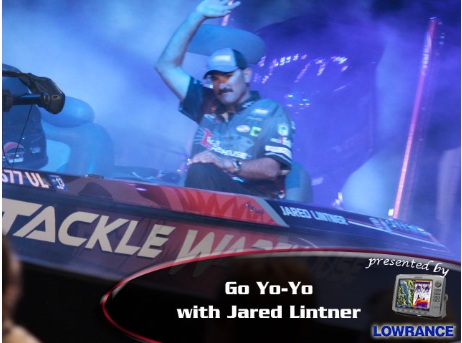 Story and photos by Dan O'Sullivan

It's late fall and the bass can be completely stuck in the mode of lethargy. The water is cooling off and finding biting bass is a matter of being in the right place and the right time, when one single solitary bass decides it needs to eat for the for the first time in four days.

Right?

Not according to Arroyo Grande, Calif. pro Jared Lintner.

Lintner said that he likes to try and trigger reaction strikes from bass that are in their cold water doldrums. "There's not too many times that you can rely on a feeding bite in the cold water periods," he said. "Most of the time, we need to find a way to make them bite. The best way to do that is to make them have to react to something."

While a large number of anglers go after bass with football jigs, dropshot rigs and Shaky Heads this time of the year, Lintner prefers to yo-yo a lipless crankbait. "I've found Yo-yoing a Jackall TN/70 lipless bait to be very effective this time of the year," he said. "I've also found that a lot of people are so busy doing the finesse thing, that I've got it to myself."

Why Yo-Yo?
Lintner said his experience with yo-yoing a lipless crankbait started at the deep, clear water impoundments near his home on the central coast of California. "I would always see big schools of fish on my graphs at Lopez Lake and Santa Margarita," he said. "I used to catch them with a Hopkins spoon, but
I realized that there were other lures that might work."

When he began experimenting with the lipless crankbaits, he realized that he had a lure with much the same appeal as the spoon, only different. "The spoon lifts and flutters on the fall," he said. "The TN70 does, but it has rattles and puts off a little different profile to the spoon, so it makes a difference to the bass."

Where to Yo-Yo
Lintner allows the body of water he is fishing to dictate where he looks for the type of fish holding areas to throw the yo-yo. he breaks it down into two parts with a third factor into the mix.

"On deep lakes like at home, I look for channel bends and steep banks that have bait on them," he said. "Most points on a lake get beat to death anymore, so I usually don't look there. But, if I can find the structure I want, with bait, I'll fish this as deep as 30-feet."

He looks at other lakes, like Guntersville, and Clear Lake in the same light. "I look in creek arms and pocket along creek arms and I use my Humminbirds to locate ditches and depressions that can concentrate bass," he said. "Those ditches are what the shad follow on the way into the creeks, and bass sit there and wait to ambush them. Those ditches can be anywhere from a few feet deep, to a mid depth range."

Finally, he looks in the bays of those same lakes, and he searches for the last remaining healthy grassbeds that will hold bass. He said the grassbeds could be small, to as much as 50 yards long, bt, if they are still green and producing oxygen, then he will often find bass there.

Yo-Yo Gear
At the present time, Lintner prefers to use a rod with a moderate action, so, he chooses a Powell 754CBGlass. He pairs that with an Abu Garcia Revo Premier in 7.1:1 retrieve speed, and he fills that with 15-pound-test Berkley Trilene 100% Fluorocarbon line.

He favors the Jackall TN/70 because it has a unique tungsten lip assembly on the front of the lure. "That tungsten face changes the whole action of the lure," he said. "Most lipless baits kind of lose their balance when they fall, but the TN/70 remains upright and wiggles on the fall. It keeps the lure rattling, and really triggers strikes."

He said he prefers to use the Ghost Minnow color in clear to lightly stained water, the Chartreuse Shad color in stained water and the Chartreuse Black color in more heavily stained water.

Retrieves
Lintner typically starts with an aggressive retrieve that rips the lure off the bottom and flutters down. he said that he usually starts with the rod pointed almost parallel to the water and he lift his rid until it is almost pointed at the sky directly above him. "Remember, I am trying to trigger a reaction strike, and the more erratic the retrieve, the better it is most of the time," he said.

If he struggles to get bites on the aggressive rips, then he will begin to employ a slower, more methodical lift along the same range of motion. "I don't like this one as much because bass react to the lure jumping from them better most of the time," he said. "But, there are times that they need it a little slower, and I just experiment to find the retrieve that works on a given day."

He also said that he tends to let the lure fall on completely slack line in shallow water, but follows it down more in deep water so that he can feel the bites more quickly.

Proof in the Pudding
Lintner and his friend Nick Salvucci recently won an American Bass Tournament of Champions event on Clear Lake against 157 other teams. The win netted them a new boat and nearly $3,000 in cash. Over two days, the pair weighed in 10 bass tipping the scales at 47.92 pounds; four of the bass they weighed came on the technique.

"Yo-yoing didn't make up everything at that event, but we certainly wouldn't have won without those four fish," he said. "We won by almost two pounds, and that TN/70 made a big difference in the final result."
Read more like this at AdvancedAngler.com.