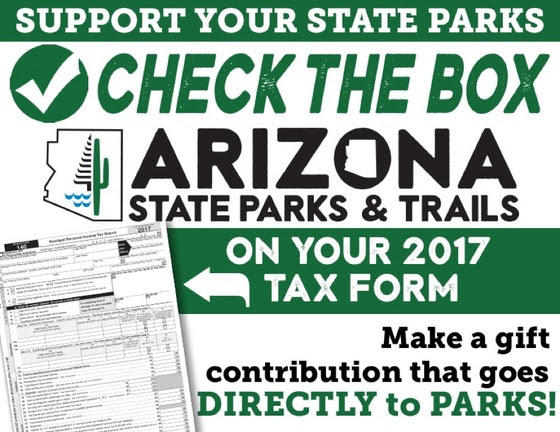 PHOENIX – Did you know that you can use your state tax refund to help maintain, operate and improve your Arizona State Parks? By checking the box for the Sustainable State Parks and Roads fund on your Arizona tax return, you can designate some, all or more than your refund to go to state parks!
Every year, Arizonans have the opportunity to use tax season to give back to the causes that mean the most to them. Your voluntary gift can make a difference to the Arizona state parks you enjoy all year round. Your donation helps Arizona State Parks & Trails operate, maintain and make capital improvements to buildings, roads, parking lots, highway entrances and any related structure used to operate the parks.
For more information about how you can help state parks, visit the Arizona Department of Revenue and read the information for individual form 140 or 140A. The Sustainable State Parks and Roads Fund is line 72 (form 140) or line 41 (form 140A). Check the box for your Arizona State Parks when you file your taxes!
"Managing and conserving Arizona's natural, cultural and recreational resources for the benefit of the people, both in our parks and through our partners."
For information about all 35 Arizona State Parks and Natural Areas, the Trails and Off-Highway Vehicle Programs and State Historic Preservation Office call 1-877-MY-PARKS or visitAZStateParks.com.
PRESS CONTACT: Michelle Thompson at (602) 542-1996 - Email: pio@azstateparks.gov