Fishing for shallow water bass is a standard approach for bass anglers.
Cruising down the bank and hitting all of the targets in sight is a surefire way to catch 'em. If Bassmaster Elite Series pro Wesley Strader had his way, he would fish shallow every time out. He loves it and is one of the best in the world at doing it.
Earlier this year he won back-to-back Bassmaster events and did so by fishing close to the bank.
During these two wins on Kentucky Lake in Tennessee and Lake Norman in North Carolina, he relied on three styles of lures that he believes will catch fish all year long in shallow water.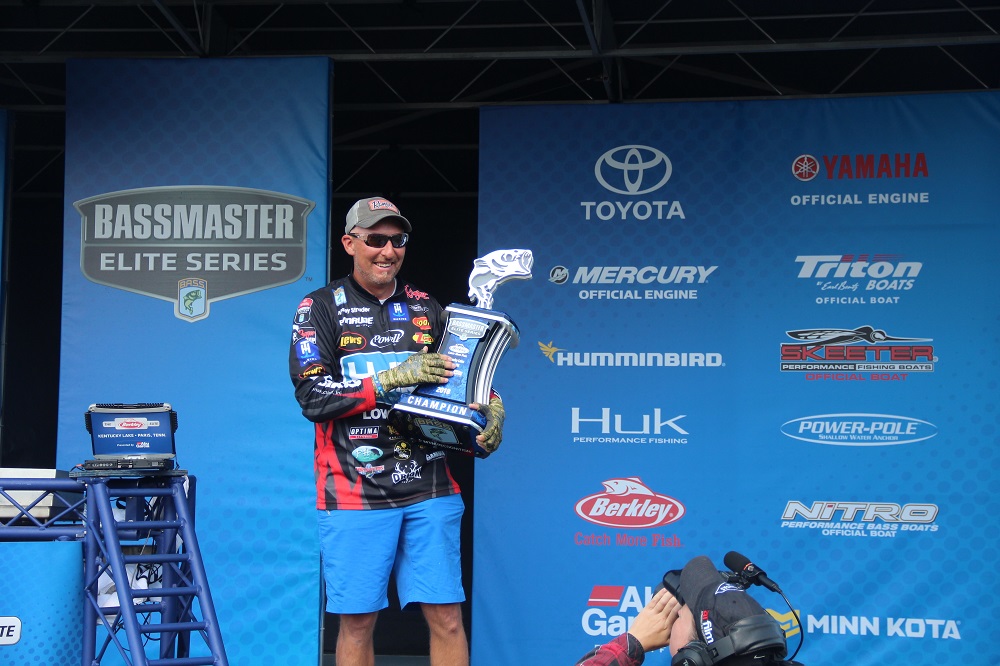 Here is how he approaches shallow water bass throughout the year and why he likes to fish shallow.
Resident vs. Migrating Fish
Fishing shallow during the spring is a given as bass move to shallow water to spawn.
Many of these spawning bass migrate from deeper water and then do the reverse when they finish their annual ritual. It is nothing new, and the cycle happens every single year.
While the mass rush to the bank is a springtime deal, Strader theorizes that there is also a population of fish that stay shallow all year long and can be considered resident fish.
With that theory in his mind, he feels he can fish shallow just about any time of year and on any body of water he visits and still have success.
"They may be way in the back of creeks and move out to slightly deeper holes when they need to or after they are spawning and need to recuperate. After that, they get back up shallow and stay there during the summer and fall," he says. "There are resident fish that will spend all of the seasons shallow, and I like to fish for them because it suits my strengths. I will always try to find a shallow bite if I can."
Fishing Your Strengths
Strader is an admitted shallow water guy, and as mentioned, he will always look for shallow fish.
"I always tell guys to do their own thing and fish how they are comfortable. You can usually find something on just about every lake that fits your style, and for me that is shallow," says the Reins pro.
The one exception to this rule is if Strader is fishing a deep body of water full of smallmouth.

"If I am on Lake Erie or somewhere like that, it may not be best to stay shallow the whole time," he says; but also adds, that there are times when going shallow when everyone else is deep can also play into his favor.
"When you think of the Tennessee River lakes during the summertime you think of ledge fishing, and that is a great way to catch them, but you can still go shallow and fish grass, flats and find that scenario that fits how you want to fish."
Shallow Cranking
One of the best ways to tackle shallow cover is with a squarebill. They come through cover and generally bang into anything in their path and bass are suckers for them. One of Strader's favorite shallow crankbaits is what he calls a "non-traditional square bill," a PH Custom Lures Wesley's Secret.
This PH Custom balsa bait has a hybrid lip that is between a standard square bill and a round bill.
"The action is a lot different; it is a tighter wobble and a unique action. It will get down two, three, or four-feet deep and is really just an awesome small crankbait for shallow water," he says.
Flipping and Pitching
Flipping and pitching shallow wood, docks, grass and any other objects in his path is a great way to catch shallow bass and is also one of Strader's favorite ways to catch them.
He generally uses two soft plastics, a Zoom Z Craw and a Fluke Stick. He pitches them both to the same types of cover, with the same rod and reel, but the most significant change is the weight size.
"I fish the Z-Craw on a 5/16 ounce Reins Tungsten weight most of the time. That size of weight is probably my favorite all-around size. For the Fluke Stick, I like a 1/8 ounce or at the most a ¼ ounce," he says. "You want that bait to be able to fall slowly and glide. It is a perfect way to catch them when they get a little finicky and won't bite a bulkier soft plastic or jig."
When Strader wants to bulk up his presentation, he opts for the Reins Tungsten Punch Shot Sinker, which allows a skirt to be added directly to the weight. It gives the appearance of a jig but allows for customization with different hooks, soft plastics and also reduces grass and debris on the hook.
Spinnerbaits
Another of Strader's go-to shallow baits is a spinnerbait. The 5/8-ounce Zorro Bait Company Bango Blade spinnerbait in Chartreuse/White accounted for the vast majority of the keepers he caught during his win on Lake Norman. During this Bassmaster Eastern Open, he was targeting shallow current, and he feels there is not a better lure than a spinnerbait for this situation.
There are hundreds of ways to catch a bass, and that is one of the things that appeals to us as bass anglers.
For Strader, he would prefer to catch them shallow, and by sticking with these three proven approaches, he can do it just about every time he hits the water.