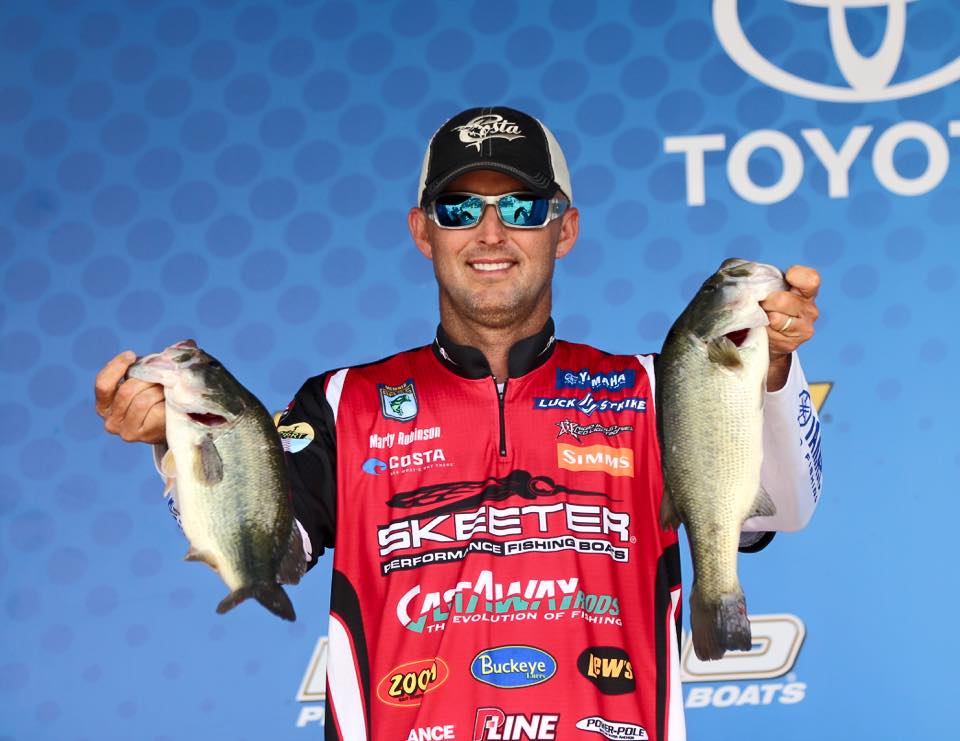 Bass fishing can largely be summed up into "it depends on the situation" as bass are notorious for changing based on countless variables. Winter fishing is even more complicated because of dropping water temperatures, dying grass and less active bass.
We asked Bassmaster Elite Series pro Marty Robinson to discuss how he attacks three common winter fishing scenarios that occur across the country each winter.
When Bass Are Deep Feeding on Bait
"One of the key deals for me during the winter when bass are keying on baitfish is by fishing an underspin in deep water," Robinson begins. "I like to fish it in 30 or 40-feet of water especially on spotted bass lakes."
His bait of choice is the Buckeye Lures Su-Spin Blade that he fishes with a fluke or small swimbait.
"They key to getting it down deep quickly is to downsize your line and I will use 10 or even 8-pound P-Line Tactical fluorocarbon. I like that line because it is strong and lays nicely on the water which allows it to sink quicker and get the bait down," he says.
Fishing the bait on a 6'10" CastAway Skeleton V2 spinnerbait rod and Lew's Speed Spool in the 5.1:1 gear ratio, he will slowly reel it along the bottom.
"I'll cast it, let it fall all the way to the bottom and then give it a twitch to get it going. I like the slower retrieve because it keeps the bait right on the bottom and moving as slowly as possible," he says.
Robinson looks for areas that congregate baitfish, whether that is shad or blueback herring.
"I look for ditches, drains, creek channels, pockets, coves or any deep-water place that baitfish will gather in the winter. It is also great if they have a creek or drain flowing into them because the fresh water coming in really attracts the baitfish," he says. "A textbook place to fish would be one of these areas with a flat nearby."
Targeting Winter Bass When Vegetation Recedes
When winter hits, the grass naturally begins to die off, but that doesn't mean the bass will abandon vegetation if it is there is still some present.
"Punching mats is a great approach in the winter and because the grass isn't as thick, I switch to 25-pound P-Line Tactical fluorocarbon instead of using braid because I think you definitely get more bites. If it is really thick and dark inside the mat, you can use heavy braid because I really don't think they can see it," he says.
Robinson likes to use the Zoom Z-Craw Jr. for punching mats.
"It comes through the grass great and also has a nice swimming action," he says.
This allows him to both punch through the thickest grass and then swim it through sparse cover. He prefers a 7'6" heavy CastAway Invicta rod with a Lew's Magnesium Speed Spool that he spools up with the heavy fluorocarbon.
"Even in 25-pound, it doesn't get all curly like some heavy fluorocarbons. It is really manageable," he adds.
Once key Robinson shares is to stay further back from the mats.
"Some guys like to get right on the mat and that works sometimes, but I think you can really spook some fish getting too close. I stay back some and think it helps me land more fish," says the South Carolina pro.
Fish the Surface When The Water Hits the Mid 50's
Winter is not a time when most fish topwaters, but there are some scenarios where a topwater will catch them even when the calendar says it shouldn't work. According to Robinson there is a window that starts when the water temperature first hits the low to mid 50's and lasts until the bass begin to spawn.
As winter slowly begins to fade away and spring is right around the corner, Robinson always has a buzzbait rigged and ready.
"If you start to hear about a topwater bite from other guys, it is already too late. In the afternoons when the water hits about 55-degrees, a buzzbait will catch some really big fish," he shares.
He will fish a buzzbait on 17-pound P-Line CXX and focuses on areas around typical spawning areas.
"One of the best places to look for is on flats in the backs of creeks and pockets. They are coming in to spawn and will often be on the last deep channel bend or in a deep hole before the flat," says Robinson. "They may start to cruise that flat when the water is around 50-degrees, but once you get to 55, 56 or 57-degrees it is time to fish the buzzbait."
Try these approaches the next time you are faced with deep bass, scattered vegetation or notice the first inklings that spring is coming try. Bass fishing is about scenarios and how you adjust to them.