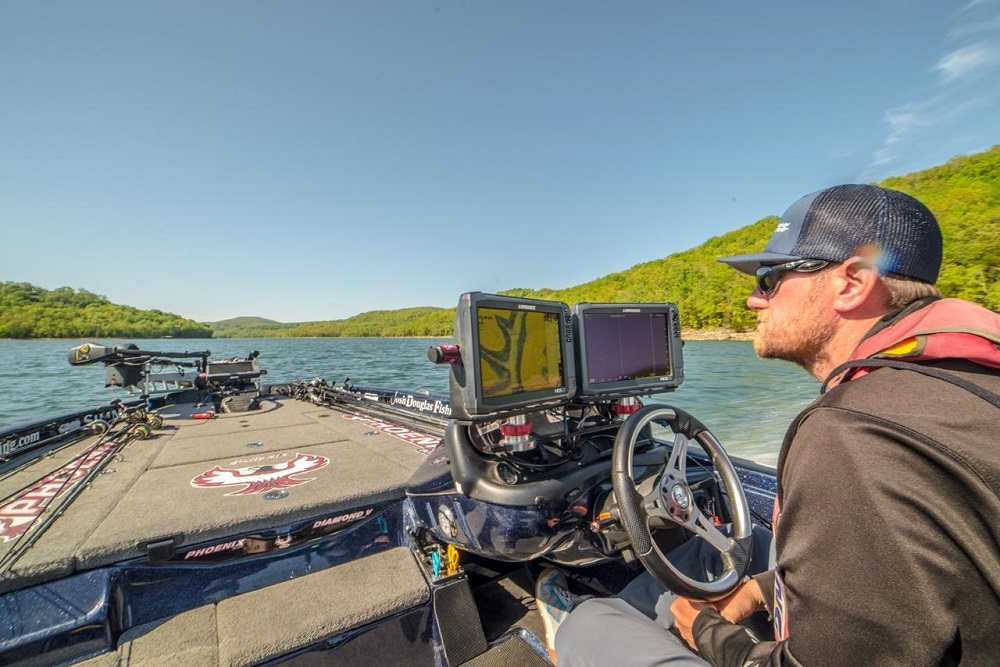 For the most part, anglers can plug in a Navionics card and enjoy the benefits of 1-foot contours, Community Edits and more. The mapping for chartplotters as well as for the mobile and tablet apps are very popular for anglers looking to get the best detail available, but there are some tricks and settings that can help you see even more. FLW Tour pro Josh Douglas shares some six ways he uses Navionics to help him locate more fish.
Water Level Adjustment
See Video Below
For lakes that drastically fluctuate, Douglas relies heavily on his Navionics app to get the most accurate depth readings. First, he will determine how low a lake is by visiting lake information websites and then make the changes.
"It is easy to adjust the water levels on your map to the current levels. Hit the Menu option, then Map Options and then adjust the water level to the current readings," he says. There are many times when this helps him and he points to scenarios where the lake is drawn down and the fish are offshore. "If you have a hump that is normally in 80-feet of water, but the lake is down 60-feet, you can easily see the hump in 20-feet of water now if you adjust the water levels."
Depth Highlighting
This feature on a Lowrance unit allows boaters to highlight a specific depth range. The uses of this are endless as it lets you set a minimum and maximum range and then your map will have white and blue areas marked for easy identification of the desired depth range.
"I use this a lot for when I am targeting a specific type of vegetation. For instance, if that grass usually grows in eight to 10-feet of water, I can highlight that and easily see where the grass should be and then go check those areas. I'll also use it if I am catching fish in a specific depth range so I can duplicate it all over the lake," says the Minnesota pro.
Satellite Overlay
The Navionics Platinum cards have a feature that allows for overlaid satellite imagery. This is also the case on the apps and Douglas says the images can be very helpful.
"Say I am on a good pre-spawn bite where the fish are on laydowns and other wood, I can easily look at the app and see places that have wood on the shore or I can see clues that help me find likely areas that should have laydowns and logs," he begins. "If I look at the satellite images and see tons of houses and docks on the shore, that usually means that the lawns will be manicured and they would have removed all of the wood cover along the shoreline."
App to Graph
One thing that Douglas likes to do during low water periods on certain lakes is to walk the shoreline and mark spots on his Navionics app.
"A few years ago, I went to Douglas Lake in Tennessee at the lowest point of the whole year. I beached my boat and started walking and was able to mark tons of brush piles and then go back to my graph and punch in the coordinates," he says and adds that he had muddy boots, but the effort was worth it as he found several key spots for his next visit.
The process of working with the app and Lowrance units is now much simpler as Plotter Sync is a feature that lets the app and graph connect and seamlessly share waypoints and markers. This is available with newer Lowrance HDS Gen3 and HDS Carbon and an active Navionics card and app.
Live Mapping with SonarChart Live
The ability to create maps live while on the water allows anglers to map places with no data or improve what is already there. Douglas uses this to build unique maps and view them live while fishing the area.
"The Navionics data is already really good, but it is nice to add more detail to places like offshore humps and rocks. It allows your map to continually get better and better and you can find those little irregularities," he shares.
This can be done on the screen of your graph with a Wi-Fi capable Lowrance units or with the mobile app connected to your Lowrance units.
https://www.navionics.com/usa/charts/features/sonarchart-live
Contour Depth
Lowrance units also allow users to show contours at different depth levels: 30, 60 and 90-feet. Typically, Douglas will be focusing on water less than 30-feet, so he has the option to only show those contours. Or he can adjust it to up to 60-feet if he is fishing deeper than 30-feet.
"It allows you to just see the contours where you will fishing and key in only on those areas," he says.
There are many ways that Navionics can help anglers locate fishing areas and tech-savvy anglers like Douglas are constantly finding new ways to get more out of the products.