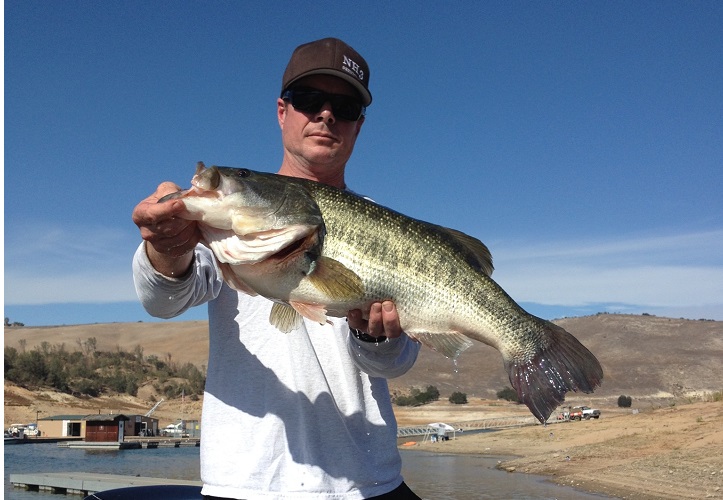 On Sunday, Sam James of, Salinas, Calif., found what could be called the "unofficial" lake record largemouth bass at Lake Nacimiento.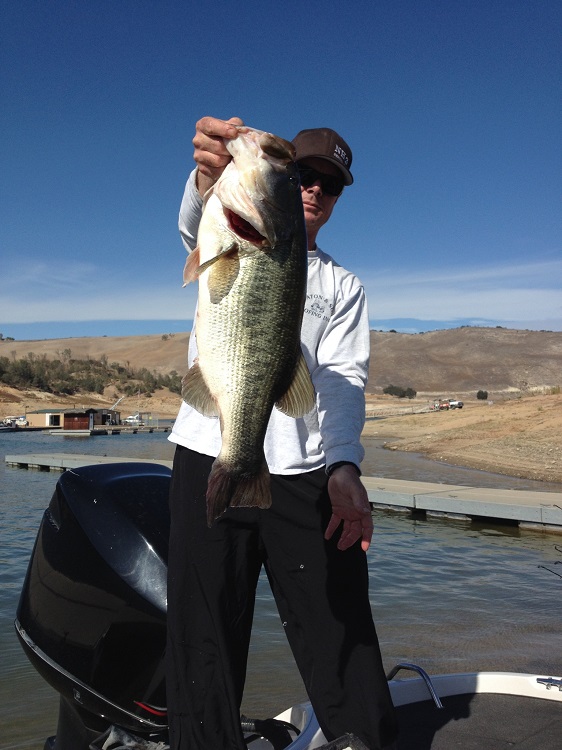 Fishing a small turkey shoot on the Central California lake with team partner Jerry Rouse, James landed a double-digit largie at about 9 a.m.
"It went 11-pounds even," said James. "Nacimiento is not known for huge bass. This lake normally kicks out five-fish limits that range between 6- and 8-pounds, so this was a pretty special deal at the lake, a once in a lifetime fish here."
CAST
The anglers were focusing on a main lake point.
"It was a deep, rocky area," described James. "I was somewhere between 20- and 25-feet. It was at the end of a long cast. I thought I had let my lure sink to the bottom; but it felt like I couldn't find it on the end of my line. I kept reeling in and trying to put some pressure on it to set up."
When James finally felt the weight of the big fish, he began to think he had hooked into a catfish.
"After it awhile it came up and rolled and I realized it was a bass; but I still didn't think it was going to be that big," he added. "Then it jumped and tail-walked a little bit and I really had an idea of what I had."
CATCH
The big bass ate a green pumpkin Yamamoto Hula Grub on a jig head tied on 10-pound-test. It was the team's first keeper of the event. "We only had two that would measure all day - fishing was tough," he stated.
He fought the record catch for nearly four minutes - it seemed like a lifetime.
"My partner spent quite a bit of time, standing there ready with the net, so I know he was feeling the pressure too," said James. "You never know what is going to happen when the fish are jumping around like that, but my partner was an awesome netman and it was hooked really well."
When the big bass was finally in the boat and James got to see it close up, he described his reaction as "pure joy".
"I just couldn't believe what I was looking at," he said."When we got it in, it was high fives."
WIN

Catching the fish in the morning made for a long day - waiting for the hours to tick by until weigh-in - the anticipation built all the way to the scales.
With only two fish, James and Rouse won the event by over five-pounds.
"We actually could've won with just the big one," said James.
Following the weigh-in, James put the big girl back in the box and drove her to the spot she came from. She was released alive and well and swam back to safety somewhere in the waters of Nacimiento.
"There were at least 10 witnesses around, when I weighed it on two different scales; but neither one of 'em were certified," said James "Because there were no certified scales, it probably won't be recognized as the new lake record.
"I knew that could happen, but I just wanted to get her back in the water and didn't want to use the time to run to town and get her put on a certified scale, before I could get her back in the water."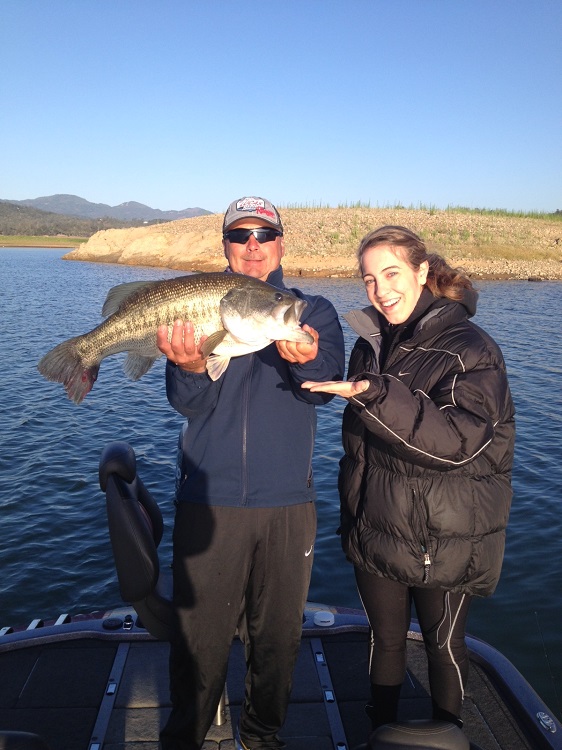 James is a life-long fisherman and a frequent visitor at Naci.
Prior to this, his biggest largemouth on the lake went about 5 1/2. As the elusive double-digit has escaped James up to this point in his fishing career, this 11-pound catch will mark his personal best.
It is quite the achievement on any fishery, but especially for a lake like Nacimiento.
FOR THE RECORD
Morgan Oliver (right) and Doug Slaton (left) are pictured left showing off an "unofficial" 11-pound, 14-ounce bass also caught at Naci this summer.
Oliver landed the would-be record fishing a Roboworm near the mouth of Las Tablas.
"The young lady (Morgan) caught it on a dropshot with 6-pound Seaguar test," said Slaton in his original interview last June.
Oliver's 11-pound bass was not weighed on a certified scale; therfore the current lake record largemouth of 9-pounds, 14-ounces will stand.