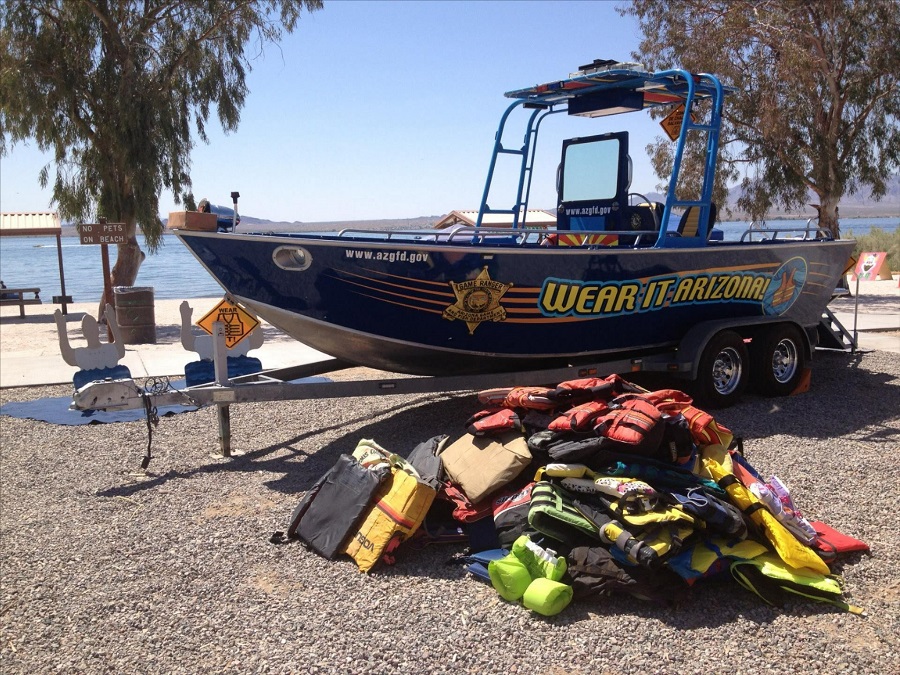 Life jacket exchange events kicked off Saturday, May 20
PHOENIX — As the temperatures continue to rise and the school year ends, more people are expected to visit Arizona's rivers and lakes, meaning the risk of water-related accidents will likely increase. To help prevent drownings, the Arizona Game and Fish Department (AZGFD) reminds the public of the importance of wearing a life jacket when boating or recreating on the water.
To promote the use of life jackets and kick off National Safe Boating Week (May 20-26), AZGFD and partner agencies will host several life jacket exchange events throughout the state. The life jacket exchange program allows people with old, worn out, and less-effective life jackets to swap them for a new one while supplies last.
"The exchange events are an amazing opportunity for Arizona's boaters and paddlers to ensure they have a life jacket that fits correctly and is in good condition," says AZGFD's boating safety education coordinator, Josh Hoffman. "Before heading out on the water, it's important that boaters ensure their life jackets are in good condition and that they are the right size and fit for passengers."
State law requires all passengers 12 years old and younger to wear a life jacket while on board a boat, and each passenger on board must have a properly fitting, U.S. Coast Guard-approved life jacket available. The life jacket requirements also apply to paddle crafts like kayaks, canoes, and stand-up paddleboards.
"A life jacket does exactly what it says — it saves your life when needed; however, it can only save your life if you're wearing one," says Danny Rodriguez, watercraft law enforcement program coordinator.
The life jacket exchange events will take place at the following locations and dates:
Saturday, May 20:
8 a.m. - noon
Bartlett Lake (Jojoba Ramp).
Canyon Lake (Main Ramp)
Lake Pleasant (10-Lane Ramp)
Saguaro Lake (Main Ramp) also, May 21, if additional life jackets are still available.
6-11 a.m.
9-11 a.m.
Bullhead City Fire Department (Rotary Park, 2315 Balboa Drive, Bullhead City)
9 a.m. - noon
Eagle Motorsports (2106 AZ-Hwy 95, Bullhead City.) also, every third Saturday of each month through August.
9 a.m. - 1 p.m.
Patagonia Lake State Park (Marina ramp)
Saturday, June 3:
9 a.m. - noon
La Paz County Sheriff's Boating Safety Building, 8484 Riverside Drive, Parker, AZ.
Friday, June 9:
9-11 a.m.
Bullhead City Recreation Building (2285 Trane Road, Bullhead City, AZ)
Saturday, June 10:
10 a.m. - noon
Lake Havasu City (London Bridge Beach Stage). 1340 McCulloch Blvd. N., Lake Havasu City.
Please note: Type I and Type II life jackets will not be accepted; only ski vest-type life jackets are eligible for exchange.
Since 2016, AZGFD has exchanged more than seven thousand life jackets across the state.
For more information about boating in Arizona or to sign up for a free safety course, visit www.azgfd.gov/boating.