S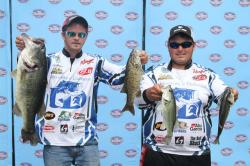 AN ANTONIO, Texas - The BoatUS Collegiate Bass Fishing Championship Presented by Cabela's is known for its big payouts, and when the event is held on a big bass factory such as Pickwick Lake, this event is also known for its big bags of fish. University of Dubuque's Austin Brimeyer was able to cash in on both aspects as he brought in the biggest bass of the event to the scales on Day 2.
Weighing in at 9.06lbs, Brimeyer's Pickwick Lake giant won him a wealth of prizes, including a brand new Power Pole Sportsman's Series.
"I set the hook and actually hit my partner with the rod, so I ran to the back of the boat to try and regain some line tension and then he jumped and I yelled 'it's a giant!' right before he made one last dive under the boat and my partner netted him," said Brimeyer. "I knew that the big bass prize was a Power Pole and right when we caught it, we knew we had a good chance of breaking the Day 1 Big Bass lead and win it."
"College bass fishing holds the next generation of Professional bass anglers," said Curt Hill, Advertising Manager of Power-Pole. "We support the on many tours and do our part to keep them excited about the sport. At this time in their life they will be making the decision to make fishing their new found career path. With the support we gave a Power-Pole Pro 2 eight foot for the overall big bass of the 2016 Boat US Collegiate Championship. I could just see the excitement in Austin Brimeyer when he weighed in a 9 pound 4 ounce bass. Congratulations to him and a great tournament."
Brimeyer added that "It's awesome to win a Power Pole for catching one fish. Now I'm thinking about buying another one to match it. I've been saving for one, and now I won one, so I might as well go ahead with the second one!" exclaimed Brimeyer. "The prizes were awesome for the Big Bass award, and all throughout the week. We're looking forward to going to all of the events next year too. It definitely wouldn't be near as exciting without all the sponsors commitment to the anglers, so we really appreciate everything they do for us.
Along with his new Power Pole, Brimeyer won two Abu Garcia rod and reel combos and a pack of Arctic Ice.
To see the complete results from the 2016 BoatUS Collegiate Bass Fishing Championship Presented by Cabela's, click here:
Complete Results
For more information about the Cabela's Collegiate Bass Fishing Series, please visit
www.CollegiateBassChampionship.com